In town for the Inauguration? Metro Navigator (Metro 24) will help you navigate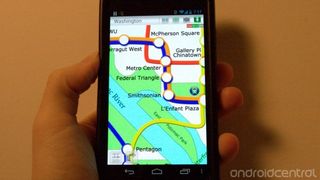 If you're in town for the President's Inauguration this weekend, you're going to need a good app for the DC metro that will guide you around the city. While DC has a great metro system, it can be confusing for newcomers and those who don't use it all the time. Having a metro map and schedules right on your phone is incredibly valuable and will make your trip less stressful.
Metro 24 is one of the top apps for navigating around different subways. It is a bit pricey at $4.00, but it is a general app that, once purchased, gives you access to a variety of city metros. The only US cities supported at the moment are Los Angeles, New York and Washington DC, but there are a lot of international cities available.
Once you open the app, you'll choose which metro you would like to view and it will bring up a map of the entire system. Each stop is clickable and will give you a variety of options:
From Here: Gives you directions from the metro station selected
To Here: Provides directions to the metro station of your choosing
Favorites: Adds the station to your favorites for easy access in the future
What is nearby? Gives you recommendations for restaurants, tourist sports and more around the station
I'm Here!: Will make your phone remember all WiFi/GSM transmitters at the station selected so you don't have to go through the process every time
Next Train: Lets you know the next train from the station
There's also a button on the bottom left side of the app that notifies you of the current status of the metro. It gives you a simple graphic as to whether the lines are delayed or running as scheduled.
Another useful button within the app is one that helps plan a trip. You choose which station you want to go to and it will provide detailed instructions as to how to get there.
For the Inauguration, here are details: The official swearing in will take place on Monday, January 21st at 11:30am on the National Mall. There are a number of metro stations that you can get off at for the National Mall. Smithsonian (blue & orange), Federal Triangle (blue & orange), Archives (green & yellow), L'Enfant (blue, green, orange, yellow), Federal Center (blue & orange).
The National Mall is the area between the Capitol and the Lincoln Memorial. You'll be right at the Reflecting Pool and the major Smithsonian Museums. It is in a great location and is likely to very crowded this weekend and on Inauguration day.
Get the Android Central Newsletter
Instant access to breaking news, the hottest reviews, great deals and helpful tips.
Does it also tell you where to turn in all your evil looking black guns?

As a DC resident of about 2 years now, all I can wish anyone coming here and trying to navigate the Metro is GOOD LUCK! The Metro's overseers--WMATA--are infamously, horribly bad. You'll need an app to guide you through the jungle of broken escalators, late and dirty trains, track that's falling apart, etc. Have fun guys.

Love my job, since I've been bringing in $5600… I sit at home, music playing while I work in front of my new iMac that I got now that I'm making it online(Click on menu Home)
http://goo.gl/to4w2 Happy New Year!

I don't support $20 TRILLION in federal debt by 2016,
and therefore I don't support Obama.

NEWSFLASH: The election ended over 2 months ago. Unless something horrible happens, he will be our President for the next 4 years whether you "support" him or not. Obviously, you disagree with his policies. That's fine. That's the right you have as an American. But if his policies work, the Debt will not get that high, therefore, instead of saying I don't "support" Obama, I will say I hope his policies improves America's economic conditions. And since neither of us have a crystal ball that sees the future, we have no way of knowing... yet.

Unfortunately some of us can add. If 1+1=2 then we are in trouble, it's going way past 20 Trillion. We could only hope it would stop at 20T. Which policies equate to spending less? All policies equate to spending more in Washington. When you take in 2.5T and spend 3.5T every year how does that ever balance? You don't fill that gap even taxing the rich and growing the economy at normal growth rates which we aren't even close to.. NO THANKS, I'M STAYING HOME AND PLAYING WITH MY NEXUS 10 THIS INAUGURATION!!

There are many free DC Metro Map apps as well - look around before paying $4...

Many locals use this one instead: https://www.androidcentral.com/e?link=https2F2F...

That's the one I use as well, when I dare brave the WMATA Underworld.

Not going to be in DC for this event, but I seem to have to travel there in batches, then go through a "no DC" spell. Anyway, that app (DC Metro Transit) is my favorite, too, when I do go there. I'm thinking about buying their paid app, just to support their devs.

@ Starfleet Captain: There is a way of knowing the next 4yrs, it's called NO RESULTS from the last four years except $1.1 trillion dollar deficits, extremely weak growth. If Obama were a CEO he would've been fired a long time ago. Good luck to everyone, because the current president doesn't believe in prosperity.

Go shit up the comments section of CNN or Fox News, no one gives a crap here. This is a damn article about an app.