Total Chromecast sales have now exceeded 30 million units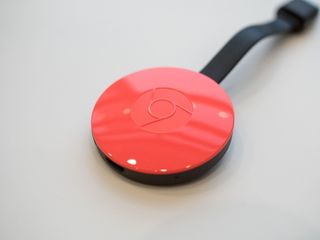 Google revealed as part of its latest quarterly financial conference call that the company has now sold over 30 million units of its Chromecast media casting devices.
The new milestone was announced by Google CEO Sundar Pichai during the Alphabet conference call with financial analysts (via Recode). In May, the company revealed at Google I/O that it had sold 25 million Chromecasts, which means 5 million more were sold just in the last two months.
The Google Store is currently running a sale on both the regular Chromecast and Chromecast Audio; both are priced at just $30 (opens in new tab) each until July 31, a discount of $5 from its regular $35 price tag.
See at Google Store (opens in new tab)
Check out our review of Chromecast 2015 and Chromecast Audio
Android Central Newsletter
Get instant access to breaking news, the hottest reviews, great deals and helpful tips
5 million Chromecasts in just two months? How is that possible? Especially with increased competition from Fire TV and Roku Stick?

At $35, Chromecast beats both of their prices. The Roku stick is like $50 I think. Not sure how much the Fire TV is, but it's gotta be at least $50 Posted via the Android Central App

There's no way that the Chromecast is better. Compare it to the Amazon Fire Stick, and the Chromecast is blown out of the Water.

I have them both. Chromecast is better.

I have them both. AFS is better. No, REALLY...by a mile. Having a remote so that I don't have to whip my phone EVERY frikkin time is ...priceless. For everything else, there is MasterCard. :)

Roku and Fire TV stuff are strong in the US of A and maybe another country or two like the UK, but that's about it.
Fire TV is not even available in Canada.
Chromecast are everywhere.

Chromecast is the best of the bunch. And the cheapest Posted via Techmology

No it's not the best I have Chromecast a Roku 3 a Roku stick Nexus player and a shield the Chromecast gets no love it's collecting dust. Posted via the Android Central App

You clearly don't "get it".. Nothing matches the Chromecast. Posted via Techmology

Chromecast has yet to fail me. You may not be able to stream directly from it but it does its job very well at a low price tag Posted via the Android Central App

I don't know, I liked mine for the first two weeks then i just got frustrated, that the YouTube app doesn't always show you what's playing or where it's up to. dreaming of electric sheep

You can stream directly. You need Allcast. Posted via Techmology

I used AllCast when it was first released and was not all that impressed. I gave it another shot a few weeks ago, though, and oh man, it has improved a LOT.

I used to use it to stream downloaded movies. Worked perfectly Posted via Techmology

In my view Chromecast is the best device Google have come up with. I just wish it worked offline like miracast and the Apple TV, especially since Google seen to have dropped support for Slimport/MHL. I work in a rural area and it would be handy to be able to give presentations from my phone in places with no Wi-Fi.
I guess many people are upgrading from the 1st gen for the faster connection on the 2nd gen. Posted via the Android Central App

Chromecast can work offline. There is a setting where you enter a code on your phone to connect to it instead of through wifi.

I think what you are talking about is using your phone as a wireless hot spot. What I mean is using it to mirror the screen without Wi-Fi and without a data connection. Many of villages where I work have slow Wi-Fi and poor mobile phone signal. Posted via the Android Central App

That can be done. You choose "nearby device".

In true style the discount never came to Australia, will presume that it never will either.
A small discount will lead to a greater volume of sales within this smaller nation. Posted via the Android Central App

Don't worry mate, Canada was left out too...every time there was a sale. Including tax, it's double the sale US price. We can always blame the communist government :p

It could have been twice or thrice that number had it been available in many countries. Posted via the Android Central App

I was still using my original chrome cast until last week. Thought I'd better upgrade so now my daughter has it still going strong.

I was still using my original one, which I ordered the day they went up for sale, until two weeks ago, when I ordered the Shield TV on Prime Day. In terms of bang for your buck, it's probably the best piece of consumer electronics that I've ever bought.

Maybe I have a defective Chromecast but everything I've used it for either the video stutters real bad or the audio is way out of sync with the video. My fire stick and roku 3 both seem to work flawlessly though.

Yes, yours has an issue. Try a factory reset Posted via Techmology

Yeah something is wrong. I have used 5 or 6 different gen 1 and 2 Chromecasts. I give them away as gifts to family. They are so rock solid that it's really actually scary how flawless they are. I do have a great network that was set up by yours truly which helps. But I have never experienced any stuttering or anything. These little things are flawless.

Given that most people that owns one actually owns (much) more than one, I thought there was much more of them out there. 30 million really doesn't seem that much to me.

30mil is a lot considering most don't know of its existence because the largest advertising company on earth can't seem to get the word out about its own products. Posted via Techmology

It's places like Best Buy that like to advertise Chromecast a lot in the electronics section. That's why.

People still don't know what it is. Everyone I know that is aware of them because of me. They all say, "it's like an Apple TV?" No better, and cheaper. Get one for 3 TVs for the price of 1 Apple TV. Posted via Techmology

Don't buy one if you plan on streaming twitch through/to it cause Google broke that. It appears that google has the ability to do backdoor forced updates and there's no setting that mentions it, nor turn it off.

Did Google break that, or did Amazon remove Chromecast support once they bought Twitch?

Looks like Amazon's plan to slow down Chromecast's popularity by banning it from their online retail store had backfired. It only increased its sales even faster lol.

Stopping Chromecast being sold through Amazon hasn't increased its sales faster, I'd like to know where you get that notion from.

And Vizio and other TVs now have casting built in, so even larger install base.

I have enjoyed my first gen unit. The new ones though... Ugly Posted via the Android Central App

Spend a lot of time looking at the back of your TV, do you?

The only thing I dislike is that sometimes, my cell loses the sync when I haven't used it for a certain period. I go back to my phone to pause the video, and the netflix icon disappeared. Video still plays and the app relaunches so I have to sync them again. It's frustrating.
Android Central Newsletter
Get instant access to breaking news, the hottest reviews, great deals and helpful tips
Thank you for signing up to Android Central. You will receive a verification email shortly.
There was a problem. Please refresh the page and try again.