HTC Desire HD mini review (Three network)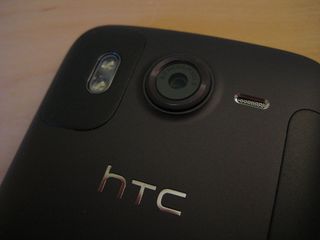 You might think it's a strange time to be considering an HTC Desire HD for your next phone. The Sensation, HTC's next big thing, is looming on the horizon. And newer, shinier phones from a variety of manufacturers may tempt you away from a device that's been on the market (in Europe, at least) since the back end of 2010. But despite this, the Desire HD still offers a compelling feature set and specifications that compare favorably to many newer Android smartphones.
We've spent the past couple of weeks getting to know the Three UK-branded version of the Desire HD, which is available for free on contracts starting at £30 per month. Join us after the jump to find out more about the device in our snack-size mini-review.
Hardware
The Desire HD is unmistakably an HTC device -- it features the trademark aluminum chassis and wide speaker grille, along with rubberized areas on its back, just like many of the manufacturer's newer phones. This means that like most things bearing an HTC logo, the Desire HD is a solid, well-built device that feels good in the hand. Its size makes it a little heavier than the average smartphone, though thankfully not excessively so, weighing in at 164 grams (5.78 oz).
On the front of the Desire HD you'll find a 4.3-inch Super LCD display alongside the usual four capacitive buttons. The screen runs at 480x800 resolution and is big, bright and easy to use in sunlight. However, it's an older SLCD panel than the one used in more recent HTC phones like the Desire S and Incredible S, so colors don't seem quite as vivid as on those devices. We also noticed that the Desire HD's viewing angles weren't quite up to the high standards set by HTC's new "S" series phones. That said, these are things you probably won't notice unless you closely scrutinize the Desire HD next to a more recent HTC phone.
On the back of the phone is an 8-megapixel camera and dual-LED flash, along with separate compartments for the battery and SD/SIM cards. This means that the SD card can be removed without pulling the battery, which is a small convenience, but it does make life easier for smartphone reviewers who have to juggle SD cards between a bunch of different devices, and in our opinion that's a good thing.
Inside the phone lies a 1GHz second-generation Qualcomm Snapdragon CPU alongside 768MB of RAM and 1.5GB of internal storage. This means it's pretty much on par with current single-core offerings from HTC and other manufacturers in terms of raw hardware -- it's certainly no slouch. Our review unit also shipped with a generous 8GB micro-SD card.
Software
The Desire HD runs HTC Sense 2.0 on top of Android 2.2 Froyo, though an update to Gingerbread and Sense 2.1 is imminent at the time of writing.
Out of the box, though, you'll get a software experience that'll be pretty familiar if you've used a HTC phone before -- seven homescreens, customizable with a host of HTC widgets, as well as access to the HTC Hub to add more skins, scenes and wallpapers. You also get HTC's unified contacts system, which draws on information from your Google account, as well as social networks, to bring everyone you know onto your phone.
HTCSense.com's cloud-based functionality is also present and correct, allowing you to lock down and even remotely wipe your phone if it's lost or stolen. HTCSense.com also allows SMS and MMS messages to be backed up to the cloud and easily restored to another Sense 2.0 device.
One thing you won't have to deal with on the Three-branded Desire HD is bloatware -- Three has added nothing to the device apart from a couple of bookmarks, which are easily removable. There are no carrier-mandated apps present at all, and even the boot animation and default wallpaper is just as it is on an unbranded Desire HD.
HTC Desire HD on Three
We used the Desire HD on Three's 3G network in a variety of locations across Northwest England. Browsing seemed consistently fast over HSPA, even in built-up areas with lots of cellular traffic, and we confirmed this by running a series of speed tests using the SpeedTest.net app. In built-up areas we averaged between 2.5-3 Mbps downstream and just under 1.5 Mbps upstream. In quieter, suburban areas downstream speeds increased to over 4 Mbps, while upstream speeds stayed around 1.5. On a few occasions we recorded speeds as high as 5.5 Mbps, which is impressive for a standard 3G HSPA network.
We didn't notice any problems with call quality either -- voice calls were consistently clear on the Desire HD on Three's network.
Battery Life
The Desire HD's does a reasonably good job of getting it through a day of normal usage, although heavier use will soon start to take its toll on the phone's 1230 mAh battery. For most users this won't be a major concern, but if you're planning on filling your days with heavy mobile data or camera use then you might want to consider a mid-day charge, or a second battery.
While the Desire HD's battery life certainly isn't poor, we can't help but wonder why HTC included a comparatively anaemic battery with the Desire HD, especially since 1500 mAh is rapidly becoming the standard for larger smartphones.
Hackability
The Desire HD is relatively easy to root, and if you decide to take the plunge (and void your warranty in the process, of course) you'll find you have a wealth of custom ROMs at your disposal, including community favorite CyanogenMod 7.
This could be a major reason to choose the Desire HD over a newer HTC device with similar specs, like the Incredible S. HTC's "S" series phones ship with signed bootloaders, which complicates the task of getting custom ROMs loaded onto them. With the Desire HD, you get similar hardware specs to these newer devices, as well as the option to root and run something a little more exotic than the standard Sense/Froyo combo, if you're into that sort of thing.
Camera
We found that the Desire HD's 8-megapixel camera was more than up to the task of capturing great-looking stills which scale really well to web-friendly resolutions, as you'll see in our samples below. The dual-LED flash also helps to avoid graininess or loss of quality in environments with poor lighting.
Video, however, is a bit of a mixed bag. In well-lit conditions, you'll get good-looking footage at 720p with 30 frames per second. Unfortunately, though, we found that both image quality and frame rates tailed off rapidly when filming indoors, or in poorly-lit areas. As you can see in our second sample video, the Desire HD produces much grainier, choppier footage when recording in darker conditions.
Wrap-up
A number of strong contenders from various manufacturers have emerged since the Desire HD's European release late last year, but that doesn't mean it should be overlooked. In terms of raw specs, it matches HTC's "S" series, while boasting a larger screen and an easier rooting path.
And with an update to Android 2.3 Gingerbread and HTC Sense 2.1 on the way, as well as an active developer community, we're sure the Desire HD has a long life ahead of it, even as the Sensation prepares to usurp it as HTC's flagship European phone.
The HTC Desire HD is available now for free from Three UK on a £30 per month contract with a 1GB data allowance, as well as the £35 per month "One Plan", which includes "all-you-can-eat" data.
Get the Android Central Newsletter
Instant access to breaking news, the hottest reviews, great deals and helpful tips.
Alex was with Android Central for over a decade, producing written and video content for the site, and served as global Executive Editor from 2016 to 2022.