These are the smartwatches that will get updated to Android Wear 2.0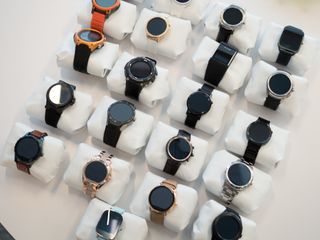 There are two new smartwatches available from LG and Google running Android Wear 2.0 out of the box. But which timepieces will receive updates to Android Wear 2.0 down the line? We have the full, official list straight from Google:
Android Wear smartwatches that will be updated to AW 2.0
Huawei Watch
Huawei Watch for ladies
Moto 360 (2015)
Moto 360 Sport
Moto 360 for Women
LG Watch Urbane 2nd Edition LTE
LG Watch Urbane
LG G Watch R
Polar M600
Casio Smart Outdoor Watch
Casio PRO TREK Smart
Nixon Mission
Tag Heuer Connected
Asus ZenWatch 2
Asus ZenWatch 3
Fossil Q Wander
Fossil Q Marshal
Fossil Q Founder (2nd gen)
Michael Kors Access Bradshaw Smartwatch
Michael Kors Access Dylan Smartwatch
New Balance RunIQ
That leaves out much of the original generation of 2014 Android Wear devices, namely the Moto 360, LG G Watch, Samsung Gear Live and Asus ZenWatch. It's been a good ride, but we can look forward to bigger and better things with Android Wear 2.0.
Daniel Bader was a former Android Central Editor-in-Chief and Executive Editor for iMore and Windows Central.
When can we expect this update

My guess is they start rolling it out in February. They just released developer preview 4, so they have a fifth developer preview build to get through before the stable version is released.

Uhm.. given that the LGs ship Friday.. with AW2... it seems a little odd that they'd ship those with developer preview OSes that are unstable...

Probably right when they put the Google ones on sale.

When they will go out on Sale?

Wow I can't believe the Sony Smartwatch 3 won't be updated especially considering it has NFC built in which would be perfect for Android Pay

Another disappointed SW3 owner here. I'm not convinced NFC in the SW3 was ever intended for anything but pairing, though.

Considering the author didn't even consider the very popular SW3 in this sentence.. 'That leaves out much of the original generation of 2014 Android Wear devices, namely the Moto 360, LG G Watch, Samsung Gear Live and Asus ZenWatch.' I wouldn't take what they say here as gospel. My SW3 just got a security update so Sony definitely haven't turned their back on the smartwatch. They're either going to update it to Wear 2.0 or release a SW4 or maybe even both. I'll be happy with any of those options.

Same, pretty disappointed - although I wasn't expecting any good news based on Sony's responses up until now.... :/

Do any of those watches have NFC capability that just isn't active under the current Android Wear? I'm guessing not, but that would be a nice surprise if any of them did. Really happy to see the ZenWatch 2 there. I was a little concerned that it might get dropped when the 3 came out. I picked up a ZW 2 for $95 on Amazon a while back. Looking forward to seeing how it handles the new OS.

The LG Urbane 2nd Edition has NFC. I'm hoping they activate it for AW 2.0.

The stories on ZenWatch 3 having nfc are quite mixed up. But if I look at Qualcomm's product page, it does say the Snapdragon 2100 supports NFC. But if this does mean it's onboard, I don't know, since it also states it supports LTE which the ZW 3 doesn't have. https://www.qualcomm.com/products/snapdragon/processors/wear-2100

I didn't see an NFC report in the FCC documents for the ZenWatch 3 but I could have missed something. I know the FCC docs for the Urbane 2nd Edition has a report. https://fccid.io/MSQWI503Q

Knowing ASUS, they probably have NFC 'mostly' in there - but then decided to cheap out on the FCC/IC testing and just disabled it like they did with WiFi on the ZW1.

OK, so this is a huge moment. This is the moment that a large swathe of people, like myself, that committed early to Android wear early realise that their $200+ purchase of a wrist watch has now become obsolete. And slowly but surely people will come to one of two decisions about this. 1) your going to have to purchase a new watch along with that 2 yearly contract upgrade. (yes, everyone said as much when they were first released, but now it's actually happening, for real!)
2) This sucks, your hard earned cash has ultimately been wasted, you'll probably still use your current watch until it gives up the ghost. But you're unlikely to really by another one. This could be make or break for Android Wear. If more people decide on option 2, the dream of smart watches will suffer a big hit. I have a Sony SmartWatch 3, which will not be getting an upgrade. If I'm honest, I've kinda known it would be the case, but it still feels like a betrayal.

Welcome to technology, you might want to be thankful you don't own a Pebble with no future like me.

Yep I'm a Pebbler as well. I just don't care for Android Wear. And using a Nexus, I don't want to trust that I will have much luck using something like the Gear S2 or S3. Flicked via the BlackBerry keyboard on my Nexus 5X

I've got a nexus 4,a Moto G 2014,a nexus 5 and an LG 8.3 V500 at home all running nougat on custom roms CM/LineageOS hence I'm not prepare to accept that my 9 month old Sony smartwatch is obsolete without any alternative. That's why I'm so pissed off.

I think you have to blame Sony more then Google.

Or you could just wait until someone ports AW 2.0 to these old watches. Just like people port KitKat and Lollipop to old phones.

It's possible and there's even alternative OS being worked on - AsteroidOS. And I definitely prefer it ovrt Android Wear :).

Yes, just go to their open source web site at astroidos(dot)org. They actually list the Sony SW 3 and even the Zenwatch 2 as being supported in their current (still alpha) build.

Yep. My second smartwatch was Samsung Gear 2 Neo and originally it runs Tizen OS. Somebody ported Android Wear to it and it was a really good watch with Android Wear at that time because of the integrated speaker.

But your watch won't stop working as it currently does.

Are you saying you never got your money's worth from the watch after buying it? Also, the features that came with the watch when you bought it should still be present.. so it's not like it will immediately shutdown the day the update becomes available.

1) No, you won't. In fact, if you do, it's because you want to. Or you're American. In Europe no one buys phones on contracts, let alone smartwatches. And that will continue to be it. In America people only buy things on 2 year contracts because otherwise the reality that they can't actually afford those iWatches etc would settle in. 2) If Android Wear 2.0 is worth it, I will replace my LG GWAR - which is on that list - with whatever LG releases next (Urbane 2 or whatever). Also, damn you Microsoft, you made me upgrade my PC when the PC I used in 1993 was still working! 2.0 won't make or break Android Wear. Because from what we've seen so far, it doesn't change anything significantly. The wearable revolution will only arrive when:
a) they finally figure out exactly what the purpose of a smartwatch should be;
b) how to make batteries last more than 1 or 2 days. As for your Sony SmartWatch 3, well, complain with Sony. They're great at screwing people over with updates anyway so...

Sony are absolutely fine with updates. My original Tablet Z made it to 5.1.1 and my almost 2 year old Sony SW3 just yesterday received a security update. Phones as far back as the Z3 received Nougat updates back in November.

Can't edit last comment. I'm not sure about the Z3 actually. It is pretty old now though.

The Z3 did not get Nougat because of "hardware limitations" or something like that.

Not entirely true, don't know about other European countries. But in Belgium and Netherlands, most people buy their phones on 1/2 year contracts.

I feel in the UK most people buy phones on contract or at least have a contract sim.

Actually I do ;) There are people who buy things on contract but they're not the majority. They haven't been for years.

It's a tricky situation. If people aren't upgrading their watches then the press is saying the smartwatch is dead. Yet the smartwatch in its current state doesn't have much scope for advancement, so there's no need to refresh them. How long should a manufacturer support something that they've only made few dollars of profit on per watch in a technology market that's not overly big anyway? If people complain then it's better for them to pull out of the market. I love my SW3 but it's understandable if Sony decide to not upgrade it in favour of a refreshed watch. This is technology after all.. If you don't like it, then it's best not to get a smartwatch in the first place.

Why would I purchase a watch on contract? You lost me there... If I just want some of the new Wear features without extending my watch's core functionality well beyond what I'm already used to then I can just pick a Style or 2nd gen 360 for about the same as what I paid for my first gen 360... My 360 ran me $250 and it's been quite useful over the last (nearly) 2.5 years... I don't feel the least bit betrayed, in fact it's still working pretty well and if I wasn't a geek with plenty of disposable income I'd probably keep using it until the battery gives out. Going from a first gen Wear watch to an LG Sport is like going from a Sony Compact to a Note, apples and oranges IMO.

My trusty ugly lg urbane is on that list. Watch don't fail me now.

I thought the Sony had a decent processor too. It still runs really well....I use it for runs all the time.

Yea, i think too, sony users will probably get it, also, sony confirmed it in some emails and i am heading to contact them on our local support about that.

My LG Watch R is currently sitting on my nightstand looking jealously at my Samsung Gear S3. From what I've seen of Android Wear 2.0, I see no reason to even charge the R.

How's life outside of the Google ecosystem? The only big reason I didn't go for an S3 is how key integrations like Google fit won't work with it.

After the battery life fiasco that was the nougat update on my nexus 6P can't really say I'm disappointed my Sony smartwatch 3 isn't on the list it runs great currently

Did you factory reset your Nexus 6p after the Major OS update ?

LG will update the GWAR to 2.0? Wasn't expecting it to be honest but I'm glad they are!
That way I can see if Android Wear 2.0 makes it worth to buy another LG smartwatch or if smartwatches will be something I won't intend to give another chance.

Sweeeettttt! My LG G Watch R is ready and waiting!

Argh. Why can't I edit or delete my comments???

Sad to say but unless something big comes along that makes it compelling to have a smartwatch again, I might go back to a Fitbit or something after my 1st gen Moto 360 dies. I wish there was one that was like the Sport, with a rubberized band that was appropriate for the gym, but could maybe pop out or something into a nice dressy work-appropriate watch. Can't justify having 2.

No love for the Sony Smartwatch 3. It's been a great watch and got me wearing a watch again after 15 years without one on my wrist.

I have the Sony SW3 and it's been great, and will continue to be great even after AW2.0 comes out. There are no real game changers in 2.0 anyway, so while it sucks that the SW3 won't get the update, it's not as bad as it seems. The real purpose of a smartwatch I believe is automation. Location aware macros you can customize to suit your lifestyle is where it's at. Walk into the bedroom with the watch on and have the lights turn on via wemo switches, or turn the ac on. Unlock your car/house/bedroom door with nfc if you reach for the doorknob with your watch arm. Unlock your laptop or make payments via nfc as well. The smartwatch should be able to clone your phone sim and have 4G access, so messaging or calls can be done with or without the paired phone. It should replace your bus pass, your office ID badge, your keys. It should be Jarvis on your wrist.

I'm betting the exclusion of the Sony SW3 was simply because the author forgot it. SW3 is the most underrated smartwatch out there (who knows why?).
These articles are all but clickbaite.

And then you talk about sony sw3 and you get censored. Well done Android Central.

Some guy over on the xda forums got a reply from Sony saying Smartwatch 3 will be getting 2.0. Everybody wants to be the first to break the news hence some detail will always be missed.

9 fragmented articles on the same subject in one hour. Editorial strategy?

Maybe they're doing it a-la-Google :P (Plus, in their defense, it's not really the same article, they all have different purposes that would actually be really long in a single article)

:( Maybe time to upgrade from my OG Moto 360.

I bit the bullet and picked up a 360 Sport a little while back when they went on a deep discount and I couldn't be happier with it. It's just all around better, but the screen that works effortlessly in sunlight was the feature that clinched it for me. I'm glad to see it will be one of the ones getting 2.0.

I really like the transflective screen on my sport. Don't care for the band tho it always seems dirty (have the black one) but at the ~$110 I paid for it it's fantastic, needed something to replace my OG G Watch that was dying.

I'm debating between an LG Style or just picking up a discounted 2nd gen 360 or Fossil... I don't really care about payments using my wrist, nor about the so called flat tires, but I do care about wireless charging (hence my shortlist, and why Huawei's isn't on it, or ASUS')... The rotating crown seems nice to have, but something tells me the two older models will get better battery life. I'd wait it out and see what else comes out, but truthfully I'm not sure a lot of OEMs are really planning new Wear releases this early in the year.

Any idea when this AW 2.0 update will release for these preexisting watches?

Have a fossil q wondering what you have to do when the update hits

Seriously starting to regret buying that Sony smartwatch 3 last month

in another article the Sony SW3 was said to get Wear 2.0. It is a bit confusing...

I still like mine, and I'm not giving up hope we'll see the update at some point.

Time to start those hourly "Check for updates" :P

Smart watches are nothing but nice to have gimmicks that never defined it's value on niche. Having a watch that tells you to pull your phone out of your pocket does not have long term value. It's more of a look at what I have trinket that's lost its wow factor. Who cares if the software is updated? It wouldn't change your life not one bit.

Actually it does have a value. I can't look at my phone when I'm teaching, but I can quickly glance at my wrist - it might be my next client trying to reach me, to cancel, whatever. I certainly don't need to check my stocks, but having messages close at hand is why I have the Gear 2.

I often feel as though I do have to take my phone out of my pocket more than necessary all things considered with the watch, the way I hope that Android 2.0 will change my life is by making those occasions slightly less frequent. As a person who needs a lot of reminders, and I mean A LOT of reminders, my watch is a life changer. I don't miss important things. It shouldn't be a big deal to constantly check my phone, but it is, and the watch also helps me to not get lost while driving, I find a lot of things useful about it, but in my opinion it has a ways to go to become more independent of the phone and somewhat more intuitive with basic functions. Oh, and I enjoy writing apps for it. If more developers integrated their apps with the technology well, it would make a big difference in the quality of the watch experience.

Well .. some have use because they live in a poor weather area and walk around in it ... My phone isn't waterproof / resistant .. so .. I like the watch so I can check messages .. change my music or volume without having to pull my phone out of my pocket in the rain ... or if I'm riding a bike ...its nice to be able to change the song or volume and see messages without pulling the phone out of my pocket and taking the chance of hitting an unseen bump and dropping the phone.

The fact that you can in fact reply to messages, send emails, etc. all from your watch proves it does have value. Maybe the issues you have are user error?

Feb 8 came and went, my zenwatch 3 didn't get any update! I'll keep checking for it

I have the Huawei smart watch (the first one) and i gets the update to Android Wear 2.0. But the release was on febrruary 9th! Still no update on the watch. I read here more people are still waiting for the update to come. Please keep me posted!

My Android wear app upgraded to 2.0 last night but my lg watch urbane has not. Hmm

That would be because when the APP updates is up to google. When our watches (I have the urbane as well) update is up to LG.

I have the LG urbane too. Still no update on the watch! Update on the phone about two weeks ago. What's your experience?
Android Central Newsletter
Thank you for signing up to Android Central. You will receive a verification email shortly.
There was a problem. Please refresh the page and try again.