These are the hot new watch faces on the LG Watch Urbane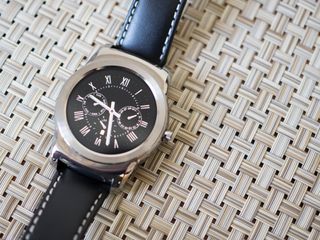 The watch faces arguably are the most important part of any smartwatch, with the ability to make or break the entire look and feel of the timepiece. A sexy new watch with a bland watch face doesn't do anybody any favors. And the LG Watch Urbane has a few new nice ones, and done away with a few of the more gaudy options from the LG G Watch R.
The standouts are the busy but stylish "chairman" and "chronos" faces, though I'm also partial to the more minimalistic "Classic" and "Castle White" options.
Here's a quick look at everything that's on the Urbane by default. Of course you'll be able to load up any number of other faces from Google Play, if you want.
Starting from the top left and working our way right, we've got: Camping, Castle White, Classic and Fitness. On the second row are Daily (which also shows appointments), GMT (which allows for another time zone), Gold Chairman and Gold Chronos. The third row has Hiking, Increment/Simple, Moonphase and Photos. And the fourth row has Red, Silver Chairman, Silver Chronos and World Clock. Note how some of the faces include your step count or battery and weather information. These are all worth taking for a spin at some point.
Android Central Newsletter
Get the best of Android Central in in your inbox, every day!
They look good but nothing I probably couldn't get through the store Long love my flat tire!! Posted via the Android Central App

We need some real pictures of the different watch faces(watches on wrists).... everything looks so fotochopped.

Same some look terrible in sunlight Posted via the Android Central App

I returned my LG G Watch R because I found it rather pointless and the display was not viewable in sunlight.

Is there any way to add the silver chonos and chairman faces to the g watch r?...

Kinda need a watch to be viewable in sunlight, is it really bad, no work arounds ?
This watch is on my purchase gadget radar. Posted via the Android Central App

I don't have any problems seeing it in sunlight. I also didn't have a problem with the G Watch R in sunlight when I had that. I guess some people find it more difficult than others. If suggest buying it from somewhere with a good return policy that doesn't have a restocking fee like Best Buy one is available there, and trying it out before making a decision. Posted via the Android Central App

It could also just be due to differences in the glass or screen. On the HTC One M8, some people couldn't see their screens while wearing polarized sunglasses, while some people had no issue. I'm not saying that's necessarily the case, but it's a possibility. Trying another watch of the same model outside may yield different results.

There is a Sunlight feature baked in Android Wear, that may help, although, it may use up your battery quickly if you are outdoors most of the day. It sets the display on full blast every time the watch face is activated. I usually just shield my hand against the glare to see, which is no different than if I was checking the time on my phone.

We do much better stuff on FaceRepo than these. I've made faces way better than this.

Im using pujie but some of these look like awesome alternatives once they get to the GWR Posted via the Android Central App

Pujie is one of the best kept secrets of the watch face world. I so rarely see it mentioned, but it is a great watch face. I use it on my Sony SW3 (works fine in sunlight) and it adapts to the square screen pretty nicely. That is has material-like effects makes it simply awesome sauce.

I wonder how good these will actually look on the Urbane. Some times the chronometer watch faces look really flat so the fakeness really shows.

They still mostly look too busy.

I wonder if these will make their way to the GWAR with the 5.1 update....

Most if not all can easily be made with Watch Faces by Intellicom.
https://www.androidcentral.com/e?link=https2F2F...

Is it crazy that there is no Star Wars watch face (s) !?? (Insert unnecessary over reactive response here) May the 4th peeps! Today would be the perfect day to release it. I mean who doesn't want Darth Vader's face on their watch? Or Yoda or Luke, Chewie or the entire gang? Meanwhile.. at the Hall of Justice!

Make it with their whole body, and have their hands be the minutes and hours, and a lightsaber be the seconds hand! Readdddyyyyyy......GO!

I'd like to see some nicer digital watch faces. I hate chronometers and especially analog faces with only lines instead of numbers Posted via Galaxy Note 4

How do you use the GMT watch face? Whats the red hand indicate?
Android Central Newsletter
Thank you for signing up to Android Central. You will receive a verification email shortly.
There was a problem. Please refresh the page and try again.