These are the hot new watch faces on the LG Watch Urbane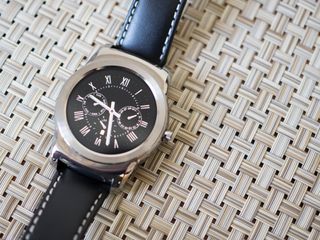 The watch faces arguably are the most important part of any smartwatch, with the ability to make or break the entire look and feel of the timepiece. A sexy new watch with a bland watch face doesn't do anybody any favors. And the LG Watch Urbane has a few new nice ones, and done away with a few of the more gaudy options from the LG G Watch R.
The standouts are the busy but stylish "chairman" and "chronos" faces, though I'm also partial to the more minimalistic "Classic" and "Castle White" options.
Here's a quick look at everything that's on the Urbane by default. Of course you'll be able to load up any number of other faces from Google Play, if you want.
Starting from the top left and working our way right, we've got: Camping, Castle White, Classic and Fitness. On the second row are Daily (which also shows appointments), GMT (which allows for another time zone), Gold Chairman and Gold Chronos. The third row has Hiking, Increment/Simple, Moonphase and Photos. And the fourth row has Red, Silver Chairman, Silver Chronos and World Clock. Note how some of the faces include your step count or battery and weather information. These are all worth taking for a spin at some point.
Get the Android Central Newsletter
Instant access to breaking news, the hottest reviews, great deals and helpful tips.