These are the Wear OS watches that will be updated to Oreo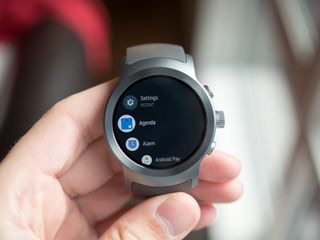 In a support forums thread, Google has listed the following watches that should have Android 8.0 updates rolling out now:
Fossil Q Venture
LG Watch Sport
Louis Vuitton Tambour
Michael Kors Sofie
Montblanc Summit
Hugo BOSS BOSS Touch
Movado Connect
Tommy Hilfiger 24/7 You
Guess Connect
Fossil Q Found 2.0
Fossil Q Marshal
Fossil Q Wander
Michael Kors Access Bradshaw
Michael Kors Access Dylan
TAG Heuer Connected Modular 45
Diesel Full Guard
Emporio Armani Connected
Fossil Q Explorist
Michael Kors Access Grayson
Fossil Q Control
LG Watch Style
Misfit Vapor
Nixon Mission
Huawei Watch 2 (non-cellular versions)
Additionally, most of the other watches released in the last year should see the update as well. Google says that manufacturers are "pursuing" updates for the below models:
Casio PRO TREK Smart WSD-F20
Casio WSD-F10 Smart Outdoor Watch
Polar M600
ZTE Quartz
TAG Heuer Connected Modular 41
Huawei Watch 2 (cellular versions)
As with every Android update, though, the release schedule will vary between manufacturers. Notable devices that won't receive this update include the second generation Moto 360 and 360 Sport, the LG Watch Urbane and the original Huawei Watch.
Is your watch going to be updated to Oreo? Let us know down below!
This post was updated in March 2018 to list more watches that have received Oreo.
Android Central Newsletter
Get instant access to breaking news, the hottest reviews, great deals and helpful tips
The Huawei Watch is just over 2 years old and it already stopped getting updates? I am at a loss for what to get to replace it. I prefer Samsung Gear over Android Wear, but the app situation is even worse on that platform. The smartwatch situation for Android users really is grim. Was also tough finding a watch for my wife who recently switched to Android from Apple. Why can apple provide every feature in a 38mm watch, but somehow Android users have to compromise if they want something smaller than a 45mm watch?

Yep, it really sucks, especially considering the only alternative available in Europe with all of the same features (Heart Rate Sensor, Speaker...) is the Huawei Watch 2, which is a step back in terms of design to me. Let's hope the majority of new software features comes through the Android Wear app.

Yep, same boat. The Huawei Watch was everything I needed, including a sapphire crystal! Nothing even comes close at the price point. Google's approach to just-enough to keep AW alive is growing old on me. Add to that a non-existent app space, as in, there is nothing really new out there and seems devs have abandoned it. Any major app from the big app developers seem like an after thought. No mention of AW at all at Google I/O. If you look at the Apple scene, things are going strong. iOS updates to all watches. Lively app generation. The thing may look like a square piece of shiny junk, but it has a lot of support behind it. It would be good to hear from Google about the future. I am not going to buy another AW watch past my Huawei Watch. It already is getting a little laggy and unresponsive from the last major update. I don't want to go Apple, and Samsung has the same app issues as pointed out. I am seriously looking at Garmin right now.

For watches they need to increase the lifecycle if they want the masses to buy them.

If Google are serious about competing in this wearables market it's about time they stepped up and made a pixel watch or whatever they want to call it! to show other manufacturers how it's done! I use a Gear S3 and love it but just not tizen software, I've said it before and will say it again for all the hate Apple are killing it in the wearables market space and will continue to do so with the only competition these half arsed attempts in the Android space.

What luck I just sold my Huawei smart watch and brought Fossil Q gen 3 explorist...

This is embarrassing. I'm highly considering moving over to the Samsung watches, I think they'd work great for my uses.

Not even the LG watch style?

They're "pursuing" the update. It'll get it, it just isn't rolling at the same time as the Watch Sport.

That is lame AF since they are both Googles watches...

Currently no ASUS watches are listed, including the ZenWatch 3 which is only a year old. Given how bad ASUS has been about watch updates, their products will probably never get the update. Doesn't inspire confidence in the company.

Asus aren't included because they completely scrapped their wearable project right after they released the ZenWatch 3

yup pretty pissed about this.

My 2nd gen Moto360 ain't good enuf for the update....I see....
I'm done with this AzzWear crap.

Well, the LG GWAR is not getting it so...
That said...I also have ZERO reasons to even be mad about it. Android Wear and smartwatches in general have proven themselves pretty useless. I can't think of a single reason why I should want another smartwatch and Google has so far failed to tell us "why" we should want an Android Wear smartwatch.

Since the OG Huawei watch is not getting the Oreo update that pretty much the nail in the coffin for Android Wear. No watch has come out since that is nearly as good as that one. Of there was it would not be a big deal but manufacturers clearly don't car that much... Very sad.

Lets hope they do not F-up older down-revision devices, like they did when 2.0 came out in ~March 2017. They finally got my moto 360 gen2 running correctly on AW2.6... only took them 6-7 months!!

Android Wear is by far the worst consumer product I have ever owned. When people ask me about my watch I tell them to buy the apple or samsung instead. Android wear is just too unreliable and unpredictable when they roll out updates. Updates are part of the technology... but to brick down revision devices is completely insane.

Just wondering what it is that is going so poorly? I had the gear S3 and returned for rbe LG Sport watch. I would never go back

for me its been REALLY buggy software updates that do not work. my comments:
https://youtu.be/4xb6ZtJgk0I

... As long as Google choses to support your device, everything will be OK. Once they decide to stop support, thats when it starts to unravel and fall apart. Thats what happened to moto, Sony, asus, older LG...etc. Only the Tag Heuer and Huawei watches are well supported. Once support stops, the updates become buggy and unstable. So as long as your watch still works fine there's no reason to go back. Just beware that they can ruin your device at any time... remotely with an update. If history repeats itself, they will do so without warning and with no choice to opt-out of the update. Hopefully this won't happen to LG Sport owners. Hopefully the updates will be better tested for reliability too. The 2.0 update was a disaster... even worse was the support. 100's of consumers reached out to Google on the support forums, with defective notifications on 2.0. Google did nothing. This support thread was locked before any real solution was found: https://productforums.google.com/forum/#!category-topic/android-wear/LeQ...

Picked up a Fossil Q Explorist on black friday sale so i'm waiting for Oreo to drop.

Update I installed the update last night so far so good.

Well my Huawei Sport Watch 2 lit up like a christmas tree last night, illuminating the whole bedroom... Checked this morning and it's been updated to Android OS 8.0.0 So it's happening for us mere mortals over in the UK who can't (easily) purchase the LG Watch or afford the Tag or Rolex smart watches

Huh go figure. My LG style already has it. Didn't even notice? Sweet! But I would like to echo many here.. Further advancement and longevity need to be the focus of wear os.

Android watches are so expensive but they are abandoned within a couple of years. Then no updates.
No wonder they have declining sales.

Glad I switched to a Gear S3 from my G Watch R.

My Huawei Watch 2 Classic with Oreo, so far, is getting about 2.5 days of battery life.

I have fossil explorist gen 3 ....Good to see I will be getting Oreo...Wonder when will I get Oreo on my Note 8

I have the same watch and if you check the date on my post above I've had Oreo on it since dec 27th. So your watch should have updated itself unless you just bought it.

I guess I'm doing something wrong cause I actually like my LG Sport. I mean, I don't use many apps for it but I mainly use it for quick notifications and sending text, etc. I'm in the beta so I've had the Oreo update, but overall, it runs great, has a good battery and does what I need it to do. I use Google fit at the gym and notifications with no issues. My brother has the iwatch and we literally use them for the same thing. But my Google assistant murders Siri as usual lol

This.
Once people accept they aren't supposed to be a smartphone on their wrist then they actually become useful to them. They're an extension of your phone and I find that pretty invaluable

Am I the only person who is happy with the Verizon Wear24 watch? Most people didn't like it, but for $50, it finally made me ditch my Pebble Time. If I turn off LTE, I get 3-4 days of battery life (definitely acceptable) and it matches everything else the Pebble does and then some. I couldn't have "conversations" via my Pebble, but on the Wear24 I can. Too bad it was discontinued. And it looks like no further OS updates either. Bummer...

Huawei Watch not updated. Last Android smartwatch for me.

I wouldn't consider any of these Android Wear sorry Wear OS watches, I'm waiting for a Pixel watch. Still it's nice to see all these watches updated to Oreo.

I'm pretty much done with smartwatches. I was a big booster of the concept back in the day but now that I've stuck with it for 4 iterations (Samsung Gear/Gear Sport/GWAR/Zenwatch3) I have to admit I've yet to find a compelling reason to keep shelling out hundreds of dollars for a watch with a 2-3 year shelf life that has to be put on a charger every night, sometimes mid-day. I've never found anything that was of such utility that it made the watch a must-have device. On top of that Wear 2.0 felt like a huge step backward and frankly I hate it, it's ruined the watch experience for me. I haven't ever bought into the "must upgrade my phone every year" cycle, definitely not going to do it with a device that really only succeeds in making me consistently question my purchase.

They shoulda just named it
Worst-OS. If not then, where, why, or at least what-os.....

Yes... I have the fossil Q founder.

Man...I have the LG Urbane, first edition. Granted its two years old, but didn't think it would be done getting updates. Love the watch for fitness and other items, but think this is my last smart watch. Just can't afford to upgrade every two years.
Android Central Newsletter
Get instant access to breaking news, the hottest reviews, great deals and helpful tips
Thank you for signing up to Android Central. You will receive a verification email shortly.
There was a problem. Please refresh the page and try again.