Telstra rolls out the world's first Gigabit LTE network in Australia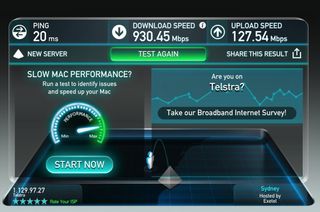 Last October, Qualcomm announced that it is partnering with Netgear, Ericsson, and Telstra to roll out the world's first Gigabit LTE network in Australia. In an event in Sydney, Telstra has announced that the network is now operational. The carrier showed off demos of the network in action, with download speeds in excess of 930Mbps and uploads of over 130Mbps.
The first device to support Gigabit LTE speeds is Netgear's Nighthawk M1 mobile router. The router features a Snapdragon X16 LTE modem, which offers 4X4 MIMO, and 4-band carrier aggregation. The portable router can connect up to 20 devices, and has a built-in battery that is rated for up to 24 hours of continuous use.
The router can even charge your mobile device while delivering Gigabit-class speeds, and comes with two USB ports (Type A and C) along with an Ethernet port. The router will be available starting next month for AUD360 ($270) outright, and there's also the option of bundling it through Telstra's plans.
The network itself is now live in CBDs (central business district) of Brisbane, Sydney, and Melbourne, and will be rolled out to more areas in mid-February. Here's what you'll be able to do on the Gigabit LTE network:
Download a typical 3.5MB song in a fraction of a second
Download a 20MB PowerPoint presentation in as little as one second
Download a 300MB one hour TV episode in as little as sixteen seconds
Download a 3GB HD Movie in as little as 3 minutes
From Qualcomm's President of North America Mike Finley:
Qualcomm's Snapdragon 835 also uses the same X16 LTE modem, so all phones that feature the SoC — with the LTE modem enabled — will be able to take advantage of Telstra's Gigabit LTE. As for when other carriers will implement Gigabit LTE, Qualcomm has stated that it is trialing the service with 15 carriers in 11 countries.
Harish Jonnalagadda is a Senior Editor overseeing Asia at Android Central. He leads the site's coverage of Chinese phone brands, contributing to reviews, features, and buying guides. He also writes about storage servers, audio products, and the semiconductor industry. Contact him on Twitter at @chunkynerd.
This could lead to an interesting future. Imagine Comcast competing with T-Mobile for your home internet?

T-Mobile would have to get the coverage first

Ugh that misconception is worse than that old film about marijuana

Yet I cannot get a usable signal from any of the big 4 in 3 different places I have lived in the SF bay which has good coverage. I am fine outside, but behind walls I am lucky to have 3g speeds

And how much does a gigabyte of data cost on this service, that can burn through it in 60 seconds?

Data is sold by the gigabyte.

What is a Gigabit LTE "netowrk". Looks like a good case of fat finger typing or before you had your cup of Joe Anyway good story. Lets hope this network makes it to the US soon.

Let's not forget about the carriers doing away with unlimited data and the majority of data plans hovering around 5gigs/month.
This new lte sounds great but you'll blow through your allowance in a hour

Is that a serious statement? So you think that faster means you will use more? It doesn't work that way. Unless you all of a sudden start downloading bigger files. A 100 MB file is still 100 MB no matter how fast you download it.

Pointless with the data caps that are around. I'll enjoy my 100Mbit at home at unlimted speeds for huge data chunks. For fast mobile service PING TIME is more important that the SPEED of the connection. Most mobile application doesn't need more than 512kb/sec (4Mbit) and yes that includes YouTube.

Yeah I don't get the point in LTE this fast but with data limits the carriers have. They are so far behind in the US they have to throttle you down to 2G which is slow as f*ck

Now you can blow through your 3GB data plan in 3 minutes or less. The future is amazing.

Download a typical 3.5MB song in a fraction of a second
Download a 20MB PowerPoint presentation in as little as one second
Download a 300MB one hour TV episode in as little as sixteen seconds
Download a 3GB HD Movie in as little as 3 minutes ---- Yeah, if the server can provide the data that fast.

Just wait until people start to use it and it won't be a Gigabit network for long..

If you think back to the days when all the carriers were claiming that they couldn't handle the traffic so they started throttling the speeds to save the network from crashing. As soon as they were able to get us all to swallow the more GB = More Money bit they suddenly have no problems with huge amounts of traffic. My home internet is often 120 to 130 mbs and I run 2 ultra HD 4K Android TV's with no problem . Not sure what you would gain with a Gig a second. I foresee a new gambit by the carriers to raise prices and provide content. If ATT buys comcast after owning Direct TV they will be a huge content provider selling you a gazillion GB at a gazillion dollars. Right now if you are on ATT streaming Direct TV is Data free. Lets see how long that last. If you stop and think about it the Mobile market is getting saturated. There just isn't that many more people to sign up for new service. Their move is going to try and supplant the cable companies. It will get interesting.

I wish they would list what LTE bands and how big the channels are for this.

What you can do on the Gigabit LTE network:
- Use up your data allowance in under two minutes. :(

Being an Aussie and knowing how Telstra charge people for the minuscule amount of data they offer on mobile plans, any plan with a data limit worth having with this thing will need to be sold with a tub of Vaseline to ease the pain

Spot on mate - until carriers stop gauging the public with artificially inflated prices for mobile data - not just here in Aus but around the world - development in LTE speeds is a waste of time.

Data caps are going to be a thing of the past with these speeds. Data caps only came around because of the traffic on the network. If u have a cap u will use less data at these speeds it won't be an issue. That being said they did move to caps as a way to make money but unlimited will be offered

You're kidding yourself - data caps are about squeezing profit out of the customer, not about network traffic. Unlimited mobile data is a pipe dream at the moment.

"Typical 3.5 MB songs" Dude are you still listening to songs at 128 kbps?
Android Central Newsletter
Thank you for signing up to Android Central. You will receive a verification email shortly.
There was a problem. Please refresh the page and try again.