Tango and Daydream finally coexist in a single phone thanks to the ASUS ZenFone AR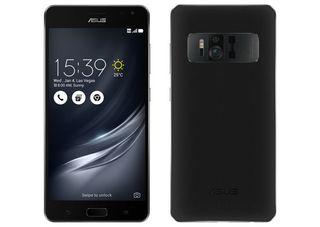 Google's vision for augmented reality and virtual reality are built by separate teams with different goals, but the things they have in common are significant. First, despite not having massive user bases right now, Tango and Daydream have healthy lists of apps with high profile software exclusives.
Second, there are plenty of would be fans wondering if their next phone will support either of these platforms. The obvious answer for those eager to dive headfirst into VR and AR would be a single phone with both experiences onboard, but the first phone with Tango onboard was only built with AR in mind and would struggle to offer a quality Daydream experience.
Fortunately for those eager to be a part of Google's reality platforms, ASUS has stepped in with a single phone that handles both Daydream and Tango. Meet the ZenFone AR!
As the second partner for Tango, ASUS had some big shoes to fill. Instead of matching Lenovo's massive 6.4-inch body to support the Tango sensor setup and a reasonable battery, ZenFone AR slims things down a little to 5.7 inches. While that's still a little on the big side by current smartphone standards, ASUS and Google have clearly worked together to address the size requirements for Tango.
The camera array required to make Google's Tango software work well has now been clustered together at the top in an system ASUS is calling TriCam. The Tango camera requirements haven't changed though, which means on the back of the ZenFone AR you get a motion tracking camera, a fisheye depth sensing camera, as well as a standard 23MP Sony IMX318 camera sensor. That sensor offers a few more megapixels than what Lenovo offered in the Phab 2 Pro, but the real benefit will be greater functionality in low light.
The other thing that a 2560x1440 resolution is going to be good for, when you aren't creating a dinosaur exhibit in your living room, is Google Daydream. ASUS is using the Snapdragon 821 processor with 6GB or RAM in this device, which means there's more than enough power to handle Daydream apps and a display that is more than capable of offering a great visual experience.
Qualcomm, Google, and ASUS have all worked closely together to ensure the 821 is up to handling both Tango and Daydream tasks, though Google is quick to point out that there will be no Daydream apps that use Tango to offer any kind of hybrid experience. This phone will handle Daydream apps when in a Daydream View, and Tango apps when you are in Tango mode. No crossing of the streams here.
ASUS is also talking up the speaker and thermal system in this new ZenFone. A 5-magnet speaker is coupled with the use of DTS Virtual Surround Sound ensures audio through headsets and the equipment baked into the phone will be loud and capable, with Hi-Res audio supported out of the box. For thermal management, ASUS claims a "sophisticated vapor cooling system" is in use on the ZenFone AR. This thermal system appears to be similar to Samsung's "liquid cooling" on the Galaxy S7, which is effectively a copper heat pipe with a small amount of vapor inside to help dissipate heat more effectively.
While being Tango and Daydream capable are the big points here, and clear signs that these two technologies may soon be under one "roof" at Google is awesome, the ZenFone AR is also looks like a decent phone. The design language shows clear ASUS features in a form factor that handles the physical space required by the TriCam array quite well.
There's an almost Nokia PureView 808 look to the back, which is a nice step forward from what was available last year if you wanted the Tango experience. The only thing missing now is a price tag, which ASUS says it will announce at a later date.
Russell is a Contributing Editor at Android Central. He's a former server admin who has been using Android since the HTC G1, and quite literally wrote the book on Android tablets. You can usually find him chasing the next tech trend, much to the pain of his wallet. Find him on Facebook and Twitter
Glad I'm holding off from getting the Asus Zenphone 3 deluxe or the Axon 7. I am kind of looking forward to getting a device with the SD 835 though for 2017. This device sounds interesting though. If the price is right, I'd give it a try!

I doubt u can compare this device with asus deluxe 3 or axon 7..atleast axon 7 is a flagship at 400 $..iam sure this asus will be more than 600$...

Viewing VR through a screen door still... I thought that was a 2016 thing.

Yep. That is so 5 days ago😜.

Sounds great. How much and when?

I read on Pocketnow that the 3 Zoom had 8GB's of RAM instead of 6. Does anybody know if this is an error on Android Central or Pocketnow?
Android Central Newsletter
Get the best of Android Central in in your inbox, every day!
Thank you for signing up to Android Central. You will receive a verification email shortly.
There was a problem. Please refresh the page and try again.