T-Mobile HTC Sensation 4G video hands-on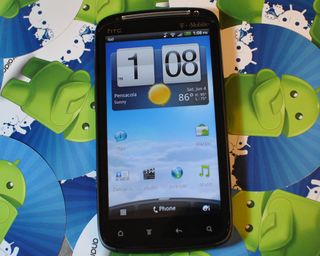 Oh, my. So that's what all the fuss is about. We just gave the European version of the HTC Sensation a thorough what-for (read our full review), and now it's time to do the same for the U.S. version, which will be known here in the colonies as the T-Mobile HTC Sensation 4G.
Believe the hype, folks. From the moment you pick up the Sensation, you know it's going to be quality work. It just feels like an HTC phone. It's sleek. It's smooth. It's got just the right amount of heft to it. Not too heavy, not too light.
And as much as we've come to terms with the fact that most of the phones in our current arsenal won't ever officially see the new HTC Sense 3.0, we're practically elated to have it on the Sensation.
Find out what's got us so giddy in our initial hands-on video after the break.
HTC Sensation Specs | HTC Sensation Forums | HTC Sensation Accessories
Android Central Newsletter
Get instant access to breaking news, the hottest reviews, great deals and helpful tips
hey you forgot to say that the hmdi port is the same as the charging port..

Where is it? I watched the video again. Is it hidden under a cover? I can't see it. I mean it's not an issue for me as I never use it, but that's cool that it's on the same side.

its not a different port, its the same as the charging port. Just clarifying.

This is the only phone, taking one of my eyes, off of the Infuse! Give us your thoughts Phil, in a few days please.

Phil, Can you tell me if the Blueooth 3.0 includes AVRCP 1.3? Want to buy it and be able to stream not only audio but the metadata to my car stereo. Thanks in advance!

at about the 1:11 mark, you say one the left hand side is the power button and MicroUSB port. Isn't that the volume rocker? I thought the power button was on the top.

WIFI calling on T-Mobile is now free calls. It used to take the minutes off of your regular plan but as of about a few weeks ago they have changed to all WIFI calls are now free calls. That is fantastic. T-Mobile is the best. Phil just tweeted he wanted to import a Sensation with AT&T radio bands, why, he has T-Mobile in his town now, free wifi, better plans, much faster data. Try this phone on T-Mobile and you may stay or at least until this proposed buyout works it's way. This buy out looks like it may not happen as days go by. More and more big companies and names are against it. Time will tell. Didn't mean to get off subject but my question is why give up the free wifi calling and the better data speeds and plans just to stay with the worst carrier?????

I am wanting to leave T-Mobile because of the AT&T buyout, but I got to thinking that if I stayed, if and when the buyout does happen, I could probably leave without having to pay an ETF. At some point the terms of service are likely to change, and a change in TOS usually allows people to leave without paying an ETF, I could then bail and head to Sprint.

They will most likely honor your previous contract with T-Mobile rather than change the terms and give all their inherited customers a free "get out of jail" card. Of course the minute you try and buy a new phone or renew the contract or change anything about it, then all bets would be off; but that's a two way street. Hypothetically if the merger were to go through, you could sign a new contract with T-Mobile just prior to the deal, have a theoretically larger network, and still pay a monthly bill according to your old T-Mobile contract. The only catch would be what AT&T would plan to do with their newly acquired radio frequencies from T-Mobile, whether for voice, or to expand their data networks instead.

wifi calling is free now? Cause i still get the message saying that it uses plan minutes, its not like it matters cause I have an unlimited everything plan, but if thats the case might as well downgrade my plan when my contract is up.

Here is one of the announcements, I haven't verified if it's actually true or not, by looking at some of the article comments there seems to be some questions still to be answered. http://www.tmonews.com/2011/05/t-mobile-unlimited-wi-fi-calling-feature-...

Know what makes this phone more awesome? When they take the back off it makes me think of Darth Vader removing his helmet. Good tie in HTC!

this is my number one android phone at this point. i love htc but i would rather see it on a different carrier.

Your wish granted! Evo 3D on Sprint. All the goodness of the Sensation PLUS: 1) A much bigger battery
2) Much more RAM
3) Much more Internal Flash storage
4) Supposedly a better camera
5) And of course, 3D screen
6) 3D stills and video

not a better camera since it has to lower resolution in order to use both cameras on the 3D at 720 and 1 camera at 1080p. 5mp vs 8mp both cameras from HTC im pretty sure they would make the one on the sensation better.

Can't wait for a galaxy s2, htc sensation death match.

God lord please stop the reviews with that cheesy soft core porn music in the background.

Glad i'm not the only one who dislikes it.

You must be watching some nerdy porn.

Geeky/nerdy girls are hot

You can change the page app drawer to the quick scroll. When you're in the app drawer click on menu, and change view from grid to list.

Oh what a unique form factor from HTC.

I just don't understand how people bring up this "same form factor," or in your case the sarcastic "unique" critique all the time. How many usable form factors are there? Not many. Would you prefer the phone to be a square? Maybe a circle that when you put a custom ROM on it, it will double as a Frisbee?

Does it have pen-tile screen?

Any word on root? HTC said they would not be locking down future phones. What about this one? If it's locked and you buy it now is there any way of rooting later? Anybody know?

it's not like you couldn't root it. you couldn't unlock the bootloader and install custom ROMs. Just look at the Droid X... motorola locked its bootloader but it still was rootable

I notice the power button is on top, just like the Nexus One and it will get a lot of work turning the screen on and off. I predict it will fail right after the warranty expires rendering this $500 phone a useless brick. Albeit one that "feels" really solid. HTC is now notorious for this problem and a class action lawsuit can't be far off. Unless HTC can step forward and act responsibly, I'm going to buy the Samsung Galaxy S2 instead.

Negative. I have been using the Nexus One for 15 months and the power button on top is still as good as the day I bought the phone. Most people rave about the power button being on top, and dislike Samsung's tendency to place it on the side. But of course, HTC won't please everyone.

I love most things about my EVO... But the power button up top isn't one of them. I've got fairly long fingers, but I still like the side power button better (at 'least on a few of the Samsung phones I've handled, including the Infuse). Placing it up top makes it a reach from your standard grip on the phone, so it's extra work imo. If they're gonna keep placing it up top they should at 'least take a cue from Motorola and the Atrix and place it on the edge so it's sort of between the backside and the top (and make it large!), that's a good compromise. Having it up top but to the side (like on the EVO 4G) is the worst placement for my taste, 'specially on a phone this large. That being said, I've had no issues w/the actual functionality of the phone... I've never had it cracks (even tho I've heard reports about it) and with a TPU skin case on it's actually easier to press than it is without said case (sort of makes it so you can press in the immediate area around the button and still catch it). Either way, it's not a detail that's gonna make me wanna buy one phone over the other... Nor is Sense, nor the camera button, etc. The fact that Sprint/HTC are STILL delivering relatively timely updates to the EVO 4G (all things considered) is one of the main reasons why I'd buy HTC again, locked bootloader or not (I'm praying for an engineering bootloader leak though!). I despise the Sense launcher (huge PHONE button = mayor eyesore and waste of space imo), and I couldn't care less for the widgets (so I use ADW); but I've come to really really appreciate a lot of other things about Sense... Everything from the contact management/sync, to the smart lockscreen improvements (no 3rd party app does it as slick as HTC), to the small things like the ringer quieting down when you turn the phone over or pick it up (looove that). These things get overlooked WAY WAY too often in reviews, it's like they were mentioned once ages ago when the Hero or the Incredible came out so they're not worth mentioning anymore... What gives? If you're gonna pick on all the downsides of Blur, shouldn't you highlight the way things are done RIGHT? BEYOND the silly eye candy? A lot of these Sesne improvements could carry over just fine to Ice Cream Sandwich even w/o the UI skinning... I think HTC's got nothing to worry about there, they might be the only manufacturer that will truly know how to differentiate their ICS builds.
Android Central Newsletter
Get instant access to breaking news, the hottest reviews, great deals and helpful tips
Thank you for signing up to Android Central. You will receive a verification email shortly.
There was a problem. Please refresh the page and try again.