Swiftkey X is here, making text prediction even more personal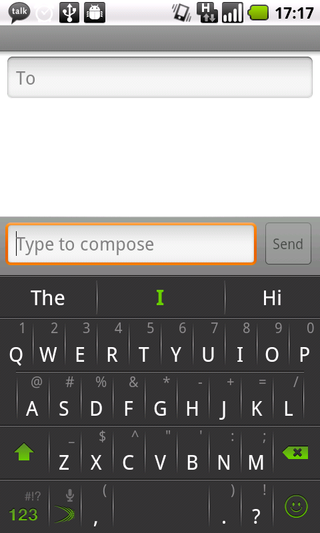 TouchType this morning announced Swiftkey X, the latest iteration of its on-screen keyboard which is now in public beta status. Long known for its word-prediction capability, Swiftkey's got a new look, and new features.
First and foremost is the setup process. Swiftkey's new guide will walk you through downloading a language pack, installing and enabling the keyboard, and then the option of tying into your Facebook, Gmail or Twitter accounts.
Wait. What? Yes, you can choose to give Swiftkey access to Facebook, Gmail or Twitter. Why on Earth would you want to do that? Swiftkey can now use API calls to analyze your sent messages to determine your typing pattern, frequently used words, etc. Remember that you are the one who gives access to this. If you don't want to use it, you don't have to, and you have to give Swiftkey specific permission to do so. (TouchType's privacy policy can be found here (opens in new tab).)
Swiftkey has also seen improvements to its "fluency" engine, specifically with the addition of "Personal Input Modeling," which adjusts the touch-sensitive regions of the keyboard depending on how accurately you type.
Pretty cool, eh?
Now the important part: Swiftkey X is available on any smartphone running Android 2.x or above. It's a free upgrade for current paid users, and it's downloadable in the Android Market. We've got video with the Swiftkey folks as well as the full press release after the break.
Download: Swiftkey X
Youtube link for mobile viewing
SWIFTKEY X - This time, it's personal.
LONDON, UK — Android™'s most popular keyboard app took a major leap forward Friday, as its successor SwiftKey™ X launched in public beta.
The world's first 'Social AI' keyboard can analyze your Facebook®, Twitter® and Gmail™ sent messages in the cloud and use these insights to offer smart, personal and instant phrase prediction from first use.
It builds on the success of developer TouchType's first AI keyboard, SwiftKey. The technology company was named among Google's 'Top 150 Developers' on Android earlier this month, with its award-winning app consistently among the most-downloaded, highest-rated on the platform.
"SwiftKey has already been a remarkable success on Android; it's been downloaded more than a million times and is used to send over 100 million messages each month," TouchType's CEO and co-founder, Jonathan Reynolds, said.
"Thanks to our unique text entry technology, we've achieved many accolades, including being asked to demonstrate alongside Google at the Mobile World Congress in Barcelona, winning the Mobile Premier Award for best app while there, and being embedded in phone-maker INQ's flagship Android handset," Reynolds said.
"But with SwiftKey X, we're taking a quantum leap forward. This new beta improves on the original in every way, and it will stun those who try it."
SwiftKey X was built in collaboration with TouchType's community of passionate 'VIP' users over the past six months, giving the new app a combination of cutting-edge innovation and hotly requested feature improvements.
"When engineering SwiftKey X, we've been continually inspired by the stream of excellent ideas that have come from our VIPs," TouchType's CTO and co-founder, Dr. Ben Medlock, said.
"This new app is built from a much clearer understanding of how our users interact with their devices. With SwiftKey X, from the word go it'll feel like your phone just knows what you want to say."
In addition to cloud-based personalization, SwiftKey X contains a brand new version of TouchType's flagship Fluency™ language inference engine, which is at the heart of the app's 'mind reading' capability.
Improvements to Fluency include 'Personal Input Modeling', which dynamically alters the touch-sensitive regions of keys based on how accurate your typing is. There are also two new 'typing styles' – Precise and Rapid – which ensure predictions and corrections work in harmony with the way you type.
SwiftKey X contains many UI and customization improvements, including a totally redesigned installer and settings menu, and a theming framework that allows users to change the look of their keyboard.
The app also now supports 17 languages, and remains the leading keyboard on the market that uses AI to intelligently interpret text input in multiple languages simultaneously.
Android and Gmail are trademarks of Google, Inc. Facebook is a registered trademark of Facebook, Inc. Twitter is a registered trademark of Twitter, Inc.
Android Central Newsletter
Get instant access to breaking news, the hottest reviews, great deals and helpful tips
Me too. Best software keyboard for Android. Still doesn't beat a physical keyboard but it's the next best thing.

Just got the email from Swiftkey about this, trying it now.

Its cool but no greek dictionary ._.

I've been a member of the Beta group for months. And i must admit the latest version of our Beta, is the SwiftKeyX and it simply ROCKS. no other way to word it. Whatever logarithm they use for word prediction is scary accurate. Make SYWPE seem "so 1999" when i comes to android keyboards.

I've been Beta for months too, and I've dutifully downloaded and tried each release, but frankly... I still prefer Swype. After using SwiftKey for a few days I get frustrated and turn it off and go back to Swyping. I like the idea, but on my _phone_ I am just more effective with Swype. _HOWEVER_ on my CM7 Nook Color... I really like the Tablet beta. I've not gotten Swype working there ever, but even the idea of Swyping those longer distances doesn't make sense to me. (I don't even care for Swype in landscape mode on my phone). But the Swiftkey tablet beta is _GREAT_ there. Plus the tablet has the option in landscape mode of spitting the keyboard... which looks odd at first, but makes a lot of sense typing with your thumbs. Love it there.

There's a setting in Advanced called Gesture sensitivity that allows you to set the distance required to trigger swiping gesture. I don't know if it'll help your, but you might want to check it out.

having used damn near all the keyboards for android I always liked Swiftkey the best. and this latest release is very nice. I am the precision typer and it makes it considerably faster. Once you try it. You really can't go back to anything else.

I suppose you meant algorithm, not logarithm... :)

Merge it with swype and you'll have a real killer. I much prefer the rapid action of sliding my finger across the keyboard to tapping.

If you're looking for something that feels like swype and swiftkey merged the flext9 keyboard may be for you.

Flext9 has none of the language predictions that SwiftKey has.
It is a simple spelling based prediction engine, like every other keyboard. Nothing special here. It has no clue that the word "Android" is followed by the word "Central" for users of this site. SwiftKey is not a word predictor, its a language predictor. It will predict words before you've even typed a single character.
If you fail to understand this point, then you have missed the primary focus of SwiftKey.

dude u HAVE to try shapewriter.
if your looking for a swype type keyboard that is better then swype, its for you. it also has other features. the keyboard is no longer on market, it was pulled when the company that makes it was sold to swype makers. it is easily found online.
check for version 3.09, it will never expire and is free...

Very cool! But am I the only one that felt like I was watching an Apple product promo?

It actually reminded me of the iPhone promo spoofs like this one. http://www.youtube.com/watch?v=26ELpS3Wc4Q

Been using SwiftKey since the beginning. This beta is great. Love the predictions and how much more efficient I am. It's funny because there are times when I expect my desktop to do the same thing! It's become quite natural for me. If you haven't tried it, you definitely should.

I think I would like it more on a phone (or tab) with a bigger screen than my HTC Incredible has. Swype is still the keyboard of choice for me since it works more on patterns, whereas SwiftKey seems to count on a little more precision tapping. But I can see where this would be nice if I didn't already have Swype.

I got SwiftKey when it was free on the Amazon AppStore... Hopefully they will issue the update soon.

This X Beta is free in the Market. I was using the one from the Appstore, too - this just downloads as a separate app. Loving it so far.

SwiftKey X is a free beta, so you can download it now from the market. The final, non-beta version will be called SwiftKey 2, and will be a free upgrade for people that purchased SwiftKey 1.

That's good info. The story posted by Android Central is a bit fuzzy on this detail. This beta is not offered as an upgrade by the market yet. It's a separate download. One other point: If you have already been using SwiftKey for some time there is no reason to use the new personalization stuff. Just hit the done button and bail out of that step. It already has your language specifics down pat. The requirement to trawl through my gmail and read all the outgoing mail back to their servers is less than appealing regardless of how wonderful their privacy policy reads. Hello Sony. It's bad enough that I am subject to the data retention laws of the USA. I have no desire to volunteer to be subject to British data retention laws. SwiftKey will learn over the course of a week or two anyway.

Great keyboard replacement! Swiftkey was excellent before the Beta - now it's been improved and is far better than the original release. Highly recommended.

The best just keeps getting better.

How does this relate to SwiftKey 2?

SwiftKey X is a public beta for SwiftKey 2 (presumably the X stands for "experimental")

Look! the iPhone5 will come with a new and "revolutionary" soft keyboard that can accurately predict your words and Apple will claim it "First" lol

To touch on the Amazon question earlier.. I too got SwiftKey when it was free on Amazon and I'm wondering, do we need to wait for an update through them OR can we simply download this beta version for free and run w/ it?? If so, do/should we delete the other version we already have?? I'm guessing there are a LOT of people that are in similar situations as I am.. ANY info on this will help a lot! THANKS!!!

Alright.. Sorry about that! There were several posts that appeared before I hit 'Save' on mine! Oops! Since it's a seperate app should we delete the old one then?? THANKS!!

I DL'ed now. The only thing I dont like about swiftkey is it takes up alot of the screen. Giving it a try.

I'm impressed with how the keyboard looks. The dark theme with the green parts looks very good, especially on the Super AMOLED Plus display on the SGS2. Not sure if it's faster than swype for me though.

Well I jumped on this as soon as I saw the tweet on it.

I have been a swiftkey beta tester for quite some time and it is one of the best out there. One thing though is I received an update a few days ago for the original beta version and it seems exact to the new swiftkey X. I have both on my phone now but am not sure if I need both. There doesn't appear to any difference. If any one has info on this please let me know.
The word prediction is excellent and the voice recognition is extremely accurate.
One thing that would make this the ultimate keyboard would be to incorporate a swype feature. I do like swype and tend to go back and forth between both keyboards.

Love SwiftKey, this new version looks very interesting, gonna try it out.

I think i just fell in love with swiftkey all over again. Pure Excellence!!!

Its gotta be exceptionally good to pull me away from the stock GB keyboard.

I have been using Smart Keyboard Pro, which allows you to program macros for certain phrases that you use frequently (e.g., you type "mtg" and it converts it to "Meeting w/"). Does SwiftKey do this too? Also, could someone who has it installed post the memory usage? My N1 is pretty maxed out in terms of memory. Thanks, aviduser

The prediction is based on language. Therefore when you type: "Attached is the agenda for today's" It will already have the word "Meeting" prompted. It learns this as you use it. The more you use it the better it gets. Pretty soon, when you type "Att" it will prompt "Attached", and when you tap that word it will prompt "is" and when you tap that word it will prompt "the", etc, etc, etc. It knows your language (english, french, etc). It learns your speech patterns. Most of your typing ends up being simply one tap per word, as you tap the prompted word. So its a totally different concept than Smart, (which I also use occasionally). Smart predicts words based on letters you type. Swiftkey predicts words based on your prior portions of the sentence. Its about 5meg (unfortunately).

It's not playing nicely with inputting contacts for texting in Google Voice, but it's much better than the HTC keyboard.

I bought SwiftKey already. But this new version beats the old one hands down. I hope they will update the original SwiftKey keyboard with this one. I am a fast typer and this keyboard does wonderful with it. Impressed.

The upgrade will be free when it comes out of beta.

The finest keyboard for Android just gets better and better. Now add Swype as a functionality and this is the bangin' bomb.

Long time SwiftKey user here, very nice update of an already wonderful keyboard. Like the simpler menu structure but most of all the option to have the arrow keys displayed on the main keyboard like the HTC ones... The dark theme is a welcomed addition but looks kind of sloppy as compared to the nicely defined white keys, hope they improve on that and make it as nice as the light scheme.

Swype is not bad at all, but it has two major cons for me: when you are not swiping it's not possible to use autocomplete (words do not appear in a field as you type). Then, if you have to type messages or e-mails in more than one language, Swype is awkward (to change language: tap, hold, wait for pop-up, scroll, tap). The android default keyboard is better (swipe across space bar) but swiftkey is way better! You don't need to select your language at all. I bought Swiftkey and never looked back!

One of those cons was resolved ages ago, if you Swype up from the Swype/info key to the letter q (where the long-press language menu resides) it switches from your current language to the last used alternate language. Swype up again and it back to your original language. I use this all the time, couldn't live without it.

Thank you for that tip, so much still to learn about things as simple as keyboards!

This beta version works great, so far. I uninstalled my paid version, so as not to cause any conflicts. The main thing is to make sure you set your preferences in Settings after the install. Once set, the beta runs even smoother and faster than the paid version. It says it can now support up to 3 languages at once. I strongly recommend it. If there are any issues or bugs, just forward your feedback to TouchType; you can do so from the Settings menu (Support). These folks are definitely 1st class.

I have to amend my original comment. There's a bug that cropped up that makes it nearly impossible to use this beta version...and I'm not alone. When using a slider keyboard, the C, B and F keys will only type the FN characters. It doesn't seem to be a problem when using the screen keyboard, only the hard keyboard. Hopefully, they'll fix this quickly because I REALLY like the beta. Meanwhile, I'm using the "old" 1.1.91 version. The issue has been reported to CS by other me and other users, so we'll see how long it takes to fix it.

I had loved this keyboard alternative then found FlexT9 and no going back. Love to see SwiftKey add the tracing (similar to swyping) feature in FT9, but tapping on keyboard now seems so slow. With FT9 I can trace, tap or voice for input. Great improvement on the original Swiftkey keyboard but trailing the competition in features.

Just curious...what's the difference between flext9 and swype?

Update just rolled out. 2.0.2.26

Love SwiftKey! Finally a dark Theme!

I've been Beta testing this keyboard for a few months now and it's great, but more importantly, the devs are great. They quickly respond to posts and have been making weekly improvements recently. THey really listen to their customers (like HTC) and give us what we are asking for. Give them a try if only for that reason, we need more devs like that!

I love Swiftkey, but the Beta and the X won't give me predictions on the native email app on my Thunderbolt. The keyboard will be there, but it won't give predictions. Unfortunate.

No predictions on my Thunderbolt also in email, it does with text. Sticking with the previous version for now

dude u HAVE to try shapewriter.
if your looking for a swype type keyboard that is better then swype, its for you. it also has other features. the keyboard is no longer on market, it was pulled when the company that makes it was sold to swype makers. it is easily found online.
check for version 3.09, it will never expire and is free...

I heard SwiftKey X was having issues with Google Voice -- can anyone elaborate on the problems? I use Google Voice for almost everything on my phone, so if there is going to be a major issue, I'd like to wait until after beta.

Wow very impressive... big improvement over the og swiftkey... seems so much more accurate.

Wow very impressive... big improvement over the og swiftkey... seems so much more accurate.
Android Central Newsletter
Get instant access to breaking news, the hottest reviews, great deals and helpful tips
Thank you for signing up to Android Central. You will receive a verification email shortly.
There was a problem. Please refresh the page and try again.