SwiftKey 5 goes free, adds number row, emoji and paid themes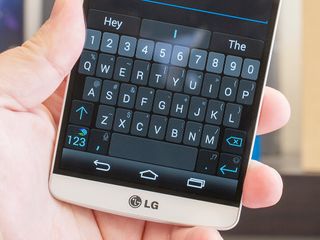 Those who already bought the keyboard will get 10 themes for free
One of Android's top paid apps is now free. SwiftKey, long one of our favorite third-party keyboards, has dropped its $3.99 price for its fifth iteration — available today — and is throwing in a bunch of new features as well.
And for those who bought the full version of SwiftKey in the past, well, there's a little extra something in there for you as well.
So here's the deal: First and foremost, nobody's paying for SwiftKey going forward. You get that great prediction engine and layout for absolutely nothing. And with it you'll still be able to take advantage of SwiftKey Cloud, which syncs your predictions across any and all devices you hook into it. Plus, you can still have SwiftKey learn from your Google, Facebook or Twitter entries.
The biggest addition, though, is the new theme packs. For a few bucks, you'll be able to download new themes to give your keyboard a new look and feel. It's quick, it's easy, and it's all done right through the app. Nicely done. (And, again, if you'd already paid for the app you'll get 10 themes for free.) Individual themes run 99 cents, and you can get packs of five for $2.99 each.
Then there are emjoi — those little smiley face guy the kids are all using these days. They're now supported in the SwiftKey keyboard if you're running Android 4.1 or above, so you can wink and give thumbs up and all that cute stuff. (You might want to consider relegating them to a long-press of the return button — you can change that in settings.)
Need more? How about a dedicated number row. That's finally happened in SwiftKey 5. You'll need to enable it in settings, though.
And one more bonus out of all this: There's a bug in Android that causes SwiftKey (and other keyboards) to switch off any time they're updated. That only affects paid apps, apparently, and so it should be fixed now that SwiftKey's gone free.
Get your download on at the link above. You really don't have any excuses now.
Android best-seller SwiftKey goes free, launches theme store and rewards loyal users
'Mind-reading' app adds user-driven enhancements; removes price barrier to bring keyboard technology to more users worldwide
San Francisco, CA, June 11, 2014 – SwiftKey Keyboard, Android's best-selling paid app, today sheds its $3.99 price tag to become free. This shift comes alongside an update to the app that introduces dozens of new free and premium keyboard themes, giving users more customization choices for their on-screen typing experience.
SwiftKey Keyboard replaces a mobile device's keyboard with one that understands language and learns your personal writing style. These insights improve typing with more accurate autocorrect, prediction of your next word and other innovations like SwiftKey Flow, which lets you type faster by sliding your finger across the screen. The app launched in 2010 to critical acclaim, and is one of the world's best-selling Android applications, spending more days at number one on Google Play than any other paid app.
Today's transition to free gives all Google Play users access to that award-winning software at zero cost. This means that all of the market-leading features that have defined SwiftKey's success as a paid app are now completely free. The move accelerates SwiftKey's ambition to reach millions of new users, especially in developing economies. It also creates a more sustainable business model in the app, where users can choose to pay for themes and other content to further enhance their experience.
In making the transition, SwiftKey is rewarding loyal users who have previously paid for the app. These users can download a $4.99 "Premier Pack" of 10 themes free of charge. The app's core functionality remains intact.
In addition to new themes, today's update brings several other user-requested improvements. Support for over 800 emoji is now integrated directly into the keyboard, with a new prediction feature that learns how emoji are used and predicts them as you type.*
An optional dedicated number row is now available for the keyboard, making it easier to input numbers. SwiftKey's word prediction engine has also been improved, with better autocorrect and more accurate gesture typing, and new global languages have been added, bringing the total number supported to 66.
SwiftKey co-founder and CEO Jon Reynolds said: "This is the start of an incredibly exciting phase for us as a business. We have made the decision to go free to better enable everyone, everywhere, to use SwiftKey's market-leading technology without payment being a barrier. We're focused not only on reaching more users with our powerful technology, but on building great content and features to engage them."
SwiftKey co-founder and CTO Ben Medlock said: "With the latest version of SwiftKey Keyboard, we're providing an even more intuitive and personalized experience for our users, which they're increasingly expecting. We've expanded our design team to focus on developing creative and beautiful user experiences. Our commitment to innovation has never been stronger and we are looking forward to sharing more exciting developments in the future."
This updated version of SwiftKey Keyboard will include:
SwiftKey Store Stocked at launch with over 30 brand new themes, the SwiftKey Store will be regularly updated with fun customizable content.
New default theme In addition to the new themes in the Store, SwiftKey Keyboard now features a clean new default theme design, 'Nickel', available free to all users. Nickel was designed to be a modernization and ergonomic improvement to SwiftKey's ever-popular Cobalt theme.
Emoji Prediction SwiftKey's trademark prediction technology learns and proactively suggests from more than 800 emoji which are most often used with specific words and phrases.
Number row Due to popular demand, this latest update introduces an optional number row for quick access without switching layouts or using long-press.
Improved prediction engine Investment in SwiftKey's core technology is higher than ever with a host of prediction engine improvements, including better support for complex languages and multilingual typing. Capitalization has also been enhanced, as well as the technology's overall learning ability.
New language support Support for Belarusian, Mongolian, Tatar, Uzbek and Welsh has been added.
New and improved flow trails This gesture-based feature has been improved for better visibility and faster, more accurate input.
*Emoji are only supported on Android versions 4.1 and above. To enable emoji prediction, go to Settings > Advanced, and select the box marked "Emoji prediction."
Editor's Note: SwiftKey Keyboard is available globally, for free, on Google Play. The app formerly known as SwiftKey Keyboard Free was a one-month trial of SwiftKey's paid app and has been superseded by today's app that does not expire.
Get the Android Central Newsletter
Instant access to breaking news, the hottest reviews, great deals and helpful tips.