Supcase slim-fit leather case for the Nexus 7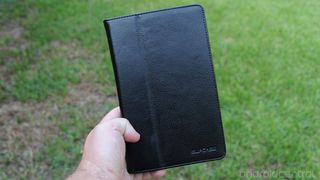 Next up in our quest for the perfect Nexus 7 case is the Supcase Slim Fit Leather Case (opens in new tab), which has garnered a bit of an Amazon following for its affordable price. It's also available in nine colors -- pink, black, green, red, white, deep blue, deep pink, purple and sapphire blue.
And after even just a few minutes, we can confidently say this one's worth taking a look at.
Read on for some more thoughts.
The Supcase slim-fit case is a simple enough product. Housing the Nexus 7 folio-style, the tablet is secured from the front around all four edges, and it's locked in via a Velcro attachment on the left edge that connects to the back panel of the case. This thing ain't going anywhere. And note the hole on the Velcro attachment -- that's to allow the pinhole mic to continue to function. (There's another pinhole mic on the back of the Nexus 7, but it's left exposed by the case and doesn't need a cutout.)
Closed, the Supcase looks and feels like a decent enough case. The leather's obvious not of the highest quality, but we're not afraid to show it in public either. There's a deep crease in the front panel for the stand function, and the Supcase logo is inprinted in the lower-right corner.
The spine of the case has a bit of a curve to it. It's not completely rounded, but neither is it completely straight.
Around back you'll find holes to allow sound out of the Nexus 7's rear speaker, and a little tab that's used to stand the tablet in either horizontal or vertical orientation. Bend the front flap around the back and tuck it into that tab, and you've got a stable way to watch videos at a low or high level.
Open the case, and you'll find that your Nexus 7 has turned itself on -- that's the result of a magnet hidden in the front flap interacting with the tablet. There's another hole for the front-facing camera, and one on the bottom edge so you can charge the Nexus 7 without having to remove the case first.
The power and volume buttons are accessible, but they're also a little hard to get to. That's not the case's fault, though; the buttons are angled toward the back of the device and aren't easy to get to in any case we've tested, save for ASUS's official case.
Pros
Leather is of good-enough quality.
Easy to insert and remove the tablet.
No fear of the tablet falling out.
Cutouts are where they should be, so you can use the camera, buttons and microphones
Hidden magnet wakes the tablet when case is opened.
Cons
The tablet is not as slim as the name implies. We measured it at about 0.82 inches thick, and not the 0.5 inches thick that Amazon lists.
Pulling down the notification shade can be difficult because of the leather along the top edge.
The bottom line
This isn't a bad case at all. It's $15, available in a number of colors, and fits the Nexus 7 nicely. The leather and stitching are good, and your tablet should be well protected.
The Supcase slim-fit leather case for the Nexus 7 is available from Amazon (new) for $14.99 (opens in new tab)
.
Image 1 of 10
Android Central Newsletter
Get instant access to breaking news, the hottest reviews, great deals and helpful tips
There's one VERY similar to this on eBay for $8.69. Here's the link: https://www.androidcentral.com/e?link=https2F2Frov...

Skip the case in this review and buy this one: http://www.amazon.com/Poetic-HardBack-Protective-Automatically-Manufactu...

I totally agree. I wouldn't buy a case which covers the bezel in any appreciable way. I have the YooMee version of the Poetic case and it works great.

I just received the YooMee case yesterday, and so far I really love it. Bought off of Amazon for $10.99. Very reasonable for a great case. I can't wait until my next business flight so I no longer have to hold up my N7 to watch a moovee. AC...if you're listening, pick one of these up and review for all to see. http://www.amazon.com/YooMee-Android-Leather-Multi-Angle-Function/dp/B00...

The YooMee and Poetic cases seem to be exactly the same in this case. I would recommend either. As the most minor of nits to be picked, I slightly prefer that my case says "Poetic" on it. Even if it's a brand in this case, I just prefer the word. You really can't go wrong in either case however. All the Nexus 7 cases I've tried have been slightly less than perfect however. The fact that you need to snap out the bottom two corners to use this case as a stand bothers me a little. It's not that it's hard to do or seems flimsy or anything. It's just an extra step I wish wasn't there. Similarly, with the case reviewed in this article, you almost always have to fiddle with the flap in the back of the case to slide the cover in. None of them have been as easy to set up as my Kindle Fire case which works a lot like an iPad Smart Cover. That said, if I'm going to have to fiddle a little, I'd much prefer this Hard-back case as it offers two(/three) angles of incline and if you flip it around even works as a very shallow incline, a bit like a desktop keyboard with the tabs flipped open.

They also have exact same style for $5 more in supposed real leather with a pen holder and stylus. Though some reviewers can't be sure if the leather is real. It only has 3 colors. I just ordered that for the wife. Glad to hear it's nice.

I have the moko version of the post above this and am happy with it. The fit and finish are great and all ports are easily accessible. I got it for like 13 shipped on Amazon as well.

The magnet can sometimes turn the tablet off when the cover is open and flat against the back of the device. By holding it in a different way you can avoid turning it off from behind. Possibly the magnet is too strong. More of an annoyance than a deal breaker. Edit: I just check my Amazon Order History and I bought it right when it came out for $9. I'll say its still worth the current price.

I have this case and am very satisfied. The volume/power buttons and notification panel can be a bit hard to get to in certain circumstances, but it's really not a big deal at all and everything else works great.

Thats almost like the case I have except mine has a holder for a stylist and the speaker area is completely open.

Where did you buy yours? email me the link at tarsis.brito@gmail.com
Thanks

Dude he can put the link right here... Stop putting your private data out there/and/or try to steal email addresses to spam.

I can't be the only one that thinks leather and the sleek Nexus 7 just don't mix.

For those who might not want a leather one (like I didn't), you might consider:
Google Nexus 7 Tablet Ultra Slim Fit Case https://www.amazon.com/dp/B008RX3LGW/ref=cm_sw_su_dp?tag=hawk-future-20&... Thin, but substantial enough that I think it adds some protection from bumps and minor drops. It fits very well, with the proper cutouts for all side buttons. The magnetic cover both holds it closed to protect the screen and activates the Nexus 7 screen when opened. The magnet doesn't turn the screen off when flipped flat behind the tablet (like I've read about some other cases). When I've folded it into a triangle stand behind the Nexus, there have been a few times when if I shifted how I had it propped, the magnetic cover triggered the screen switch, but it's been infrequent so far. For the price, I'm very happy with it.

I have this very case and I really like it a lot. It is very nicely made and I generally agree with Phil on his review. My only complaint is that if you fold the cover all the way over and don't bend it back to the slot in the middle - the magnets put the N7 to sleep. At first I thought I had a problem with the N7 till I was reading a post about sleep mode on the N7 and realized what was happening. It can be a PITA.

this is the case I have, and the Pulling down of the notification shade can get annoying.other than that. I like it

I have the same case on my Nexus 7. I enjoy execpt for the same cons you posted. Overall good though

Similar to the Poetic is
http://www.amazon.com/Blurex-Ultra-Slim-Google-Tablet-Multi-Angle/dp/B00...

Just like mine but mine terrapin.Great case https://www.androidcentral.com/e?link=https2F2Frov...

if you buy this case... do not leave it on your dashboard in the heat of the summer by mistake. it shrinks and warps inside of a couple hours to the point that its unusable.

Forgot mine in the car for 50 minutes in direct sun...warped beyond any use. :-(

This one looks slimmer than my roocase, which more than doubles how thick the nexus is, and annoys the crap out of me. I want something slim, without the stupid hand-strap inside it, that has a decent amount of space up top so I can pull down the notification window. Sigh. The search continues.

I have this case and I couldn't be happier with it!

I was surprised to the quality of the construction when I got the Supcase. I was expecting something that was either quite flimsy or too clunky. This case was neither of those. I have just spent a good deal on the tablet itself, and just wanted to buy something quick, really anything I could cover it up with. I was thinking I could buy something better at a later time. However, this of such good quality I think I will be able to use this one as long as I like.
Android Central Newsletter
Get instant access to breaking news, the hottest reviews, great deals and helpful tips
Thank you for signing up to Android Central. You will receive a verification email shortly.
There was a problem. Please refresh the page and try again.