Stitcher on Android Auto: Not my first choice for an in-car podcatcher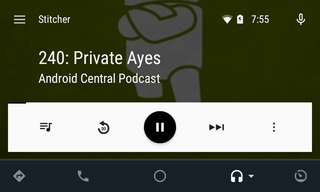 Podcasts have seen a pretty major resurgence over the past few years — with the Android Central Podcast leading the way, no doubt — and so it's not a huge surprise that podcatchers are among the first apps to appear on Android Auto. We've already taken a look at a couple — Pocket Casts and TuneIn Radio (the latter is mostly an Internet radio app but also does podcasts). And now it's time to take a look at another favorite — Stitcher.
Stitcher is a podcatcher through and through. It's got a good web interface (at Sticher.com), and the Android application itself is full-featured and easy to use. And as we've explained before, the standard Android app is actually what you're using with Android Auto.
Like all apps of this sort, you've got a basic player interface with large touch points for playing and pausing. There's a 30-second rewind button, an overflow button to take you to thumbs down/up, etc. Pretty standard stuff at this point.
More: See "Getting Started with Android Auto
But Stitcher (which isn't an app I use regularly, and also probably won't be, for reasons we'll explain now) does something that I haven't noticed from other podcatchers. It lowers the bitrate of the recording. That's particularly noticeable to me now because we just made a dedicated effort to significantly improve the audio quality of our podcast. So while Stitcher is a step above the audio quality we previously had (wherein I was just ripping the audio off the YouTube recording of the Google Hangout), it's also a bit below what you'll hear in other apps that use the direct recording that we upload.
In other words, Stitcher simply doesn't sound as good. And that's a shame since the app is pretty good.
The dreaded "No more items can be displayed" ...
But it's got another issue as well. Wherein other apps have flirted with the touch limits that bring about that dreaded "No more items can be displayed" message, Stitcher runs head-first into that brick wall because of the sheer number of categories it offers. If you're using some of the more direct categories — Front Page, Listen Later, or your own "Favorites Playlist" — you'll probably be OK. But while categories at the bottom of the scrollable list are accessible, the content within them are not. That's due to the limitation on the number of times you're allowed to tap the display. It's a safety thing, and one we don't necessarily disagree with, but Google and the app developers need to come to a better understanding of that limitation, because it's simply a bad user experience, and one that we're seeing in too many apps.
Image 1 of 13
Android Central Newsletter
Get instant access to breaking news, the hottest reviews, great deals and helpful tips
I used to use Stitcher, but had a few more issues that I don't have with Pocketcast. Stitcher claims that you can listen offline, but if it can't connect it wouldn't play. It went down for maintenance and I couldn't play anything I already downloaded to my phone for offline listening. What good is that feature if it has to connect to work? And you can hear the difference, plus with Pocketcast you can speed up the playback.

Pocket Casts is far superior to any other podcast manager on Android in my experience and I've tried a lot of them. Beyondpod used to be cool but they changed the UI and how it works which made it suck.

I really tried to get used to the new layout on BeyondPod, but I just couldn't get used to it. What a shame. Used to be a really great app. I moved to Podcast Addict.

I wish there was a podcast app on Android that had a compression setting like Rssradio on iOS.

Android auto, in certain situations, knows the difference between parked and driving modes from the headunit mostly visible by having an onscreen keyboard when parked in google maps. I have the same model Phil has. What I want is full google music support when my car is parked so I don't have to cheat the 'lock screen' or unplug the phone to get my full list of music, yes like Phil has said, you can speak a artist or album but its kind of janky. Its actually more convenient to blast music over bluetooth (though audio quality is significantly better over Android Auto as it is using the jellybean audio over USB implementation that no other speaker or device used until Android Auto). Bonus points would be allowing video apps while the car is parked. Yes this head unit can play avi and mpg files on a flash drive or SD card, in addition to DVDS, but what if I want to stream a movie from google play or an ultraviolet movie from flixster? Or maybe I am parked in my car at Sonic or another fast food joint and want to watch cat videos with my friends on youtube? Or android central videos on youtube? GOOGLE MAKE IT HAPPEN.... please?

Stitcher brings a world of podcasts to your car, and also a couple of headaches. http://cufftech.com/

I HATE in car entertainment systems that limit you from doing certain things while the car is moving. Do car companies (and now Google) not understand that cars often have these things called passengers? I am a safe driver and my wife handles all of the music and nav while I'm driving, so it pisses me off to no end that I sometimes have to pull of the tracking road (hello, dangerous!) just so my wife / passenger can change which phone the Bluetooth system is paired to or something. These idiotic companies (I used to be an engineer for a company who built OEM in car entertainment systems / radios for several major car companies, so believe I know how stupid they are and how stupid the design process and regulations are) aren't making anything safer for anyone. You know what happens when Joe Shmoe can't start up navigation on his car because it's moving? Does he safely park somewhere and do it? F NO! He pulls out his damn phone and does it, which is even more dangerous because then he's looking down! BAHHH

They could at least take a look at the Air Bag passenger seat sensor and enable it if someone else is in the car...

All you need to do is ground the parking break wire and it tricks the unit into thinking you are parked!

An interesting article I'd like to see from you guys is to bring some light as to why US Car manufacturers are taking so long to bring the Android Auto update into their cars. Most 2015 consoles are HW ready in terms of requirements, why Dodge, Chevy, Chrysler, etc... are taking their jelly good time. Actual inquiring... Hyundai was the first one doing the update to their system last month. I would expect committed US manufacturers and other import brands in the US to start rolling this out. Is Google having problems working with them?

I've been dying for Pocket Casts to put out a Ford Synch App... I tried Stitcher (which has an app), and it just left me cold for many reasons.

What you need to understand about Stitcher is that it's primarily a streaming app, for Podcasts. Sure, there's an offline feature built into it, but that doesn't change the fact that all audio file data is coming from Stitcher's servers. This means that they download the podcasts from the creators, then re-encode everything to stream it to your device. This is probably why everything sounds worse on Stitcher. The model works for some people, but not all.
If this setup sounds beneficial to you, then great, but if you're looking for a traditional "download-and-play-later" app that gets the podcast directly from the publisher, then I'd avoid Stitcher.
Oh, and I think they even add their own advertisements on top of the podcasts.

Reduced bitrate means less data usage which means you can stream more podcasts without using up all your mobile data. This can be a plus.
Podcast audio quality doesn't really need to be better than AM radio.
If you have unlimited mobile data, you can use another app.
Android Central Newsletter
Get instant access to breaking news, the hottest reviews, great deals and helpful tips
Thank you for signing up to Android Central. You will receive a verification email shortly.
There was a problem. Please refresh the page and try again.