Sprint halts Optimus S Gingerbread update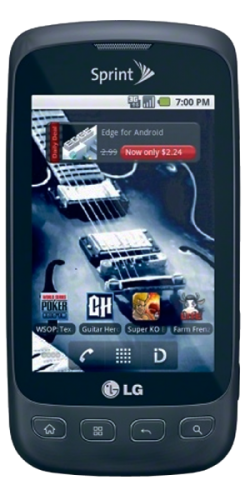 While many folks celebrated the release of Gingerbread for the LG Optimus S on Sprint, seemingly not all went as planned. A number of users have ran into some issues with the update as listed below:
Device not charging
No access to data services
SD card un-mounted or removed message
Device is not recognized by Windows XP, Vista, or 7 when connected to a PC
Predictive text with the Android keyboard is not working
Sprint has been actively tracking the issues as well as some of the possible workarounds for the situations listed above. No date has been set for a fixed version of the update but they are working to get things sorted out as soon as possible. Until then, it's probably best you stay away from the update.
Source: Sprint (1); via: Android Central Forums
Android Central Newsletter
Get instant access to breaking news, the hottest reviews, great deals and helpful tips
Not much of a comment, but I thank you for this information update, and hope that, if and or when there is an update ready for the, LG Optimus V, that it will be, 'GREAT', with no problems.
-
Thank you again.
-
And please post any more news on this that you come accross that you feel would be of interest to many of us.
-
Thanks!

Would have been nice if they tested it all before it went out. I have the Optimus S and got the update late last week sometime. I HATE it! It's slow as heck on the phone and the touch screen is WAY too sensitive. I thought it was maybe due to some widgets and other apps I had (that changed the appearance of the phone's screen), so I removed them - nothing. I did a factory reset, thinking that I would end up with Froyo again, and nope...Was stuck with Gingerbread. I don't even have those appearance changing apps on my phone anymore and I'm still having the same problems. I really do not like the update on the phone and wish to have Froyo back, but the guys at Sprint won't do anything to help me - even tho I have the insurance for it. I want Froyo back.

Yeah whoever signed off on this update should be fired. Funny thing is the update was compiled on July 26. A full month and a half of testing time and yet they managed to conveniently miss all these bugs. I've about had it with Sprint to be honest.

Wow seems like Sprint always has problems updating phones

Received the Gingerbread update about 8 days ago. At first, the bugs were just annoying, such as the loss of the ability to charge the device when connected to a Windows desktop. But this morning, I can't get the phone to boot past the "Android" logo screen. Very annoying. I'll keep an eye on the forum for solutions. At least there are a lot of Optimus S users here on AC (who are about ready to jump to a Samsung Galaxy II, I reckon).

You forgot a few of the frequent problems people are facing: * Call volume, even at lowest setting, is way too loud (the Optimus T uses the same speaker for regular and speakerphone calls, but some Optimus S phones now appear to be using the earpiece at speakerphone volume) * USB Mass Storage is broken completely for non-windows machines, and you need a specific driver for Windows machines (it's not plug-and-play any more) * Gmail app no longer syncs correctly

I will agree with the Gmail app! It's really annoying! I like getting my emails as they come in on my phone, but now I'm only getting told I have a new email every 2-4 emails!

My work phone is the Optimus S. After the update I was having issues with the SD card unmounting for a few days, now the phone is stuck in a bootloop. Sprint has ordered me a new one, but there's such a high demand for replacements they can't guarantee when I'll get it. So no phone for an undetermined amount of time. Thanks Sprint. Great job. Good to know you test your updates.

Im not sure about other store, but I know for a fact that I can fix the no charging issue at my store. We have an over the wire flash program for the optimus that works great. Ive been fixing optimi like crazy the past week or 2. Some people may try calling their local spring store to see if they have the over the wire update pushed through.

They shoudl not halt it but roll us all back as this install has been a PITA! I mean i can deal with a new color scheme who cares what color it is but my phone acts damaged like it was corrupt files added to it. I mean the sd card mounts and un mounts randomly and says its messed up and the phone constantly reboots it self then last night it restored it self to factory defults but it kee some of my apps but not others and my market was not signed on to gmail as it was one it un installed so I had to relog in and get caontacts back. Then on the first day of the upgrade my speakers were messed up as in i was listeneing to pandora and the sound was just gone so my husband called me and nope it did not ring either it was like it was on silent. Then i also listen to a sleep machin on it at night so i dont hear my husbans snoe HEHE and it stopped and i had to pull the battery out to get it to restart and get the sound back.This is very frustrating sonce we are paying a good deal for service and all that come with it throught sprint now my mom and dad and Husband all have the same phone and are having minimal problems. Why are some phones so bad and some just fine? I wish we coudl choose to rool back to froyo if thatswhat ran better on the phone and I hope they are going to re release a good update or downgrade till it is fixed!

Thank you SO MUCH for the info. I was ready to chunk my phone, or perhaps run over it this morning. I'm so tired of the reoccuring SD card issue, not being able to access programs that I was just in, and my phone not charging. THEN..Sprint sends a letter that they are ending the SPRINT Premiere program. Nice...

On or about Wednesday, September 21, 2011 my phone said it was updating and rebooted itself. It was the new 2.3.3 version. The first thing I notice was the black top with neon green, I didn't really like the black but it was just cosmetic and didn't really bother me. What did bother me was that the keyboard had changed. I did not like it, especially the fact that it's predictive text was horrible, totally useless in fact! Instead of predicting the word it gives names in your contact list and words you have used on your phone and they all start with a capital letter. I called it about it and they said that there would be a maintenance update sent out within the next week or 2 that would fix it. On Saturday my phone shut off by itself and I could not turn it back on using the power button, I took the battery out and put it back in and was able to turn it on. Sunday morning my alarm did not go off and I woke up late. My phone had shut itself off. I called Sprint customer care, on the way to church. The girl I spoke to said she would call me after church and get me though to a technician who could help me. Her supervisior got on the phone to confirm the call back which we scheduled for 1pm EST. She never called me back. After 2pm I called Sprint. Basically was told that I needed to take the phone to a repair center, nothing they could do. I did not want to do that as I had learned from my last experience that they would just hard reset it and that would only give me more aggrevation and probably not fix ther problem. Monday morning same thing happened, woke up, no alarm, phone was off. Took it straight to Sprint store, where they told me they would have to hard reset it. The guy assured me that it would more than likely fix the problem. It didn't, Tuesday morning same story. At this point I had noticed other problems with my phone, I couldn't save contacts, I couldn't set a personal ring tone, I was having problems when typing in forms online, and sometimes when I was on a call I was not getting notices of incomeing calls. If they did not leave a voice mail I would not even know I had missed a call. I called Sprint and was told by a supervison that she was aware of the problem, she herself had the same phone with problems, but that the technician could downgrade the system for me. She transfered me to the technician who told me that was not true. He told me that they were aware of the problem and their only solution was to replace my phone. The replacement phones are refurbished, not new. I don't have a problem with that, but I want it to at least look new as this is no fault of my own that I have to keep replacing my original new phone. I was struggling to accept the situation and asked him to call me back in 2-3 hours. After 4 hours waiting I called Spint and spent more time being aggrevated. While on the call with them the technician called me and left me a voice mail, but I did not get to talk to him. Luckily he sent me an email, he had created a ticket for me to go get a replacement. I was told by Sprint that I could not do this over the phone. I had to spend my time and gas to go to the Sprint store wait for an hour so that they could write up an order for the replacement phone. What a waste of my time, this should have been done over the phone. I told the gentleman to make a note that I wanted a phone with a clean screen, no scratches. He said he did. I was to come back on Thursday. I went in on Thursday, waited for almost an hour to pick up the phone and low and behold there were mulitple scratchs on the screen!!!! I know it might seem petty, but is it too much to ask? They ordered a replacement, now I was to wait till Monday, 4 more days with a bad phone. I called Spint totally beyond frustrated. I was speaking to a supervisor who told me she could get me anther phone to replace mine, not an LG Optimus, and it would be full touch screen, no keyboard, and I wouldn't not have to pay anything, she wanted to restore my faith in Sprint. She put me on hold, after awhile a girl picked up the phone and asked me for my number. Seems I was put back into the system. I explained that I need to talk to the supervisor and told her the name. She asked me what was the problem. I told her very briefly and asked again for the supervison. The girl got an attitute and kept trying to get me to give her all the details, which I was so sick and tired of giving and I just wanted to get back to the supervisor who was helping me. She put me on hold and never came back, after about 20 minutes of holding I hung up and called back. Of course you can never get to talk to who you were because there are over 100 call centers! I finally got put on with another supervisor who assured me that she could get me this great new phone, but she had to put me through with the tech department, he assured me he could get me this great new phone, but he had to put me thought to a supervisior, who assured me, but had to put me though to someone else who finally told me the truth, they were all liars and no one at Sprint could do anything for me. I had to get my replacement thought the Sprint store. She was kind enough to say she would credit my account an inconvienince fee of $25, well at least that will cover the gas for all the trips to the Sprint store! This morning (Friday) I talked to the manager of the Sprint store. He explained my options: get the replacement, hope it has good screen and works the way it should or down grade to a Samsung Intercept with touch screen and keyboard. He said he could in no way help me get a better phone. I am so disappoint in Sprint and their policies that only benefit them. I guess I am used to dealing with companies that want to make their customers happy and will go out of their way to make sure of it. Not say sorry you are having this terrible experience but I can't do anything to make up for it. Here's $25 for your inconvienience.

I just had to add to the numerous complaints about this upgrade. As soon as it happened, I went to the Sprint store by my house and was told basically to get used to the new look on my phone. I was perfectly happy with 2.2 and was getting really attached to my first smartphone. Some things I don't like about the upgrade that I mentioned to the reps at the store: 1. New keyboard is too small, and I'm anal about spelling.
2. Predict text is gone, so I have to start over.
3. In call volume is really loud and obnoxious.
4. Phone randomly turns off now.
5. Phone is not recognized on my desktop PC when plugged in - major PITA.
6. New look is not pleasing to my eye.
7. Email sync is all messed up. In fact, notifications for everything is messed up. I've been a Sprint customer since 2003, but this might be the biggest issue I have with them. I'm ready to jump ship and cancel my plan. They're already gouging me with monthly rates, and I feel like I'm not getting my money's worth. We should be able to get out of this contract due to the mess they've created.

I just got the Optimus S about 2 weeks ago. It had 2.2 when I first got it. I attempted to root my phone (with no success) but throughout that process I updated my phone to 2.3.3. Dont ask me how because I have no idea but it was def. before the 27th. I havent had any of the problems you all are describing everything is working great on my end. also if anybody can help me with rooting I could def. use the help. Thanks.

It's impossible to root 2.3.3 right now but if you downgrade it to 2.2.2 (its on sprints forum update.Zip) also when you downgrade search for gingerbreak. On your browser download it and use it it will root LG optimus s 2.2.2
Rooted
reborn Rom with xionia recovery and kernel Gollum17
Christen0fo @gmail.com

It's impossible to root 2.3.3 right now but if you downgrade it to 2.2.2 (its on sprints forum update.Zip) also when you downgrade search for gingerbreak. On your browser download it and use it it will root LG optimus s 2.2.2
Rooted
reborn Rom with xionia recovery and kernel Gollum17
Christen0ford@gmail.com

Hey Sprint! switched from Tmobile less than a year ago and I wish I could go back! I'm stuck with a sprint optimus, latest update (gingerbread??, really??) and very little to NO ability to recharge the unit! I'm told I must drive 45 minutes to have the software downgraded, losing my apps??!! and no update to look forward to?? what gives Sprint??!!

i must be really lucky with my phones lol i have had my phone for 3 years screen scratched but not broken still works grate. the only problem i have ever had was rooting my phone. i did it a week ago and i had to down grade from 2.3.3 sad face. but other than that works grate there is no point for me getting a new phone if this does everything i want it to. way to go sprint i love this phone
Android Central Newsletter
Get instant access to breaking news, the hottest reviews, great deals and helpful tips
Thank you for signing up to Android Central. You will receive a verification email shortly.
There was a problem. Please refresh the page and try again.