Spotify's 'Car Thing' smart player is now on sale in the US for $90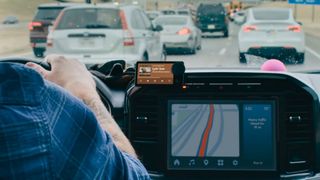 (Image credit: Spotify)
What you need to know
Spotify's Car Thing can now be purchased in the U.S.
The "smart player" has been priced at $90.
It provides a personalized listening experience on vehicles that do not feature a built-in infotainment system.
Back in April last year, Spotify announced its first hardware product, dubbed Car Thing. The company described the product as a smart player that brings a modern in-car entertainment experience to older cars.
After being available only on an invite-only basis for six months, Spotify expanded the product's availability with a limited public release in October. The "Car Thing" is now finally available to the general public, but only in the U.S.
Priced at $90, the device promises to deliver a "seamless and personalized in-car listening experience" regardless of the year or model of your vehicle. It connects to your smartphone and allows you to access all your favorite music and podcasts on the music streaming service using "Hey Spotify" voice commands.
Alternatively, you can control your music using simple taps, turns, and swipes on the device's 4-inch touchscreen. There are also four preset buttons that make it easier to get to your favorites. As you'd expect, you will need a Spotify Premium account and a mobile data connection to use the Car Thing.
Spotify says it is currently working on adding a few more useful features to Car Thing — including a Night Mode that dims the brightness of the screen in the evening and an "Add to Queue" command to allow users to queue up their favorite music and podcasts using their voice. These features will roll out to Car Thing users as part of future updates.
Spotify Car Thing
Spotify's Car Thing makes it easier for you to hear what you love, even if your car doesn't feature Android Auto or Apple CarPlay. If you want to listen to a specific song, album, artist, playlist, station, or podcast, all you need to do is say, "Hey Spotify."
"It provides a personalized listening experience on vehicles that do not feature a built-in infotainment system." and yet the photo they choose to share shows a truck with a ginormous infotainment screen and no reason for a car thing tiny screen thing. heh.
Android Central Newsletter
Get the best of Android Central in in your inbox, every day!
Thank you for signing up to Android Central. You will receive a verification email shortly.
There was a problem. Please refresh the page and try again.