Soon, you'll be able to command 'OK Google' to search in third-party apps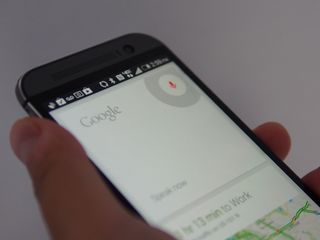 Rather than having to search through apps like Yelp, soon you'll be able to simply wake up your phone with the "OK, Google" command that's baked into Google Search and use your voice to search useful information. Once developers update their apps with just a few short lines of code that Google is allowing, you'll be able to perform voice searches like "Ok, Google. Find me the nearest pizza place on Yelp" all without having to touch your screen.
Google advises developers that this feature is easy to implement and allows Google voice search to work in their app.
The feature will be available to deices running Android Jelly Bean or later.
Are you excited to see this feature arrive? What apps would you want to see this feature implemented in?
Source: Android Developers
I wonder if this will let me play a playlist in Spottily using only my voice.

I'm confident that it will.

That's already available with Cortana on WP and a lot more integration with 3rd party apps, Google Now deserves more than that...

Pretty neat. Love Google now's growth. Posted via Android Central App

OK Google...Find romantic dramas ...I mean action adventure movies on Netflix

Can't wait. "Ok Google. Search for midget porn on Chrome" Posted via the Android Central App

You can already do that lol Posted via the Android Central App

Super...now they need to do just one more thing to make this perfect for hands-free use. Add a voice command that's the equivalent of the "Back" button and/or a "bring to foreground" command.

Love the way Google constantly adds new functionality. Posted via the Android Central App

What really want is just a way to CHANGE THE PHRASE used, especially for my Moto 360, so people will stop drive-by hijacking my device....

You can make it respond only to your voice in the settings. Posted via the Android Central App

Well, you can try... Posted via Android Central App

FWIW my voice doesn't activate google now on my lady's N4 and vice versa with my N5. We used to be able to on each others devices at some so I guess the personalized voice recognition worked for us.

"Okay Google, order my usual in the Taco Bell app". Posted my "LiquidSmooth 4.4.4" Sprint GS3

Lol, is this how search will come to the AC app?

Bring it to XDA and you've got a winner. "OK Google, read original post" Posted via the Android Central App

Nice.. Posted via Android Central App on The Nexus 5

Sometimes I'd like to press a button to search within the app. Why is Windows hugging up this "invention"?

The next step is the same Google Now functionality using Android Wear. Google is about to administer last rites for iOS! Posted via Android Central App

I thought you could already do this. I always was able to do this in any app and in my lock screen? Posted via the Android Central App on Hammerhead running C-Rom

How about a command to answer an incoming call and then terminate it?

Version 2 of App Indexing married to Google Search. But I wonder if this will help with a Bible app like - Ok Google, Find Verse 11 of Chapter 29 from Jeremiah in The Bible

Would be nice to have "ok google" from anywhere in the phone using UK English. We still have to switch it to Us English to do that.... Posted via Android Central App
Android Central Newsletter
Get the best of Android Central in in your inbox, every day!
Thank you for signing up to Android Central. You will receive a verification email shortly.
There was a problem. Please refresh the page and try again.