Sony's Cast-enabled speakers and Android TVs now work with Google Home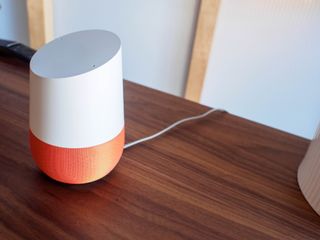 Google Home already lets you control Chromecast and Cast-enabled devices, and the device now works with Sony's products. Sony is rolling out a firmware update to its Chromecast-enabled wireless speakers and Android TVs that allows you to control its products through the Google Home.
Should you have a compatible speaker or Android TV from Sony, you can now stream content by issuing voice commands to Google Home. For instance, saying, "OK Google, play some music on my Sony speaker" will play music on your Sony speaker, and you can say, "OK Google, play Daredevil on Netflix on my TV" to stream the show on your TV.
The feature is now available on Sony's HT-ST9, HT-NT5, HT-CT790, HT-XT2, HT-RT5 sound bars, STR-DN1070, STR-DN1060, STR-DN860 receivers; and the SRS-X99, SRS-ZR7, SRS-ZR5, and SRS-HG1 wireless speakers. All of Sony's Android TVs support Google Home.
Get the Android Central Newsletter
Instant access to breaking news, the hottest reviews, great deals and helpful tips.
Harish Jonnalagadda is a Senior Editor overseeing Asia at Android Central. He leads the site's coverage of Chinese phone brands, contributing to reviews, features, and buying guides. He also writes about storage servers, audio products, and the semiconductor industry. Contact him on Twitter at @chunkynerd.
I just found out last night that my 2016 Vizio P works with Google Home now ☺️. I checked my display and the cast firmware had been updated to 1.21 (TV firmware was not updated just the cast firmware for the TV) I had a blast telling Google to play stuff from Netflix on my TV.

Cool! I have a 2016 Vizio that just got a firmware update and now shows as an independent Cast target. I wonder if mine works, too.

Does that mean I should be able to cast to my Nvidia Shield TV now?

If it works, please reply and let me know. I don't have a Home yet, but if I know it works well with the Shield TV, that'll make it a much more attractive purchase.

If your Nvidia Sheild now has Google Cast Firmware version 1.21+

I saw a similar report on another Android news site a few days ago, but I'm not sure what's really new about the Sony announcement. My Google Home has been able to cast to my Sony Google-cast enabled speakers (I have 3 of them) since the 1st day I got my Google Home several weeks ago (delivered to me the 1st day they were available to purchase in-store since I had pre-ordered from Google). It does work pretty flawlessly and I love my Sony speakers especially since they can be "grouped" and can work either plugged in or by the rechargeable battery that's within the speaker. Really can't say enough about the speakers! They have phenomenal sound and bass and I even attached a "line-out" from my Sony Android TV to the "live-in" on the back of the speaker to use it as a soundbar when I'm watching certain things on TV (and not using the speaker via WiFi/GoogleCast or Bluetooth. They even have NFC for easy pairing via Bluetooth, like for someone visiting that doesn't use a GoogleCast enabled music app, I.e. iTunes. The 3rd speaker I got direct from Sony for a discounted price on Amazon since it was refurbished. Now in terms of my Android TV, I have not been able to get Netflix to cast to it at all, nor to my Chromecast. Maybe there's still an update coming. Interestingly enough, there was an odd message that showed up as an actual app on my Sony Android TV saying that some significant upgrades were coming to the TV and would be through a series of updates starting in Dec 2016.

I speak with an accent, so these voice-enabled devices may not work well. Can I still use a Google Home at its full potential if I don't use the voice commands?

Voice is the only input available. But don't automatically assume that it won't be able to understand your accent. We had friends over the other night and a lovely lady from Chile with a very heavy accent was having fun playing with it and asking all sorts of things. It wasn't perfect, but it was a lot better than any of us expected.

It is not working on my Nvidia shield with 1.21...
I do have it working on my Chromecast, but as a note to others I had to link it to my home in the Google Home app before it would work.

Can you link the Nvidia Shield in the Google Home app?

Sony's goin' all in One Google/Android :)

Now all I need is a Google Home speaker!

Purchased the Echo when it launched and now had the Google Home for four weeks. Basically the Echo you use commands where you talk to the Google Home naturally. The Echo will handle some fuzziness but fundamentally they are variations to commands instead of fundamentally understanding what you are saying. So with the Echo you might do a quick Google search with a lyric to get a song name and then ask the Echo to play. With the Google Home you skip the Google search step. I am starting to learn a shorter english as the inference is so incredible with the Google Home. So say "hey google play sting gwen bottle on tv". Google figures out that I want to watch a video of Gwen Stefani and Sting singing message in a bottle on my TV. It then turns the TV on, sets the proper input, and the video starts playing. Our brains inference capabilities allow us to communicate with one another in a compressed manner. Information can be inferred versus being said. This is what Google is doing and for some (many?) things they can do better than a human.
Maybe it is because I have an engineering background but the Google Home from a technology standpoint and what Google is doing just blows me away. The demo that most blows people away is the Google Photos with the Google Home. A bunch of people over for the holiday and someone asks how was your trip? You just say would you like to see a few pics? You just say "hey google show my photos of kenny in Maui". The TV turns itself on, input set, and photos of my son Kenny playing on the beach in Maui displays". Someone asks did you guys snorkel? I simply ask Google to show photos of Molokini and then photos of us snorkeling at Molokini and unfortunately pics of where I forced the kids to Kayak to Molokini from the hotel. Wind changed, almost died, fantastic Coast Guard picked us up and took us back to the hotel where we were yelled at because suppose to check in once an hour. Just what happens when wife does not join me and the kids on vacation. Then my oldest said I remember snorkeling there. Then you just say show Tommy snorkeling at Molokini. My wife had scanned and loaded 1000s of photos into Google Photos and to the shock of my oldest son photos both above and underwater display of him at Molokini. This is simply off the charts incredible from a technology standpoint. Might be a bias for me but simply wow!
Basically one shutter click and nothing else and three months later you are in your family room without touching a single thing showing the photos. There is no more friction that can be removed.