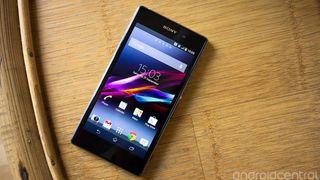 Sony's enormous new flagship handset is its best phone yet — but it's not without a few frustrating issues
Despite its lack of any meaningful presence in the U.S. smartphone market, Sony Mobile is a big deal in Europe and Asia, where its flagship Xperia Z has been on sale since early March. One of the early highlights of the Android year, the original Xperia Z was a very capable device with one or two outstanding features — but it was quickly overshadowed by the might of the HTC One and Samsung Galaxy S4.
Now, as 2013 draws to a close, we're witnessing the emergence of a new breed of Android smartphone, with bigger screens than ever, fast new Snapdragon 800 chips from Qualcomm and larger batteries than we've seen before. It's natural, then, that Sony's follow-up to its 5-inch Xperia Z should fit into this category. Say hello to the Xperia Z1.
When the Z1 — previously known by its codename of "Honami" — was finally unveiled at IFA 2013 it felt like we were being reintroduced to an old friend. That's because a lengthy prelude of leaks had already clued us into key Z1 features like its "Triluminos" display, aluminum frame and 20.7-megapixel camera. So now that we finally have the device in our hands, it's time to see how it measures up. Join us after the break as we kick off our exhaustive review of the Sony Xperia Z1.
Pros
Excellent build quality, super-fast UI performance and fluid UI, great camera performance in most areas, well-designed software.
Cons
Bulky chassis with large bezels, poor display viewing angles, software bugs. Camera produces hit-and-miss results in low-light conditions.
The Bottom Line
Not only is the Xperia Z1 Sony's best phone, it's a great phone by any standard. The competition is fiercer than ever — and there's no shortage of great Android phones right now — but we don't think you'll be disappointed if you pick up Sony's new high-end beast.
Video​ walkthrough
Sony Xperia Z1 hardware
To the untrained eye, the Xperia Z1 is all but identical to its predecessor. But the similar glass-backed chassis and matte trim design hide the many subtle differences that become apparent when you pick up the phone. Firstly, there's the much-improved aluminum frame, which makes the experience of holding and pocketing the device so much more pleasant than before. The earlier model had a very angular frame finished in soft-touch plastic, which wasn't particularly comfortable to hold. This time around the curved metal sides make for a much-improved ergonomic experience — which is to say it doesn't stick in the corner of your hand or pockets anywhere near as much.
So the Xperia Z1 represents an evolution of Sony's "omnibalance" design language, which debuted earlier in the year on the Xperia Z and Tablet Z. It's another flat, symmetrical, blocky handset — though one that looks and feels much more solid than earlier Sony offerings. In fact, we'd say it's the best-built Sony phone we've seen so far. But we have to take issue with one of the manufacturer's design decisions, and our main gripe has to do with the invisible, non-removable plastic sheets attached to the phone's front and back. Presumably they're there to provide some additional protection for the screen and the back, but they also have the effect of making the phone feel way more plasticky than it should, in addition to being a magnet for fingerprints and lint. Sadly, here's a metal and glass phone that feels like plastic.
The front and back of the Xperia Z1 are mostly featureless, save for some Sony, Xperia and NFC branding — and a cutout for the 20.7-megapixel rear camera, which is flush with the glass back. The Z1 has the most going on around its metal trim, with each side of the phone housing ports, connectors and other gubbins.
Down below is the device's single loudspeaker. More sensibly placed than the Xperia Z's speaker, it's still possible to cover this with your hand in landscape orientation if you're not careful. It's reasonably loud and not too tinny, but it's no HTC BoomSound, even with software tricks like XLOUD enhancements turned on.
The right edge is where you'll find the majority of the Z1's buttons — there's Sony's trademark rounded metal power button above a volume rocker and two-stage shutter key, which also serves as a camera shortcut button. Sony's button placement here is just right, with everything within easy reach.
Above that there's a clip-out area which houses the microSIM slot. Up top is the headphone jack, thankfully no longer hidden behind a plastic flap. The phone is still water and dust-resistant however — in fact, with a rating of IP58 it's slightly more resilient than the original Xperia Z.
Some stuff is still hidden away behind those plastic seals, to protect sensitive electronics it from the elements. The microSD and microUSB slots, found on the left side, are tucked away behind protective doors. And yes, that means you'll have to deal with this when you want to change the phone, though there is an alternative — further down there's an exposed magnetic charging port which can be used with Sony's official Z1 charging dock.
The front of the Xperia Z1 is pure screen — no physical or capacitive buttons, no unsightly speaker grille (it's disguised between the screen and the outer trim) — just the 5-inch display, the Sony logo and if you look really hard, the 2-megapixel front-facing camera. That's been a major part of Sony's design philosophy for the past year, and like the Xperia Z before it, the Z1 simply places a screen into users' hands.
But with the large screen comes an awful lot of empty bezel, particularly at the top and bottom of the device. And combined with the already sizeable display this can present some real usability problems, especially if you've got small hands. One-handed use is much more challenging than on rival 5-inchers like Samsung's Galaxy S4, with the space at the bottom of the screen making it more difficult to reach the top row of keys on the on-screen keyboard. The improved industrial design means the Z1 isn't quite the ergonomic disaster that was its predecessor, but it's a very large phone nonetheless, and that fact alone presents its own issues — one of them being one-handed operation. That's not helped by the large lower bezel, which means your thumb needs to reach much further to touch the display.
We're dancing around the screen here, so let's talk display quality. The Xperia Z1 packs a 5-inch, 1920x1080 LCD display with Sony's "Triluminos" technology. Sony smartphone displays of the past have suffered from washed-out colors and poor viewing angles, and while we'd like to say these issues are solved on the company's latest flagship device, that's not quite true. The Xperia Z1's screen looks fantastic when viewed head-on, but like so many Sony phones, tilting the device in any direction will quickly distort the colors. As you'll probably be looking at the phone from the front most of the time, it's not a deal-breaker. However the fact that Sony — with all its decades of experience making high-end televisions and other displays — still can't get smartphone viewing angles right is something of an oddity.
But let's assume you're holding the phone directly in front of you. You're going to be treated to image quality that's very close to some of the best smartphone displays out there, if not quite up to the insane brightness, vividness and clarity of the HTC One and LG G2. Nevertheless, the Z1's display produces bright whites, colors that pop without being overblown, and near pitch blacks. Sony's "X Reality for Mobile" software also kicks into action when viewing movies and photos, boosting contrast and reducing visible noise.
Bottom line — we'd certainly have no problems using this screen for our mobile entertainment needs across the life of a two-year contract.
Powering the Xperia Z1 is the latest Qualcomm Snapdragon 800 CPU, one of the fastest chips you'll find in an Android smartphone, and a component that places the phone at the very top of the Android hardware hierarchy. That's backed up by 2GB of RAM and 16GB of internal storage, of which just over 11GB is available to use. The internal storage can be expanded through the microSD slot, and while the camera app can save photos and video to the external card, there's no option to move apps there.
As we've seen from other Snapdragon 800 devices like the LG G2, Qualcomm's latest chip delivers what feels like a generational leap in performance. Animations fly by effortlessly, apps load instantly, and gaming performance in demanding titles like Need for Speed: Most Wanted is as smooth as we've seen on an Android device. Previous Sony phones haven't always hit the mark when it comes to performance; thankfully that's not the case with the Xperia Z1.
The Xperia Z1 has all the connectivity options you'd expect from a high-end smartphone. There's Wifi a/b/g/n/ac and Bluetooth 4.0, as well as DC-HSDPA and LTE support. The LTE-capable version we're reviewing (model number C6903) supports LTE bands 1, 2, 3, 4, 5, 7, 8 and 20, as well as penta-band HSPA, according to Sony's official whitepaper. That means in addition to most European networks the device should have full coverage on T-Mobile U.S.
And finally, should you wish to actually make phone calls on this phone you shouldn't run into any issues. Phone calls came through loud and clear, and we didn't notice any unwelcome distortions in our conversations.
Sony Xperia Z1 software​ and OS
The Sony Xperia Z1 runs Android 4.2.2 Jelly Bean alongside the latest iteration of Sony's UI. The manufacturer's "skin" has evolved somewhat since we last saw it on the Xperia Z and Xperia SP, mostly gaining additional graphical flourishes and sweeping animations that make for a more pleasant visual experience. Certain on-screen elements, such as home screen widgets and menu lists, have grown subtly rounded corners, and there are more lighter tones to be found throughout the UI. Overall, Sony's latest software has a warmer, more welcoming feel to it.
On the whole, though, Sony's still toeing close to Google's "Holo" design language, and that's particularly evident through its use of on-screen buttons. An easy swipe-up gesture gets you to Google Now, and app-switching is just a button away. Sony's "small apps" are back too — little windowed apps found in the task-switching menu that can be moved, expanded or minimized down to the side of the screen. The number of built-in options is limited, and perhaps for that reason it's now possible to turn regular home screen widgets into small apps if you want.
A couple of other visual things worth noting — certain Sony apps like the launcher, messaging apps and dialer take control of the on-screen buttons and notification bar, making them transparent. The outer corners of the screen also become rounded in these apps, which is a nice bit of visual consistency.
The standard Android 4.2 quick controls aren't present in the usual way, but instead you get a customizable selection of buttons at the top of the notification shade at all times. Options, customizable under Settings > Personalization, include the usual connectivity and brightness options, as well as Wifi hotspot, airplane mode, auto-rotation, roaming, battery "stamina" mode and a 4G toggle.
In fact, we found ourselves stumbling across all sorts of useful little features in the new Sony software. The messaging app, for instance, now has buttons allowing you to directly share a drawn sketch or your location, as well as photos or saved images. Similarly, Sony's "smart actions" is back, allowing you to automate certain tasks on the phone, such as muting the speaker when charging at night.
The Xperia theme engine, which dates all the way back to the Xperia Arc, is alive and well on the company's latest handset. There are eight themes included, each based around a different color, and they include a home screen and lock screen background, as well as accent colors which are displayed in the system UI and certain Sony apps.
Sony's suite of bundled apps is all about connecting you to various parts of the company's content ecosystems. Naturally, that includes PlayStation Mobile for gaming — though pickings remain comparatively slim here compared to the selection on Google Play. You can also link your PlayStation 3 controllers to the device and use them to play games, but you'll need to provide your own USB OTG cable to pair the gamepad. At the same time, if you've got an Xperia tablet, the Z1's "Throw" function allows you to quickly fire content between devices.
For movies and music, you've got Music Unlimited and Video Unlimited, which hook into the Walkman music app and "Movies" app respectively. Sony's done a great job at linking these services into the phone's software in a way that makes you want to use them. Although as an alternative, Google's Play Music and Play Movies are also preloaded.
Sony's app suite welcomes a handful of new additions on the Xperia Z1. First up is a dedicated Notes app, which lacks any kind of online sync functionality, but can arrange written notes and voice notes in an attractive grid formation. And the Sketch app has made it across from the Xperia Z Ultra, allowing you to draw funny faces or annotate your photos.
So on the whole, we feel like Sony's UI represents a happy compromise between Sony's ecosystem and design values and Google's visual styles. Unless you're a particularly ardent fan of stock Android's "Holo" look and feel then we suspect you won't find much to complain about on the Xperia Z1. What's more, UI performance is as smooth as we've seen on any Android phone thanks to that Snapdragon 800 CPU. In day-to-day use, we have no real complaints.
But we do need mention the few stability issues we ran into in our week or so with the handset. On a couple of occasions we came across a software issue which froze the phone, forcing us to restart it. On our second day with the device, a more serious issue, seemingly involving the backlight controls, prevented the phone from powering on the screen once it went to sleep. A factory reset solved this problem, but to restart it in this instance we had to resort to hooking the phone up to a computer and using the command line — something the average phone user should never have to worry about.
A little online research reveals that the original Xperia Z suffered from similar issues around its launch. Hopefully Sony can get a fix for these bugs pushed out in the near future.
Sony Xperia Z1 camera
Here's where things really get interesting — the Xperia Z1 packs a 20.7-megapixel, 1/2.3-inch Exmor RS sensor behind a Sony G lens. That gives it the highest megapixel count of any Android smartphone — and that's paired with a re-tooled Sony camera app that incorporates many features from the company's range of standalone cameras. There's also a dedicated two-stage camera button — always a plus on an imaging-centric phone.
Xperia Z1 sample shot gallery
And as we've come to expect from Sony, image quality from the Z1 is generally good across the board — and really great in some instances. Relative strengths and weaknesses are similar to those of earlier Sony cameraphones. The Z1 can take some stunning close-up shots — and shoot in 20MP with enough lighting and you'll capture an incredible amount of detail. However low-light performance was mediocre and we found it difficult to avoid blurry shots using the built-in night mode.
Despite the presence of a 20-plus megapixel camera, the Sony camera app is focused on taking oversampled images at eight megapixels (in either 4:3 or 16:9 aspect ratios). It's the same principle (pixel binning) that Nokia's employing on its latest Lumia 1020 handset — get a more accurate image at a reasonable resolution by combining several pixels into one.
You'll still get good photos if you choose to shoot at the full 20.7 megapixels, but viewed alongside equivalent shots from the Galaxy S4, which has a 13-megapixel sensor, not much more fine detail was captured. So clearly the Xperia Z1's camera is strongest when it's churning out oversampled 8-megapixel images. This also gives you a the freedom to use digital zoom without losing much, if any image quality, as there's extra resolution to drill down into (you'll see this in some of our sample shots.)
Most of the time you'll get great-looking 8-megapixel images from the Z1. And at any resolution there's less visible noise present than in photos from the original Xperia Z. But unfortunately Sony's camera just isn't quite as consistent as its high-end rivals. We noticed bizarre autofocus issues in some landscape shots, where the camera would be unable to focus for no apparent reason, leading to fuzzy photos. And while visible noise isn't much of a problem anymore, Sony's camera still compresses its images more than we'd like, which can take a toll on fine detail.
Similarly, the camera is particularly vulnerable to hand motion of any kind — perhaps because of its placement right on the corner of the phone, perhaps because of the lack of optical image stabilization (OIS). Either way, it's easier to get motion-blurred images than it is with rivals like the Galaxy S4, even with the Steady Shot software stabilization feature turned on.
The Z1's camera produces okay-looking low light images, but again, that image-blurring problem is even more apparent in night shots. So there's no immediate danger of the Xperia Z1 stealing the HTC One's low-light crown.
As we mentioned, Sony's overhauled its camera app on the Xperia Z1, introducing new extensible features and a wealth of shooting options. Most users will live in Superior Auto mode most of the time — that's the setting that does all the number-crunching for you and spits out good-looking 8-megapixel, 16:9 photos. But there's also manual mode, which lets you crank it all the way up to 20.7 megapixels or apply a bunch of different scene modes — though not at the same time. And you get the usual panorama, artsy filters and a time-shift modes, too.
Sony's also doing a lot of new stuff with AR (augmented reality) this time around. There are a few fun little AR modes that add characters, including leprechauns and dinosaurs, to your photos. But perhaps more useful is Info-Eye, which can tell you more information about the stuff you're shooting — a little like Google Goggles. Even better more plug-in "apps" for the camera can be downloaded through Sony Select, and they'll appear automatically in the camera app.
Video performance on the Xperia Z1 is solid across the board — not much to complain about, and you get smooth 1080p footage at 30 frames per second, even in relatively low light. There's also plenty of fine detail in day shots, in contrast to the aggressive noise-scrubbing we've witnessed on some earlier Sony phone video cameras. Again, the lack of hardware stabilization is noticeable in video footage shot on the Z1, as motion isn't as smooth as on rival handsets with OIS.
Finally, we should mention an issue which cropped up again and again in our use of the Zperia Z1's camera, and that's the placement of the camera module itself. It's right on the top left corner of the phone, and that means it's extremely easy to cover the edge of it without realizing it. It's something you soon adjust to, but a niggling issue nonetheless.
Don't forget to check out our sample photo gallery for more images from the Xperia Z1.
Battery life
We managed 11 hours of heavy use before hitting the 23 percent mark
The Xperia Z1 packs a gigantic 3000mAh internal battery, which is among the largest on a mainstream Android phone — though this is a rather large mainstream Android phone we're dealing with here.
But even with a 5-inch display to power, along with a beastly CPU and LTE radios, the Xperia Z1's battery performance didn't disappoint. With heavy use consisting of a couple of hours web browsing over LTE and HSPA+, taking 100+ photos and five minutes or so of HD video, around an hour of streaming Google Play Music over mobile data and frequent checking of emails and social networks, we managed 11 hours of heavy use before hitting the 23 percent mark. That included two hours and 18 minutes of screen-on time.
With more conservative use on mostly Wifi networks, we were easily able to get through a full day of use with plenty of juice to spare.
Sony's Android-based software also provides a few tricks to extend battery life, and it's mostly stuff we've seen before on the Xperia Z and Tablet Z. There's "Stamina" mode, which disables background data when the screen is off. (It's possible to allow certain apps through using a whitelist feature.) You can also automatically disable certain functions like mobile data, and dim the screen brightness when battery power is low.
So while you shouldn't need to worry about the Xperia Z1 getting you through a normal working day, there's software to help if it's going to be a long one.
Wrap-up
The Xperia Z1 is easily Sony's best smartphone yet, and deserving of a place on our list of top Android smartphones, alongside the likes of the Galaxy S4, HTC One, Moto X and LG G2. The Japanese manufacturer has made huge advances in build quality and software responsiveness
The Xperia Z1 introduces much-improved build quality, top-notch internals and subtly enhanced software. Importantly, Sony's no longer behind the curve when it comes to raw hardware specs — though as evidenced by the screen's viewing angle issues, it still has some catching up to do in places.
Purchasing a smartphone to use throughout the life of a multi-year contract is as much about personal preference as anything, but the main reason not to buy the Xperia Z1 might be its sheer size. It's a big, chunky phone with big, chunky bezels, and that's not going to be for everyone. In design terms, it's the antithesis of the smaller, ergonomic Moto X.
Equally, we were less than thrilled to find a couple of major software issues affecting the Xperia Z1. Show-stopping bugs that require a factory reset to resolve simply shouldn't be in shipping software. Hopefully the first OTA update now reaching some handsets will fix this.
Sony's doing some great things with the Xperia Z1's camera. The move towards pixel-binning and oversampled 8-megapixel images is a step in the right direction, and has allowed us to take some really awesome shots. At the same time the Z1's camera seems slightly less reliable as an all-rounder than Samsung's Galaxy S4 — mainly that's down to the finicky autofocus and some other software gripes.
Overall, it's a firm recommendation. Not only is the Xperia Z1 Sony's best phone, it's a great phone by any standard. The competition is fiercer than ever — and there's no shortage of great Android phones right now — but we don't think you'll be disappointed if you pick up Sony's new high-end beast.
Thanks to Clove Technology for providing the Sony Xperia Z1 for review.
Alex is global Executive Editor for Android Central, and is usually found in the UK. He has been blogging since before it was called that, and currently most of his time is spent leading video for AC, which involves pointing a camera at phones and speaking words at a microphone. He would just love to hear your thoughts at alex@androidcentral.com, or on the social things at @alexdobie.
i got this.. and loving it

Will it ever hit the U.S.? Posted via Android Central App

Nasty! Posted via Android Central App

I want to love this phone, but im in the U.S; we get no love back :(

You can buy it from a couple of retailers in the US. Negrielectronics is one of them.

That bottom bezel does look enormous especially with the capacitive buttons. Still a nice looking phone though. Posted via Android Central App

It has on screen buttons Posted via The Android Central App

I for one get fed up when reviewers complain about a phones viewing angle. There is really only me that is going to view that screen and seen as I'm going to hold the phone directly in front of my face anyway I don't know how viewing a phone screen from any other angle is a problem. The phone can easily transmit to a bigger screen for group viewing so where is the problem? Posted via Android Central App

Dude your right...who in the HECCCK watches their phone at an angle whoo caaresz Posted via Android Central App

You must not have used Sony's recent phones. You quickly realize when the viewing angles get this bad, you can't use the phone regularly without noticing. Sure you're usually the only one looking at the phone and you usually look straight at the screen, but you're never looking perfectly directly at the screen, you're always looking off-angle at least a little. Think about even the slightest movements like playing a game that uses the accelerometer and gyroscope, even movements that small make the screen wash out on recent Sony phones.

I think you should check the screen manufacturer. It seems like early Z1s has Sharp panels more or less identical to the Z, resulting in viewing angle complains. I have both a Z and a Z Ultra, the latter has good viewing angles - very improved compared to the older model. If a Z1 is like a Z in this regard, it is one of those with the older panel. Normally, the Z1 should be similar to the Ultra and my recommendation is that everyone that got a "Z display" return the phone and try to get one with the newer panel. A Z1 with the proper Triluminos screen should be equal to the Ultra - if not, then something is simply missing. On the other hand, I don't experience any problems with the viewing angles on my Z, especially not since I put the latest 244 based ExistenZ on it. Sony updated the display drivers, enhancing both the viewing angles AND color reproduction. It is a big difference compared to the old 350 and 434 versions of the ROM that the Z was shipped with. I guess most reviews of it has been written with one of those two early ROMs on it.

It's an issue nonetheless especially when you're checking notifications and playing games etc.It becomes a bit annoying sometimes

Sony, y u no narrow bezels! Like seriously y? Sent from the heartland of Africa

To make the phone waterproof? Just a bit of common sense Posted via Android Central App

Unwieldy phone or waterproof phone? I would rather get a more ergonomic phone than a waterproof one. The original Z felt as big as the note 2. And I don't make it a habit to dunk my electronics in water. My 8 month old n4 can bear testiment. Sent from the heartland of Africa

Sony apologizes; they say that from now on they will build their phones based solely on your needs and interests. Posted from my pure Google Nexus 4 using the AC app.

Hahahahahaha!! Posted via Android Central App

Me and millions of other people out there. Saying that a phone is waterproof in your adverts will get you attention. But once someone holds the phone in his hand, and realizes how large and Unwieldy it is compared to the competition, game set!
Thats the reason I loved the Xperia zl. They managed to squeeze the 5" screen in a very bezel thin phone. That is one sexy phone, probably the best sony ever made. That Led was awesome! But that back was a bit off putting Sent from the heartland of Africa

Agreed!Just for the sake of making device waterproof doesn't give you an excuse of making a bulkier and huge mother of bezel device.Those bezels looks really ugly.

What does being waterproof has to do with the bezel being so big? I can understand closed ports and all that, bu the bezel has to be so thick to aid waterproofing?

Have you seen the waterproof gs4?lol Posted via Android Central App

What about the speakers? How many times, in a bar or restaurant, have you tried to show someone a new video but had to give up because, though the picture was fine, they couldn't hear the audio?
All great phones today have great screens but, unless you can red lips, that's not enough.

Thus one of many reasons why the HTC One continues to be best in class.

Except for when it comes to software updates... Man, I hated that about my EVO 4G. But design-wise, you're totally right. Posted via Android Central App

FYI 4.3 is out for HTC ONE internationally.So I think they are greatly improving in this area and we'll see speedier updates in the future.

Oh so that's you intruding on other people's enjoyment, because you care about nobody but youself.

Please can you sort out the colours in the app. The grey writing on a white background is a little silly Posted via Android Central App

Where exactly are you seeing grey text on a white background?

Guessing you know now as it's been fixed. Thanks! Posted via Android Central App

Awaiting it's arrival in the states. They have till black Friday or LG is getting my $$$. Or HTC if the one maxx has snapdragon 800. Posted via Android Central App

I read other reviews that did not praise battery life,how does it compare against the s4?

The G2? From what I gathered on XDA, 5 hour screen on time on a 24 hour day if maps is not running in the background and killing your battery. I'm sure the maps things is just a easy setting that has to be disabled. Posted via Android Central App

Great review Alex. I ended up picking up a T-Mobile G2 last Saturday and was really wanting to wait for the Z1 and next Nexus before purchasing. I know I would have been happy with any of them when it comes down to it. I'm not having buyers remorse after reading the Z1 review although it sounds like a great phone. Always enjoy your reviews, Thank you. Posted via G2 Android Central App

Hope the devs over at xda do the G2 justice and make the icons less touchwiz like. I was happy to find out you can just drag the app drawer icon to the middle. Having it on the right was 1 of the things I hated about TW the most. Posted via Android Central App

Great review Alex. Checked the phone out today at 3. I couldn't see too much to complain about with viewing angles and head on looks amazing! I do agree that the lower bezel looks big compared to my S3 but the phone still looks gorgeous in my opinion. Shame about the issues you have highlighted but none of the phones are perfect! I think the biggest disappointment is perhaps the apparent poor low light performance for what is supposed to be a top end camera. Posted via Android Central App

Bad viewing angles? Really!? on a 2013 phone? Another Sony fail. Posted via Android Central App

That's a dumb thing to focus on Posted via Android Central App

How? I'm the only one looking at my phone and it's directly in front of me so angles argument is irrelevant to me. Posted via Android Central App

"...irrelevant to me." Sounds like its your opinion, and nothing based on FACT. We're not all the same but you knew that already. Posted via Android Central App

Only if you clearly haven't gotten your priorities straight.

Who watches their phone at an angle? XD Posted via Android Central App

I show people stuff on my screen. I don't always get it in their face straight on. They can still see it with good viewing angles.

who the hell has friends?

So you let them hold the phone. Doesn't take a genius.

Sony has potential for the phones, but I really think that skin that they put over android is really awful.

Better then TouchWiz or LGs skin. Although, LGs isn't to bad its just not Even close to stock android. At least Sony's software features are somewhat useful Posted via The Android Central App

When you have touchwiz in town? lol Posted via Android Central App

Smartest phone ever Posted via Android Central App

Sony really love there bezels don't they.. they make a 5''phone feel like a phablet.. they need to release a phone like the zl which had very small bezel with these new specs then they got a winner on there hands. Posted via Android Central App

This is kind of unrelated, but on the dark theme, on the "good, bad and overall part at the beginning of the review" it shows all the words in white up against the almost white background. Does anybody else have this problem? This happens for me on every review. Posted via Android Central App

Hmm interesting. We've been having a few issues with showing that good/bad/conclusion area, but it shows up just fine for me in the dark or light mode.

With those huge top and bottom bezels it looks kind of like a mini-Nexus 7 (2013). Ok, maybe not as freaky as the Nexus 7.

There's nothing wrong with the bezels on the Nexus 7. Period. Posted via Android Central App

I forgot to add "in my opinion." Posted via Android Central App

As beautiful as this beast is... I don't understand how anyone could look past the Note 3. Its a monster. Not just hardware specs... Also it user functionality. A year ahead of its time and 7 years ahead of Apple's. Posted via Android Central App

Sony you gave me three good reasons to buy the phone and two reasons not to consider it.Why?Those bezels are really really huge and G lens was supposed to be the best in the business and now it seems it's not an overall good performer.
You guys did a great job with Z ULTRA's screen (with no issues whatsoever) and again came up with the same issues with the new device.WHY?WHY?God damn why?

Not agree. iPhone 5S seems to be a far better choice than going for these cheap Sony products. When it comes to smartphone brand there is no brand who can give Apple atleast a fight. Go for iPhone 5S, you will end up on a winning side.

Obvious troll is obvious. Posted via Android Central App

+9000 And that's not to say the iPhone 5S is a "bad" device. But, to call the Z1 a "cheap Android," or to imply that Android is the "losing side" is hilarious, at best. Posted via Android Central App

Ha ha. Troll. You should have said to get a Blackberry. Ha ha. Iphones are like AUDI. Over priced and not that good. :-) Posted via Android Central App

Lol Posted via Android Central App

It's not a car/phone you have, it's how you use it lol

iPhone?
We are talking real smartphone here, not some junk toy in the junk end of garbage market. Posted via Android Central App

i bought the phone yesterday and i had to switch it off for some reason, now it just doesnt switch on at once,.its showing sony logo..goes to xperia and shuts down again an again..i am xtreemly annoyed
i dnt know how to get this fixed

Look at your instruction booklet in your box.. There's a hard reset button under the sim card slot which u want to press! Posted via Android Central App

i have the same issue on my xperia z1, i found if you just leave it as is eventually it will boot to the home screen, bad i know, but dont know if any updates are out to fix it

i have the same issue on my xperia z1, i found if you just leave it as is eventually it will boot to the home screen, bad i know, but dont know if any updates are out to fix it

Better than iOS7 :) http://memeheroes.com/c/63033-ios-7-apple-iphone.jpg

I love Sony but i think they should stick to making game systems.

I have absolutely no problem with bezels or viewing angles. So none of those things are dealbreakers to me (I don't even consider them). However, I do consider the camera capabilities. And I had high hopes for this Z1 seeing that Sony has decades of camera build expertise. I have to say I was really disappointed by the results. They need to rethink their camera software. They added to much overprocessing and gimmicks to the end images to try to "enhance" it but the end results are not that good.
Also, they simply have to add OIS to the camera. There's no way around that. Use software to try to achieve that only compromises the picture quality. I still hope Sony really fixes and perfects these things for the Z2. The phone's still no match for Nokia. And I badly need them to provide a great phone and camera experience if Nokia shareholders approve their destruction by Microsloth.
So come on Sony...get your act straight! (Yeah, I know there are Samsungs around...except I really don't like Samsung. And Sony has, to me, the best version of the Android design, specially when it comes to opening and managing multitasking. And I also really like their designs. Plus, it has the PS apps which is nice for connection to my PS3.)

The sleepy black backlight bug has been around for a long time on Sony phones. My 2011 Xperia Mini Pro had that issue, and I had to pull the battery and restart to fix it so I could get my screen to light up. So if it's still buggy on the Z and Z1, it seems Sony is ignoring the bug. Still, if they can make a Z1 Mini that really is small with compact bezels and the same specs, then I will consider buying it. I like the Xperia UI.

Awwww I miss the old days dammit Posted via Android Central App

Me Posted via Android Central App

Yeah, nice big glass toy SONY! Prepare yourself to brush the screen over and over.. aaand over again. bla

Maybe you should stop drooling on or eating right over the phone then. XD

I think iphone 5s is better choice rather than sony phones !!
http://howtotakescreenshot.org/

Looks a lot like a nexus 7 with the tall bezels Posted via Android Central App

This Saturday In Paris, I could see my 3 x favored phones : Sony Xperia Z1, Sony Xperia Z Ultra, and Samsung Galaxy Note3, and have 1st and last in my hands to play with too, while the ZU was in a window only. Clearly the Z Ultra is far too large tool for me. No way to put such a wide device at my belt any more; need to carry a hand bag or a purse; not for me. The Notes3 has EVERYTHING I DREAMT so far but has a far too cheap plastic finish for me to ever consider buying one, and the false leather plastic is better for the "toutch & feel" but even worse for the look. Forget ! And the winner is ... the Z1 ! It is just SUPERB ! BEAUTIFULL ! I'm not bothered at all by its reduced viewing angles quoted in all reviews on the Net (I prefer people arround don't see what I see on my phone, call it privacy !). Screen Colors are perfect for me and 5" size is ideal to continue put it at my belt (No room in my Jacket pockets for a phone). Finish is the best I've ever seen in a phone. Snapdragon 800 is extraordinary fast and reactive. And too bad for the 2 x "Missing features" that initially had made me doubt of this phone = Missing 4K 30fps Video Recording, and Missing USB3 for 2X faster charging of the battery. I'll stay another 2 years on 1080p 2D, and will just delay my 4K TV purchase from 2014 to 2015 or even 2016, too bad for Sony... And I saw in a review that their proprieritary Magnetic charging / docking port allows to charge the 3000mVA battery in no more than 2.5H, means not that much more than on Notes3 with USB3. So I'll take 2 x Docks, one for home one for office and done.. This Z1 will be mine as soon as FREE Mobile announces its 4G contracts in France hopefully later in October, could be November, not sure.

THANK YOU for finally doing something I've been scouring the internet for videos of people doing, taking back to back photos on this. On the Z, this was not as easy as it is on the galaxies and notes so I was disappointed and I'm trying to decide between the z1 and the note 3 but the z1 isn't in the US yet and the note 3 is so the questions I have remain unanswered regardless of where I search. Now if I could just find someone to hold up the purple version of the z next to the purple version of the z1 so that I could see if there indeed is more of a blueish color to the z1 which would make me very happy. But thank you for showing me that at least the shutter speed is finally GOOD ENOUGH for me. Thank you.

Phone of the year.... Sony Xperia Z1 ... Detailed Exclusive review...
Read it now for its amazing features.. http://www.itechment.com/2013/09/sony-xperia-z1.html

I agree, this is a nice phone but if you feel cant afford this then you might try P51, i am using it and it serves the purpose really for a reasonable price. I might check out their appliances section as well as a friend told me they are putting on some great offers fro this festive season.

XPERIA z1 is best phone 2013 and best camera 2013 in my opinion
It's better than galaxy s4 and htc one in camera and cpu speed.
I prefer xperia ui because touchwiz sucks and i don't care about viewing angles because i don't buying a tv ,i am buying a smartphone

XPERIA z1 is best phone 2013 and best camera 2013 in my opinion
It's better than galaxy s4 and htc one in camera and cpu speed.Falcon18 is an e-commerce website. It's a very nice way to permute the different type of products through an online website. You can buy online the entire product such as health care, beauty care, electronics, home appliance and many more like that. http://www.falcon18.com/

The xperia z1 is the worst I EVER bought... I bought a Xperia few months ago, and last week I was using it to make a call, and after 10 minutes the phone started to grow warmer and warmer, and then it became impossible to even hold it. It felt like it was catching fire! Now the phone is not working at all... I tried averything, charge it again... but it simply doesn´t turn on. I tried to contact the sony xperia via e-mail and facebook... and it was very very disappointing! They told me it´s quite normal to feel some heat, and if I thought the phone is not performing properly I should contact them again through e-mail.
THE PHONE IS DEAD, NOT WORKING AT ALL.... do you think that it is performing at all?
Are you kidding me?... I am going back to my Iphone or samsung Galaxy... I am tired to contact them again and again to have the same answer.Shame on them!

I really liked the xperia z on tmobile but went back to my note 2 because of the screen and features. If the z1 came to the states I'd give it a try. It really is a nice phone. Make it lower priced than the note 3 and you have a deal. Posted via Android Central App

Z1 is a beast of a device... Beautiful and elegant.. However the bezels are humongous but in day to day use its not too much of an issue... Software definitely needs tweaking in many areas but miles better than anything Samsung, LG or the like has to offer.. If size isn't an issue the Sony Z1 will keep you happy for the term of your contract.. :) Posted via Android Central App

I had a sony xperia SL. Now sony is not providing any update for this flag ship product. Very bad experience with sony.I think they will do the same with xperia z series after a few months !!
http://howtotakescreenshot.net/

hello my phone has been off for 2 days now, its not charging and the phone too wont turn on... please what should i do, living a day without cell phone kills my business... sony xperia z ultra is the phone.

XPERIA Z1. I got this phone about 4 months ago and i will just say this... AVOID THIS PHONE AT ALL COSTS!!!
I have had problem after problem with it. Software crashes, camera crashes. Freezing display and dont even dream of writing a text or email on it, or sliding the screen up or down because it certainly wont do what you want. I recently dropped it onto the floor from 12 inches and the screen has smashed to bits. The phone will (and did) bend during charging, im guessing due to heat. It is without doubt the WORST phone I have ever had the displeasure of owning
Android Central Newsletter
Get the best of Android Central in in your inbox, every day!
Thank you for signing up to Android Central. You will receive a verification email shortly.
There was a problem. Please refresh the page and try again.