Sony Xperia X + X Performance hands-on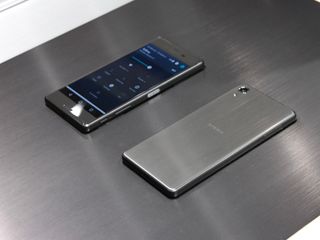 In the past, Sony's Android phones have fallen into one of a few categories: The super-high-end Xperia Z series, and mid-level offerings like the Xperia M and C series. And while its premium phones have generally been decent, the Japanese company had yet to challenge in the emerging mid-to-high-end space — the stomping grounds of the Motorolas and OnePluses of the world.
That changes today, with the unveiling of the Xperia X at Mobile World Congress in Barcelona. The X takes the core of Sony's design language and feature set and transforms it into a pocket-friendly (and presumably more wallet-friendly) product. And the result is something that's worth paying attention to. Read on for our first impressions of the Sony Xperia X and X Performance.
Externally, the Xperia X takes a bunch of design cues from the Xperia Z series, with the latest iteration of its symmetrical "OmniBalance" design language. On the front, there's not much going on besides a beautiful 5-inch, 1080p display and front-facing speakers. The back is furnished in metal, in a break from the firm's usual glass-backed designs. And there's a metal-effect polycarbonate trim framing the whole assembly. It's a simple design, but it works, and it's remarkable how much more ergonomic the X feels than many of the Z-series phones.
That's partly due to the gentle curve of the glass towards its edges — an effect called "2.5D glass" by some manufacturers. Whatever you call it, it's a more natural fit for the human hand than the sharper edges of some other Xperias. The X's 5-inch size and minimal horizontal bezels also makes it easy to one-hand, though the plastic sides can feel a little slick at times.
Around the back there's a 23-megapixel Sony Exmor RS sensor — it's an updated version of the sensor found in the Xperia Z5 series, making it a capable shooter by any standard. But in the X series, Sony has enhanced it with motion-tracking autofocus features — a combination of hardware and software — which can keep track of objects and keep them in focus, even when they're moving erratically. Also a big deal is the move up to a 13-megapixel Sony sensor around the front, allowing for even sharper selfies.
When it comes to core specs, the Xperia X runs an octa-core Snapdragon 650 chip — a new, more powerful mid-range SoC from Qualcomm that makes use of faster ARM Cortex-A72 cores in addition to low-powered Cortex-A53s. That's paired with a new and snappier Adreno 510 GPU. Bottom line: You're getting significantly faster performance (and likely longer battery life) than the Snapdragon 615 variants found in most mid-level Android phones. The Xperia X teams its processor up with a hefty 3GB of RAM and 32 or 64GB of storage, with microSD expandability.
Image 1 of 5
Image 2 of 5
Image 3 of 5
Image 4 of 5
Image 5 of 5
For those who need to be at the cutting edge of smartphones, the Xperia X Performance takes the X's design, display, camera and form factor and augments it with a Snapdragon 820 processor and water resistance capabilities. Sony reps tell us that aside from these internal changes — and a brushed metal pattern on the back of the black and silver X Performance models — the two phones are identical.
Sony also promises a return to "two-day" battery life with the Xperia X, thanks to a 2,620mAh internal battery which should complement the phone's efficient internals. And like the Z5 series, there's a side-mounted fingerprint scanner for biometric security.
When it comes to software, it's no surprise to see the Xperia X running the latest version of Android, 6.0.1 Marshmallow. But Sony's UI has grown in the past year, with brighter colors more Material Design influence and lighter, more modern icons and wallpapers. The core experience is best though of as near-vanilla Android with a sprinkling of Sony apps and features to link into the company's content and services ecosystem. The difference this time around is that many of the apps have been given a much-needed visual revamp.
Image 1 of 3
Image 2 of 3
Image 3 of 3
So overall, the Xperia X (and the X Performance, in what little time we had with it on the show floor) look like compelling additions to Sony's lineup.
The relationship between the Xperia X and Z series is a little complex. If we had to guess, we'd imagine the X might supersede Sony's line of "Compact" phones — and if that happened, it wouldn't be a bad thing. It's the right product at the right time, and we look forward to spending more time with it later this year.
There's no info on pricing for the X or X Performance just yet, but UK carriers including Three and Vodafone have already begun to announce that they'll range the device, and it's expected to hit the U.S. this summer.
Alex is global Executive Editor for Android Central, and is usually found in the UK. He has been blogging since before it was called that, and currently most of his time is spent leading video for AC, which involves pointing a camera at phones and speaking words at a microphone. He would just love to hear your thoughts at alex@androidcentral.com, or on the social things at @alexdobie.
What UK carriers announcing that they will range the X series? Posted via the Android Central App

A 5" phone isn't a 'compact' phone.

It is nowadays when others are upwards of 5.7 and 6"

Those aren't phones :) C'mon, let's be serious here.

Think it's hard to argue that the Nexus 6P and Galaxy Note 5 aren't phones.

They're more like small tablets. Let's be honest. As long as you can't navigate the UI or type a message without doing any hand acrobatics, those aren't phones.

They're not exactly small tablets either, in that they don't render content like one, where multiple columns are default. They still render content like phones. Also, it's not THAT severe that you must do hand gymnastics... This Android with the AC App is On Fleek.

If you mean you get used to it, yeah, you do. But after a while, try playing with a friend's Mini phone, and as soon as you pick it up you'll notice how easy it is to do anything with one hand. You can also tie your shoe laces or get in the car's driver seat without removing the phone from your front pocket. THAT is a phone!

Do you have trouble eating Whoppers?

Hahaha. Don't know what those are, but no, I eat anything :)

Let's be honest no they aren't small tablets. Small tablets are 7 inch tablets. My Nexus 7 2013 is a small tablet. My 6P is not a small tablet. It's a phablet Posted via the Android Central App on my Frost Nexus 6P

I'm sorry, you just contradicted yourself. The word "phablet" exists b/c phones have entered into the tablet size. Google "What is a phablet?".
https://www.google.com/webhp?sourceid=chrome-instant&ion=1&espv=2&ie=UTF...

A small tablet is something like a Nexus 7. Even though they are big, they're still mostly one-handed devices.

Mostly when you don't need to open the left hand drawer in apps. And mostly when you don't need to pull the notification shade down. And mostly when you don't need to type messages :))

Get with the times bro. Just because you want to believe that anything over 5" is a not a phone doesn't make it true. You're making yourself look like a fool.

I'm not conservative in any way, I'm a tech nerd just like all of you here :)
But I do want my devices to be practical, and I get no real benefit from a 5" phone that I need 2 hands to use, as opposed to a 4.5" that does the same things but with 1 hand. It's just stupid.

This can't be highlighted enough. Not everyone has giant hands or sufficiently deep pockets physically for plus sized phones. 4.7" is the sweet spot for single hand usability and view-ability.

Dude put the skinny jeans away and just because you have tiny lady hands and need a micro phone doesnt make it true for the rest of us. Usually a 5.1 or 5.2 is as "small" as a phone as I will consider. Anything less is a kids toy to me.

Any man who can't use a 5 inch phone one handed has baby hands. I'm still a high schooler and can use a note with a case on it one handed. Posted on my Galaxy s5

You can easily one hand a 5" phone. That isn't big at all. Even the Nexus 6 can be one handed with some effort. Once you get used to that, the Nexus 5 is downright tiny.

Yeah, you get used to it, no argument there. But after a while, when you grab a small phone you really notice how easy it is to handle.. and you realize that it does everything the bigger one does.

My Nexus 6 does elegantly in just one hand. I could comfortably use it with just my right hand (and I don't have the biggest of hands). I do tend to use 2 hands when typing, but that's just me. I used 2 hands when typing on my iPhone 5c, it just feels better. And ever since I got pie controls, the one-handed use has just been all the better for me :)

These comments are hilarious. The whopper comment and what not. Can't stop laughing!! Posted via the Android Central App

Wow you just re-defined the "phone" genre.. Good for you

So I guess the original mobile phone wasn't a phone as well huh ?
http://www.revista.gr/wp-content/uploads/2014/03/the-first-cell-phone-ev...

Nah anything sub 5.7 is far to small for me to buy my work phone is a iPhone and it's just awful Posted via Nexus 6p

We're getting to a point where Samsung, LG and Motorola are beginning to make large phones feel smaller while reducing bezels so that the size of the screen can seem huge but when you pick up the phone in person it feels fine in the hand. I'm able to one-hand use the Note 5 even though it dwarfs the old sweet-spot size of my 2013 Nexus 5. I hope reviews and news remarks on the overall footprint of phones instead of relying on screen size. Bezels can make a big difference between even 2 phones with the same screen size.

True. But if they continue with the current trend with glass and metal backs, we're back to square one, 'cause now we need to use cases, so we don't drop the damn things!

They are not phones.. they are phablets. Anything bigger than 5.1 = no one handed use = phablet = fail.

I use my 6p one handed just fine, and I have relatively smaller hands! and who puts a phone in a front pocket? lol ... better yet, who even wears a shirt with a front pocket nowadays!!

Agreed, I use my Oneplus just fine one-handed and while granted I do have fairly big hands, I don't see something in the 5.0-5.2 inch range giving anyone any real troubles. Who puts a phone in the front pocket? Probably those who put their wallets in their back pocket... crazy people :P

Where do YOU put your phone when you go out? Enlighten us, please :)

Nexus 6. Back pocket. And I SIT ON IT. *gasp Shock AWE* And it does bloody fine.

front pocket of my pants ... the comment I was referring to said he puts it in his front SHIRT pocket ... nothing wrong with that, I've just never seen anyone do that before and found it a bit odd!

No one said they put their phone in their shirt pocket.

Honestly, you get used to bigger-screened phones fast (and if you're like me, you end up preferring them). I wasn't sure at first either, but now I'm sad to see the occasional phone like the G5 coming out with a smaller panel than the G4. For many purposes I'd like the screens to grow a little bit more: for movies/TV, for painting apps, for reading digital magazines from Zinio, for books. It's much easier to use everything on the screen more quickly and with greater accuracy. I have no problem keeping the G4 in my pocket. It looks like your wish is coming true though: manufacturers are starting to roll back the growth in screens in recent years.

so you can't eat big burgers LOL you fail buddy

aww boo hoo tiny hands can't use big phone too bad learn to use em or deal with crap and Shut up.

No, it's not, Andrew. Specially on Sony's line where there ARE real Compact phones ;)

Whatever, do every time a new phones come out, people have to go into this "my personal opinion so that everyone should think the same" topic?

YES! :)) Y not!? That's why thet invented the internet!

Welcome to the internet, where opinions are facts and facts are bullshit. ;P

You folks just need to deal with the fact that you have small hands /short fingers. ;-) No issues one-handing a Nexus 6 here. Posted via the Android Central App

Seriously. If you have small hands go buy an iphone or millions of other phones that are made for people with small hands. Let us people with normal to large hands have at least one thing... damn

lol, it's not just people with small hands ... I don't have large hands and I handle my 6p just fine. they're definitely a vocal crowd, I'll give em that.

Totally. My 73 year old mother just got a Nexus 6. She LOVES the 6" screen. And that is huge, whale of a phone. Times have changed for sure. I'm still rocking the S4...(though I did just pre-order the S7 edge this morning) and I remember when I got it 3 years ago, the 5" screen seemed so big. Perfect, but big. I thought at the time there was no way I could ever go bigger. Now, it seems so small. And for my larger than normal hands, it is a little small. Keyboard especially. Can't wait for March 11th

To be honest, the XA could be called compact~...it smaller than the other 2 5" phones. I had a Nexus 5 2013, and don't consider it a compact phone. If you can do all the actions comfortable with just one hand, then you have a small or compact phone. If not, it's a big phone,

I just really hope they do commit of coming out in the US during the summer of this year, and not moving it months later like they did with Z5, and hopefully it comes to T-Mobile as well. Posted via the Android Central App - LG G4

It is highly unlikely Sony would do that. I mean the Z5 came to the US in February this year I believe. Why would they want to cannibalize their own line with something newer released sooner than at least 6 months? I mean if you have an option of buying a similar phone with much better SoC and GPU, slightly better camera, better battery life, and a fingerprint sensor (Does the US Z5 have fingerprint sensor?), all in the same price bracket, why would you buy an older phone? That older phone needs some shelf time to gestate, get noticed, and then sell, to justify its existence. Else if Sony decides to launch the new phones there sooner, it would have to prematurely reduce the price of the Z5, which would then probably place it in the mid-range category and defeat it's purpose. Sadly the US market does not seem like a priority for Xperia.

"Why would they want to cannibalize their own line with something newer released sooner than at least 6 months? " Because this is Sony we're talking about...expect the unexpected.

2 days on 2620? No way that battery lasts all day for one day Posted via the Android Central App

This is not samsung. Sony is good on battery life Posted via the Android Central App

Yeah touch wiz uses more battery with the extra features, plus Samsung has a 2k display with their 2600mah in the S6. So with out those 2 things the battery life in the Xperia X I imagine will be a lot better than S6 with about same battery. Possibly day and a half, but of course not 2 days. Posted via the Android Central App

A day and a half would be perfect for me.

And HTC also does it on 2600.

Haha. They do not. Switching from an M7/M9 to a Z5 Compact was a revelation in battery life.

The M7 had a smaller battery and the M9 a less efficient processor.I was referencing the M8, for which we have the complete battery test logs. My comment was in support of Sony, showing it can be done, not only by Sony, but by a few others as well. I like Sony and I'm just posting numbers, but if you need a comparison, the Z5 Compact has 14.8 hours of talk time, and the M8 has 24 hours of talk time. Right now it's been over 15 hours since I unplugged my personal M8 from the charger this morning, and the battery is still at 84% with moderate use and poor cell signal.

Please bring these to the US

Sony is very frustrating ... They get great battery life, solid in the software department, decent enough camera, aesthetically pleasing (especially with this premium looking metal) with a camera that doesn't protrude, yet they don't appeal to the masses for whatever reason, certainly not in the US. If they used this metal build with the features people expect on a flagship phone (fingerprint sensor, high end camera, etc.) AND properly marketed it, I don't see any reason why they couldn't at least compete everyone not named Samsung or Apple.

So is the performance one basically an all metal Z5 with better specs? Posted via the Android Central App

Yes Posted via the Android Central App

So these are kind of like Samsung's A series of phones? The X Performance (terrible name) is intriguing, SD 820 and an improved camera from the Z5, and a focus on battery life, is exactly what I want from a Sony phone. And a 1080p screen is also a plus in my book. I've also long maintained that 5" is the perfect size for a phone, I have since they were considered huge, and I still do now they're considered compact. The polycarbonate frame has me a little concerned though. The original Z had a polycarbonate frame, and mine chipped on the corners. Hopefully they've improved that. Posted via the Android Central App

The X Performance is basically a Z5+

Aluminum body with a polycarbonate frame would concern me as well, as they have different expansion properties. The aluminum back will expand more, stretching the polycarbonate, and if it's made too hard, it will crack. The solution is to use a softer resin so that it has a bit more "give", but that get past production because the issue does not show up for several months. I've had two such phones develop hairline cracks just from charging. On one of them, I delayed the problem by avoiding heavy games and charging under a fan with the case off. No fun. The brushed metal back looks nice though, and with front speakers, this might be an option if HTC ruins the M10.
My concern would be how they sound, as the Sony phones I've had in the past were underwhelming in volume for media and especially for phone calls. I liked them, but that was an area that was lacking. My last Sony lived it's life with the volume on max, and that often was not enough. That's hard to settle for, especially once you get used to half volume being plenty loud on other phones. My hearing is very good, so that's not the problem (audiologist on my last hearing test joked that people need to whisper around me).

good info on the body ... I'm assuming this won't hit the states, but I'd def be interested in the XP. i have a 6p but need to replace my work phone (s4). the s7 and g5 were ok but I'm more interested in the m10 cause of Sense. I just hate LGs & Samsung's skins. Anyway, if this is available I'd be interested, with or without good audio. I'm just happy it has dual fronts and I use Bluetooth/earphones 90% of the time I want quality audio from my phone anyway.

out of interest did you have issues with hearing calls on the Z5 ? unlike your goodself my hearing is prop 70% of what it should be !

I have not had a chance to use the Z5. Sorry!

Please finally bring a phone to the US at the same time other regions get it!!

They would, but it takes time to remove all those new features. You know that fingerprint scanners are un-American. We would never allow that trash in this fine country. FWIW, the fingerprint scanner in my international Z5 Compact works just fine so far. I can't honestly fathom why they removed it from the US version. I'm glad I imported. Posted via the Android Central App

Don't forget it needs the Trump approval first, and support all the red states litigation, than only than we will get it. In the mean time, care to walk on over to AT&T and get an iPhone /s Posted via the Android Central App

Looks like a pretty solid middle-ground between the XPERIA Z-line and the other XPERIA phones. That said, I hope this means that the XPERIA Z gets a substantial hardware upgrade in order to differentiate it from the X Performance, because that thing basically has flagship hardware unless Sony has plans for it to be some sort of 'augmented' line that supplements the XPERIA Z-line.

What's the exact reason for so called "X performance" to be released where there is an already z series offering the greatest performance? The other two x phones are good but I don't agree with the decision to release a phone with the current most powerful processor in a new series rather than z6 Posted via the Android Central App

Newer processors, a new product line, maybe the x sounds better on ads then the letter z. Either way the z5 was cool but it felt more of tock update instead of a tick which the x-performance (xp?) is. Posted via the Android Central App

What I mean is either x performance should have been z5+ or z6. Perhaps even not release it but don't use the newest processor in any of Sony phones before the next z phone. Z series are meant to be the best of Sony's after all. Posted via the Xperia Z5

Because the Z-series is a phablet and the X series is a phone

4.6 inch z5 compact and 5.2 inch z5 are no way phablets my friend. Posted via the Xperia Z5

The "X Performance" is nothing more than the Z5+.
The only difference between it and an updated Z5 is that the XP isn't waterproof.

The X performance is waterproof

I think this is how a Nexus should look like.
I don't know what is holding Google to work with Sony for the next Nexus 5 & 6

I've been hoping for a Nexperia for so long. I don't think it's ever going to happen though. Posted via the Android Central App

The Xperia X and X Performance tick most of the boxes for me: 5-inch display (I don't mind 1080p), 64GB of internal storage, front-facing speakers, improved software, two-day battery life, and a metal back rather than glass. Even the Snapdragon 650 seems like a good choice for the X, especially if it performs well and costs a decent amount less than the Performance. And I like the side fingerprint sensor/power button combo. The polycarbonate trim is a concern, though. I'm also disappointed about Sony not going with USB-C.

Nope. Had it with Sony. Look at them releasing new flagship to replace my Z5 Compact. Sure, that's inevitable but I think they should have at least updated my phone to Marshmallow before releasing a new one. Even Samsung had the decency to do that to S6 owners. I've had it with Sony. Z5 Compact stuck on poorly optimised Lollipop whilst Sony decide to just move on to its replacement leaving all us Z5 owners abandoned. So annoyed.

Oh come on, abandoned is an exaggeration. Marshmallow will be released soon for the Z5c, probably before these phones even hit the market. Posted via the Android Central App

Oh I didn't realise how late these phones were actually being released, strange that they're announcing them now! Still, it's frustrating how these 'mid-range' phones have better specifications than my flagship Z5 Compact, merely months later. I understand the SOC situation as Snapdragon 810 was the only SOC in town last year but why the camera firmware improvements that aren't being backported to Z5 series? It's the same hardware so Sony should update the camera firmware on the Z5 series.

The S6 international is the only version to see the update, everyone stateside and carrier branded is stuck waiting till the end of summer for an update. Calm your **** Posted via the Android Central App

I live in UK, where the update is rolling out from today.

But they will be releasing marshmallow on your z5 compact before they release the new phones. These phones are being released in the summer (not sure why they are announcing them now admittedly), and marshmallow is due to be released to z5 & z5 compact in next couple of weeks. Posted via the Android Central App

Oh OK, I didn't realise these phones would come to market that late. Very confusing of Sony to announce them so early!

I'm sick and tired of waiting for them too. I've decided I'm going Nexus. A Sony Nexus would be amazing, though. Posted via the Android Central App

External look is 99% z5p.. For a moment I thought this is a demo video of z5 premium. But Sony and their huge bezels on top and bottom are both totally pointless and pure space waste.. It can be just screen or to shrink them to reduce the size of the device. Do not want to mention the software part of sony's phones - my last two phones - Android 6.0.1 and my current one - a z5p - Android 5.1.1 .. My last Sony..

You know Sony will be updating your phone to marshmallow in next few weeks right?? Posted via the Android Central App

The bezels are there to accommodate the technology inside the phones. You can't have thin flagship phones without bezels. Period.

I wish Google worked with Sony as their partner for the Nexus phones. I like the look of this phone. It almost reminds me of the Chromebook Pixel and Pixel C.

Agreed about the look. It's very nice.

What display technology are they using? IPS or AMOLED?? Posted from my Nexus 6.

Probably their own quantum dot led which is equivalent to the led ips, Sony refuses to touch amoled Posted via the Android Central App

LED IPS? O_o Posted from my Nexus 6.

IPS panel with LED backlight. (Sony uses blue LED backlight)

Oh like the iPhone. Posted from my Nexus 6.

Sony has the right idea. Making a phone that looks great and can last more than half a day on a battery charge. I hate this 2k display paired with small batteries idea, it don't work, had a g3 that would eat the battery before me and this s6 that is a little more moderate but still goes through it if I decide load up my notes from class. I hope they just don't drop the ball and release it for one carrier in the US. I'm tired of LG and SAMSUNG and their bs skins and lagware. And no I don't want an nexus unless HTC touches it or Sony. Posted via the Android Central App

I like the look of Sony phones. Too bad they are pretty much non-existent in the US. I'd get one to use on T-Mobile if it had band 12 and wi-fi calling support but most phones that aren't sold by t-mobile do not have that capability (Wi-Fi calling mostly) other than the Nexus 5X/6P or iPhone.

Got that right. For the past four years this time of year we hear about the latest Sony phone never getting to the US market. The Z2, Z3, and finally the Z4 got here but about a week before Christmas 2015 with limited numbers. Here we go again with the X. Just once I'd like to see a Sony product make it to market here in the US in winter or early spring instead of never or in limited quantities at one carrier.

If this comes out soon in UK looks like I might be importing one to USA....can't really wait until summer to replace my phone.

Until a new type of battery is developed or someone puts in a 5000mAh or bigger battery, I won't believe any claim of 2 day battery life. Especially not at 2600mAh.

Good looking phone. I wonder what the dimensions are.

The Xperia X Performance is the Z5+. Why on Earth did Sony decide to confuse the brand even more, it's something beyond me. That said, it still lacks OIS which means it still stays out of my list.

I think steady shot does the job well but I agree with the other things you just said Posted via the Xperia Z5

SteadyShot doesn't apply to photography, just video. That's why OIS is essential.

I really like the look of it, wonder about pricing and availability. Probably not needed, but would prefer to have 4gb ram though.

I really loved my Sony Xperia Z3 but the lack of a native true manual mode like what I have now on my V10 was the biggest reason I had to let it go. The front facing speakers were fantastic. The size and finish were nice.(albeit a fingerprint magnet) Battery life was so beautiful. Third party camera apps never allow as deep a dive into the camera APIs as the stock camera apps. One picture at a time--LG V10

Sony makes some of the nicest looking phones.

Want to hear a joke? Xperia XA - 300€
Xperia X - 600€ (yes. 600€. For a phone with the SD650)
Xperia XP - MIA in Germany and the UK. But likely to go for around 700€. Funnier than this only LG asking for 749€ for the G5.

So the XPERIA X Performance is basically a flagship, then. So where does that leave the XPERIA Z-line? Why not just call it the XPERIA Z5C+?

SD650 is not as bad as you might think.

Very excited for this phone. the dark horse with all the samsung and lg announcements this might be the one that will take my money. unless the Nexus 6p sees a decent price drop and if this stays competitive with the Moto Pure in terms of $400 price range it might be the one for me.

I tried out the phones and peripherals/accessories at MWC this morning. Great design. Sleek, Very cool. The XPERIA EAR had a few glitches -- recognizing commands, disconnect. But they'll get it worked out. I also liked the prototypes -- the X Assistant. I understand using the XPERIA brand as it's Sony' Mobile's flagship product. But XPERIA EAR, XPERIA EYE, need shorter brands: SmartEye, SmartEar, or XWEAR, X Eye, X Ear, X Wear, etc

2 day battery life with 2600mah? HAH!! Yeah right.

Agreed, my z2 from more than 2 years ago has a 3200 mah, now they make a 2600 mah battery, what the hell is that. And they should have made th Performance with 4GB of RAM, not 3. Looks like a good phone, but I would take the S7 edge over it, and I'm a huge Sony fan.

Looks like they are bringing these phones to US market. their website is updated and asking to pre-register. X-Performance will definitely take my money. I was excited to see LG G5 but they removed App Drawer and that's no no for me. X-Performance has everything, great camera, finger print scanner, curved glass screen, best processor, great display, decent battery, Latest software (with App drawer) and metal body (I am not fan of glass body).This seems the best announcement from MWC 2016. Hope they price right, and they can compete with Samsung and LG in US market with these phones easily.

Pricing is key they need offered at the right price none of this premium prices for midrange phone

I'm a little disappointed that it's not bigger; but I'd love to get my hands on a Sony smartphone. Maybe I'll upgrade to this when my contract is up...

Going by past Sony phones, what would the X performance cost in the US at release? Posted via LG H815

I dont think the X series totaly replaces the Z line. They will be in market in june. But I guess for the most expensive flaghip models for the "Tech nerds" Sony will have a new strategy. Only one or two models every year, not every six months.
So I guess we might see two Sony Xperia z6 around september. X series are like more affordable phones so to speak. I guess they adapt to the reality when many people see Moto E, G etc.. as good enough. So releasing around 4 flagships every 6 months make no sense in a business perspective.

The Z series is dead for good now. Sony announced it themselves.

Time to go buy a Z5 Compact, I guess. Damn. They had the compact flagship niche all to themselves. And while the X features look great, 5" is not compact.

are these gonna b unlocked only?

Nice decision by Sony to release phones of this caliber. Just the right specs at just the right price, that is exactly what most people are looking for now. Judging from their differences here https://versus.com/en/sony-xperia-x-vs-sony-xperia-x-performance , I'd say I'm already good with the plain X. The 2nd gen snapdragon 615 had been really good in maintaining balance between performance and longevity, so I'm guessing the 650 would even be much better at that job.
Android Central Newsletter
Get the best of Android Central in in your inbox, every day!
Thank you for signing up to Android Central. You will receive a verification email shortly.
There was a problem. Please refresh the page and try again.