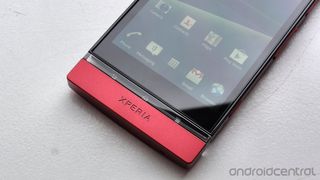 The fact that we're starting to see dual-core phones at entry-level price points is a testament to the tremendous pace at which smartphone technology is advancing. Last year this kind of multiprocessing horsepower was reserved for only the most expensive handsets, but as we cross over into the second half of 2012, we're increasingly seeing these chips in mid-range and low-end phones too.
One such device is the Sony Xperia P. Sitting between the Xperia S and Xperia U in terms of specs and price, the Xperia P is the middle child in Sony's Xperia NXT series. It aims to differentiate itself with its own unique take on the Xperia NXT "transparent element" design, using an aluminum chassis. It also offers few extra whistles and bells, including NFC support and an 8MP EXMOR R camera.
But there's a "but" coming, and if you've read our Xperia S and Xperia U reviews, you'll probably have correctly guessed that the Xperia P ships with the 18-month-old Android 2.3 Gingerbread, as opposed to the newer 4.0 Ice Cream Sandwich. So is this a deal-breaker, or does Sony offer enough added value in other areas for this to be overlooked until the update arrives? Find out below, in our full review of the Sony Xperia P.
Pros
The Xperia P is a well-designed handset with solid build quality, a good-looking screen and an excellent rear camera. Extras like NFC support and HDMI connectivity are welcomed. WhiteMagic and Bravia Engine make for a excellent image quality.
Cons
Gingerbread, Gingerbread, Gingerbread. The transparent element makes for awkward capacitive button responsiveness. Poor battery life when idling. A little software instability.
The Bottom Line
The Xperia P has a lot going for it in the arenas of hardware and multimedia prowess. But the use of Gingerbread is a big problem for the device, as it is for the other Xperia NXT handsets. These phones need ICS to be able to compete on software and user experience in the current Android smartphone market. As it stands, the Xperia P will instead need to compete on price, and current SIM-free prices of around £200 could make the Xperia P a true bargain when it gets that ICS update. But we're reviewing the phone as it is, not as it might be with a future software update, and in its current state the Xperia P is a great piece of hardware let down by geriatric software.
Sony Xperia P video walkthrough
Sony Xperia P hardware review
Sony's always performed pretty well in terms of build quality, especially when it comes to its higher-end stuff. With the Xperia NXT series, they were one of the few manufacturers thinking outside the traditional smartphone design box. And the Xperia P mostly sticks to the established design language of the Xperia S and Xperia U. The main difference is its construction -- the Xperia P sports an aluminum chassis, giving it a cold, solid feel in marked contrast to the plastic used to build most smartphones. (However, it should be noted that the bottom of the phone, and a small area around the top, remain plastic, as they house the phone's antenna.)
The Xperia P is available in silver, black and red -- our review unit was the red version, which manages to stand out visually while remaining subtle and classy.
The distinctive transparent element introduced in the Xperia S is back in the Xperia P, and this is also used as part of the antenna housing. Along the front of the transparent element are the phone's three capacitive keys -- home, menu and back -- and the right edge is home to the volume rocker, power button and dedicated camera key. On the whole, the physical buttons have a good, firm action to them, however the capacitive buttons struggle with responsiveness a little. This seems to be due to the fact that the contacts themselves are unusually small, on account of their placement over the transparent element.
As you might expect, the clear bar is illuminated on button presses, however this is limited to a simple white backlight rather than the multicolored, customizable lighting of the Xperia U.
As far as ports are concerned, the Xperia P features the standard 3.5mm headphone jack and microUSB ports, in addition to a microHDMI connector. As an added bonus, a microHDMI cable is included in the box, which is always nice to see.
The phone's 4-inch screen size and curved back means it fits nicely in the hand, though the hard, squared-off edges may stick in your palm depending on how you hold it (this is a problem we noticed with the S and U, too). On account of the phone's aluminum unibody, there's no removable battery or storage, and the microSIM card slot is accessible via a slot on the left edge.
You'll also notice two silverish torx screws either side of the aluminum chassis, which gives the phone a more sturdy, industrial look than most other Sony handsets.
The Xperia P packs a qHD (960x540) Sony HD Reality Display -- that's an LCD-based screen with a little Sony magic sprinkled on top. On a 4-inch panel, qHD resolution really crisp, and images are bright and vivid, with wide viewing angles. Sony's Mobile Bravia Engine tech helps to kick things up a notch when viewing photo and video content too, with selective contrast enhancement, image sharpening and noise reduction.
The Xperia P is the first handset to include Sony's WhiteMagic tech, which adds an extra white subpixel to each pixel on the screen, making for a horizontally-aligned RGBW pixel layout. for the less technically inclined, what this means is better screen visibility when outdoors. The difference compared to standard LCD and SuperAMOLED displays is quite striking -- the Xperia P's screen remains clear and usable even in very bright conditions.
On the inside, there's a dual-core 1GHz ST-Ericsson NovaThor chip running the show, backed up by 1GB of RAM. We've already seen NovaThors in a couple of entry-level Android smartphones, and while it's not the fastest dual-core chip around, it delivers plenty of horsepower for a phone like the Xperia P. As we already mentioned, there's no removable storage to be found in the Xperia P, but the 16GB of on-board memory is a reasonable amount for this kind of device. It's split into 2GB for apps and 11GB for media, with the rest being taken up by the OS. So overall it's a reasonable hardware package, and a decent step up from the Xperia U, which offered 512MB of RAM and a dismal 4GB of non-expandable media storage.
Finally, phone calls worked just fine on the Xperia P, and we noticed no adverse effects from the unusual antenna placement. The phone's speakers are sufficiently loud, and cellular data reception was in line with other Android smartphones we've tested.
On the whole, the Xperia P has most of its hardware bases covered, with an aluminum chassis, an excellent, if diminutive screen, and a reasonably quick CPU.
Sony Xperia P specs
Sony Xperia P software revi​ew
The Sony Xperia P runs Android 2.3 Gingerbread alongside Sony's UXP NXT software. It's yet another Gingerbread phone from Sony, and that's just as disappointing as it was when we reviewed the Xperia U a month ago. An update to version 4.0 Ice Cream Sandwich is in the works, but until it arrives you're left using a version of Android which first debuted in late 2010. This is the Xperia P's Achilles heel, though we suspect it'll improve significantly when the ICS update arrives. But in the meantime Gingerbread is what ships on the Xperia P, so that's what we'll review.
Unsurprisingly, UXP NXT on the Xperia P is more or less identical to the software experience on the Xperia S and Xperia U -- same five home screens, same widgets, same bundled apps. Sony still scores points for its classy, understated UI design, though, even if it is running on an antiquated version of Android. Visual elements like the clean, clear and consistent icons and "Soma" font gel to create a good-looking UI that can be navigated with ease. Sony's themes system is included too, allowing a little extra customization over backgrounds, buttons and menus. Seven themes are included, each offering a slightly different primary color for the UI.
Sony includes a pretty complete suite of multimedia applications on the Xperia P, as it does most of its phones. In addition to the standard music and gallery apps and DLNA support, you get Sony's Music Unlimited and Video Unlimited services pre-loaded as standard, and the native music app can link in with your Music Unlimited account, too. Sony's "PlayNow" app store is included as well, as is TrackID for music identification.
Like the Xperia S, near-field communication (NFC) support is included in the Xperia P, and Sony's making use of it in its "SmartTags" system, which allows the phone to be programmed to respond to certain NFC-enabled tags in different ways. For example, one tag might fire up Google Maps for GPS navigation when your phone's in your car, or turn on Wifi when you arrive home. There's also a standalone app for picking up NFC tags in the wild, though as the NFC antenna is located towards the plastic area at the top of the phone, you'll need to hold this over whatever you want to read.
Sony put a great deal of emphasis on improving its social networking credentials in 2011, and the results of its efforts can be seen in all its 2012 phones. Facebook photos and status updates can be fully integrated into the built-in contacts app, and the TimeScape application presents an attractive, if slightly cumbersome way to view social updates from Facebook and Twitter.
There's also a fair selection of bundled third-party apps, including the free version of popular file manager Astro, security software from McAfee and WhatsApp for free internet messaging. Fortunately if these aren't your cup of tea, many of them can be uninstalled from the application manager under Menu > Settings.
The Xperia P is for the most part a decent performer. But there are clear areas where performance and UI fluidity is limited by Gingerbread. The Xperia P's browser feels sluggish after having used ICS's more advanced web navigator, and the old Android 2.3 Gmail and Calendar apps are starting to show their age. These issues will be addressed in the upcoming Android 4.0 update, but until then, they stand out as areas of particular weakness for this phone.
We should also note that on a couple of occasions the Xperia P's software locked up completely, requiring us to hold down the power button to perform a hard reset. The fact that we experienced similar problems on the Xperia U suggests to us this is a minor stability issue with Sony's software, rather than an isolated incident.
Sony Xperia P batte​ry life
The combination of a 1305mAh battery and Sony's new super-bright display tech makes for battery life that's decidedly average (though not entirely terrible). With our regular usage patterns consisting of web browsing, snapping a few photos, a little music playback and the occasional voice call, use we got 13-14 hours on the Xperia P before that battery warning light started to flash.
Without a question, the Xperia P's screen was the device's biggest battery hog, as we noticed the phone's longevity decreased rapidly the more we used it outdoors, forcing that brightness to crank up further. Fortunately there are two auto-brightness settings on the device -- one for max brightness, one for power saving.
In addition, we noticed heavier-than-expected battery drain while the Xperia P was idle. This mirrors our experiences with the Xperia S and Xperia U, so it's likely there's some software tweaking that needs to take place to remedy this. Alternatively, maybe we've just become used to the outstanding battery efficiency of most ICS devices when the screen's off. The bottom line is that Sony's mid-range offering delivers battery life that's generally acceptable, though if you're a heavy user you may need to allow for a midday charge.
Sony Xperia P camera tests
Sony's smartphones have generally excelled when it comes to camera tech, and the Xperia P is no exception. The 8MP rear shooter is comparable to the camera used on last year's Xperia Arc and Xperia Arc S, with the only major difference being the Xperia P's support for 1080p video recording.
Despite a few signs of over-compression and over-processing, the Xperia P's rear shooter produces great-looking 8MP shots in a wide range of conditions. Photo capture speeds aren't the fastest we've seen on a phone by any means, but you can't argue with the resulting images. Macro shots in particular are a strength of Sony's 8MP EXMOR R camera, and the f/2.4 lens means it does reasonably well in low-light too, though the device does struggle to focus in such conditions.
Video recorded by the rear camera is equally impressive in both daylight and low-light conditions, coming close to matching the quality produced by higher-end handsets. We did notice some isolated patches of artifacts caused by over-compression, however, particularly when recording at 1080p resolution, where footage includes both very dark and very light areas.
Like other Xperia phones, the Xperia P supports 3D panoramic recording, though you'll need a 3D TV to play back content recorded in this phone.
Wrap-up
Unfortunately for the Japanese manufacturer, Sony's Xperia NXT smartphone line-up has so far failed to set the world alight. Despite solid hardware and impressive screen and camera tech, the series has been let down by Sony's insistence to release these phones with an out-dated software based upon Android 2.3 Gingerbread. Sure, you may have noticed that version 4.0 -- Ice Cream Sandwich -- has recently started trickling out to some Xperia S phones. But as we sit on the brink of Android 4.1 Jelly Bean, the rest of Sony's 2012 line-up continues to languish on Gingerbread. This is part of the reason why many consumers have been tempted towards other devices with speedier chips and newer, better software.
By contrast, though, we can't help thinking that there's great potential in the Xperia P's hardware. It might not be the fastest dual-core phone, but it's still a dual-core phone with 1GB of RAM. The camera's decent, better than most phones around this price point. But you still have to interact with all this stuff through Android 2.3, and in mid-2012, it just feels old and clunky.
So Gingerbread is a big problem for the Xperia P, as it is for the other Xperia NXT handsets. These devices need ICS to be able to compete in the current Android smartphone market in terms of software and user experience. As it stands, the Xperia P will instead need to compete on price, and current SIM-free prices of around £200 could make the device a true bargain when it gets that ICS update. But we're reviewing the phone as it is, not as it might be with a future software update, and in its current state the Xperia P is a great piece of hardware let down by geriatric software.
Alex was with Android Central for over a decade, producing written and video content for the site, and served as global Executive Editor from 2016 to 2022.
Makes no sense to ship phones in the 2nd half of 2012 with 2.3 Gingerbread.. Period..

Great looking phone that looks like it is well put together. Who in the company makes a decision to install very old software on a pretty descent phone so at the time it hits the market it gets killed. These idiets who make a decision like that ruins the chance of the phone to sell. First impressions are everything. When a customer looks at a phone review and the person making the review keeps saying the software is slowing this otherwise descent phone down that customer is saying next. That phone with ICS loaded up would fly, too bad this phone will get overlooked by new customers.

Wow Sony Gingerbread still really. And you wonder why hardly no one buys your phones. Here's food for thought for all OEM's stop skinning Android and maybe just maybe your phones will get updated in a timely manner, instead of you having to reprogram your skin to work with the newer versions. Totally unacceptable especially this late in 2012.

I couldn't live with the design. The silly strip at the bottom looks like it should be broken off and thrown away after shipping. Also, the raised ridge up by the earpiece speaker is just begging to grind into your ear on calls longer than 3 minutes. -Suntan

I agree. If they would incorporate stereo speakers into that strip, one on each side of the brand name, that are facing you then I could maybe see a place for it but as it is it just looks out of place.

Exactly. What is in there, Antennas? Flash? Anything? One of the pictures seems to show a wire running down to the bottom. I just don't feel motivated enough to run down to any store and see one in person. And that visible screw (same picture above). How steampunk can you get in 2012.

Magic 8 Ball, will there ever be a Sony Android smartphone that more than 18 people actually buy and care about? They just seem so irrelevant with each release. Who in their right mind would get one over a current HTC or Samsung sitting next to it?

Yes, why continue to torture people with gingerbread? They did the same thing with the Xperia Ion that just came out. Any new phone right now should have ICS. Even if you were designing the phone 6 months ago, why not use ICS as a starting point? Makes no sense...

Well there is probably a reason to ship with gingerbread (weak processor), and I hardly call it torture. GB was pretty darned good, and your mom won't care, and neither will your kid sister. 90% of users have no clue what version of the OS their phone is running.

"CAN BUILD QUALITY AND MULTIMEDIA CHOPS REDEEM A PHONE LACKING THE LATEST VERSION OF ANDROID?" No. After tomorrow it will be two versions behind.

Google should make a rule on releasing phones with android, and this might also help on some companies releasing excessive amounts of phones with very little changes all the time, but whatever the expected month is for that phone to release that it must have software on it that was out within that quarter of the year.

Why should google do that? Android is open source. Manufactures can do as they wish. Why foist a high end OS on a mid range or low range phone? Gingerbread is light-weight, thoroughly debugged and very stable. ICS is still shot full of bugs, and quite frankly, not that much of an improvement over GB.

IT LOOKS LIKE THE GUY WHO TYPES THE SUB-TITLES ON REVIEWS BUSTED HIS CAPS LOCK KEY.

This phone looks pretty nice but I guess the engineers at Sony couldn't figure out ICS. This kind of blatant laziness puts a bad name on android.

I think Sony is pretty much getting it wrong. Going in reverse, in fact, making no room for external memory and a lesser Ah battery. Android sucks on the battery front so I don't care if my phone weighs a brick and can be used as a weapon, but it has to freakin' work or else no use of a so called multifunction device that can't do Jack without dying out within half a day! There was an update today for the Xperia P and I was thinking Damn! Did Sony manage to get an ICS update out before my EVO 3D did, and WRONG! It was just a software update for changes as follows:
Android Version: 2.3.7 - Unchanged
Baseband Version: u8500-480202-R1G_EC14 - u8500-490206-R1G_EC14
Kernel Version: 2.6.35.7+ - Unchanged
Build Number: 6.0.B.1.564 - 6.0.B.3.162
All it did was restore the stuff I removed. Let's see if it improves the so called 1350 mAh battery. Have to check what the update was for seriously. I guess phone companies got to wake up from their freakin' slumber and start working their butts off (instead of only swallowing our hard-earned money) on getting the latest software stable and ready to roll out to their respective devices quickly, instead of waiting for the next version to already be released! It's a crying shame that ICS has not yet rolled out to many of our devices and already there's news of Jelly Bean making a splash. All this stuff makes me sick because it just shows how bad/dependent they've made us to be so tolerant to their utter nonsense! "Working on getting the latest and greatest to the consumers," my ****! Is only Samsung really working and the others sleeping, because they tend to release too many phones(not a great idea) and they already have ICS on the SGS-II which would downright make that a better choice than buying a purposely handicapped POS for a mid-ranged handset. I refrained from an SGS-II and got the EVO3D thinking HTC would be a great company and would do the updates soon, considering this was a so called high-end latest and greatest device hardly half a year back with plenty of power under the hood, but turns out it's just another case of eyewash and there just will NEVER be a Latest and Greatest Device! (TRUTH) God Help Us All! By the time the updates reach us, there will either be a newer version of Android or the phone itself would have DIED!!! R.I.P.

Thanks for the excellent review!
I'm getting this phone, since it's already got Android 4.0 update...
Android Central Newsletter
Get the best of Android Central in in your inbox, every day!
Thank you for signing up to Android Central. You will receive a verification email shortly.
There was a problem. Please refresh the page and try again.