Sony Smartwatch 2 update brings custom watch faces, wallpapers and more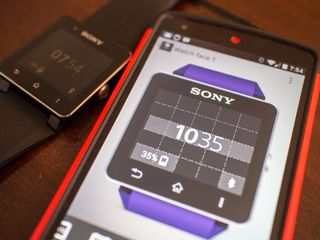 One of the biggest gripes with the Sony Smartwatch 2 was that there was no way to customize watch faces at all. Today a new update has arrived that not only adds custom watch faces to the mix, but also provides a built-in editor right within the app. You can still choose from the base set of faces that include the standard digital and analog faces in a variety of styles, but now have the option to create and edit your own faces as well.
Using the editor in the app, you start with a blank slate and can add clocks and widgets to create your perfect watch face. There are a handful of clocks available — various sizes in digital and three analog options. Widgets include dates, new events, Bluetooth indicator, battery life and alarm. Pumping out your own face only takes a few minutes and there are a load of possibilities to make each one your very own.
There's also a new option to change the background wallpaper on your homescreen should you choose to do so. Overall a nice update that should make Smartwatch 2 fans very happy. Grab it now from Google Play.
Get the Android Central Newsletter
Instant access to breaking news, the hottest reviews, great deals and helpful tips.
Editorial Director - High Yield
Getting his start writing about BlackBerry in 2008, Adam is the Editorial Director of High-Yield content at Future. Leading an outstanding team, he oversees many of the articles the publisher produces about subscriptions and services – VPN, TV streaming, and antivirus software. From buying guides and how to watch content, to deal news and in-depth reviews. Adam's work can be seen on numerous Future brands including TechRadar, Tom's Guide, T3, TTR, Android Central, iMore, and Real Homes.
FIRST!!! Oh my god, so much win in me!! :)

New watchfaces will show more information on screen including the weather, a pedometer, a battery indicator, the last notification received and the next upcoming alarm. http://www.agileinfoways.com/technical-expertise/mobile-applications-dev... Other changes include a scrollable notification menu (the drop down menu), the ability to choose which apps you want to receive notifications from and customisation options – change wallpaper and change which apps are shown on the home screen. We'll let you know once the update starts rolling.

Give up Sony and just join Android Wear. This is just a waste of time. Posted via Android Central App

Woke up this morning to all of my Smartwatch 2 apps having available updates, so I got excited, connected my watch, and voilà: there was the update I've been waiting for! Didn't know about the watch face editor, which has to be my favorite part of the new update! Thanks AC!

I'm a person who likes to golf often and was wondering if these watches can be used like a Garmin golf watch where it tells you yardage and whatnot if someone was to develop an app for the watch? With golf apps from Google Play I know that information is on the Smart phone, can it just be displayed on the watch via the phone? I wish I can develop this but I don't know much about programming. Why couldn't this happen? It only makes sense, right?

Definitely could happen. With enough demand for that feature I'm sure a developer will create it. I'd use Google to see if that feature already exists or is in production.

Got the update and like it so far! But the double tap to wake, is pretty misleading.. Double tap to increase brightness by 30 percent isn't of much value. How about double tap to fully wake!? Still glad to finally get it.

This had me a little confused to. I figured it would wake the watch up and not just brighten the display some. Glad to have some new features but do wish it would actually wake the phone up

Very pleased with the update so far. The watch face editor is very slick. My plan is to get one of the android wear devices when they are available. I'll dig more into tonight and see what's going on. Posted via Android Central App

I've just started to develop some of my own SmartWatch 2 watchfaces. They're published on Google Play so please let me know what you think
https://www.androidcentral.com/e?link=https2F2F...