Sony retires 'Walkman' brand for its built-in music player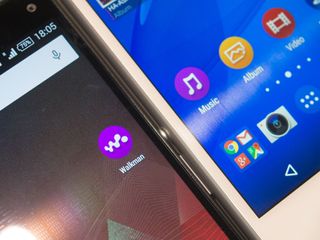 Once synonymous with portable music, Walkman has been one of Sony's most iconic brands. From classic cassette-based offerings of the early 1980s to the wackier, Android-based versions of 2015, the purpose of a Walkman product is clear — it's all about music on the go. So it wasn't surprising to see Walkman name used in Sony's own music app, which is preloaded on all the manufacturer's Android smartphones. Renders of new Xperia phones would give valuable screen realestate to the purple Walkman icon, and it'd also be preloaded on the default home screen.
But not anymore. As Sony unveiled its first 2015 Xperia products, the Xperia Z4 Tablet and Xperia M4 Aqua, the familiar Walkman icon and name are no more, the app having been renamed to the more generic "Music."
The new app name appears on phones running updated Lollipop-based firmware; older phones on KitKat continue to show the current Walkman-branded music app. Sony reps on the show floor at MWC confirmed that "Music" would indeed replace "Walkman" as the default Sony music player going forwards.
It's not the first time we've witnessed this kind of change from a brand once used interchangeably with portable music. Apple stopped calling its iPhone music app "iPod" back in 2011, as the rise of smartphones — including its own — made portable media playback more of a feature than a standalone product. Of course Apple still sells iPods, just as Sony will still let you drop up to $1200 on a new Walkman.
It's taken longer, relatively speaking, for Sony to move on from the Walkman brand on its smartphones and tablet, but perhaps it's inevitable given the brand's diminishing value. Let's face it, it's increasingly unlikely that anyone under the age of 30 will have feelings of nostalgia for this iconic Sony product. And arguably, as streaming services continue to dominate music on mobile devices, standalone music apps are becoming increasingly obsolete anyway. Indeed, Sony will soon be retiring its Music Unlimited service in favor of a deal with streaming giant Spotify.
And so as Sony as a whole continues to experience turbulent times, the music will go on — only without a very significant Sony brand on mobile.
Android Central Newsletter
Get instant access to breaking news, the hottest reviews, great deals and helpful tips
Alex was with Android Central for over a decade, producing written and video content for the site, and served as global Executive Editor from 2016 to 2022.
Stand alone music apps are just as relevant as streaming services are. All one has to do is look at the number of downloads still happening with them. Posted via the Android Central App

The name Walkman doesn't mean anything to the younger generation. Had to explain it to a 17 y.o. a couple of weeks ago. Posted via the Android Central App

Oh, good. I wasn't feeling nearly old enough as it was.

Seriously? That kid must not have been into music. Anyone who's into music of any type has to have heard of Walkman. Posted on my OnePlus One

The average 17 year old is into music as prescribed by top 40 radio, anything more cerebral or not playing on the radio or TV simply doesn't jive with this demographic. Posted via the Android Central App

Wow u guys really like to generalize the new generation like all hope is lost or something. I don't understand what u have against us but there are substantial amount of teenagers including me who couldn't give a damn about top 40 or what's trending. We have personal choices as well.

I heard about the Sony Walkman when and I'm 15 lol. I look at it this way, one less product= more money for something better in the future.

Found my Walkman the other day. I put in a tape (yes I still have them) and 2 AA batteries and my 3 year old was amazed and used it for over an hr. I am the one that knocks...

Lol I had a yellow one as well Posted via the Android Central App

Why do they need to call it music? Why not keep it walkman still? The walkman logo also looks and sounds way better

Walkman should have been the brand of the Sony smartphone line, not Xperia. It's iconic.. They should have been the best music playing smartphone ever. Awful management over there at Sony Nexus 5 (AT&T)

Agreed I wonder if illiterate people get the full effect of alphabet soup

WINNER!!! How Sony never got this is beyond me. They have two major brands left, Playstation and Walkman. Not leveraging Walkman harder for their phones turned "Xperia" into something as boring and unknown as "Bravia" or whatever they're calling their TV's now.

If I remember correctly, Sony did re-brand some of its lower end Xperia phones as Walkman phones a few years ago. Apparently it didn't go over well, because now it's all Xperia from Sony. In addition, before smartphones took over the world, Sony Ericsson had a line of Walkman phones which, as the name implies, were promoted as music phones. At this point, Sony releasing a phone and calling it "Walkman" would probably be a disaster. Yes, the Walkman brand is iconic, but it's a brand associated with the past. In the future-looking tech industry, you generally do not want to be associated with the past; it's usually not good for sales. I am not saying that Sony should give retire the Walkman brand. I think that it still has its place as a line of dedicated portable audio/video players, but we all know that's an increasingly niche market, and I say that as a satisfied owner of a Walkman F.

You make a great point. Posted via Samsung Galaxy Alpha

Agreed Posted via the Android Central App

because to an increasing number of people, the name walkman doesn't mean anything to them.
I guess its just simpler to re-label the app Music.
Either way, i don't care. its just a name. the app itself is very functional to the point that i have zero need to bother with a third party alternative on my sony phone.
the video app however got replaced in seconds by MX Player!

Starlord most definitely does NOT approve... Posted via the Android Central App

If you consider that deal with Spotify, and consider that it'll very likely be expanded to Sony's Mobile phones, it makes all the sense to rename the app to Music which is more neutral than Walkman. But yeah, I'd miss the Walkman name as I am among those with find memories of his Walkman (and that still had it and it still works).
And I write I'd miss because of the rebranding only comes with Lollipop, I'm not getting it as I'm refusing the update. Posted via the Android Central App

As long as the app on my Z3C continues to seamlessly sync albums and playlists with my smartwatch, I don't care if it loses the Walkman name.

Interestingly, the Sony music application on Sony's Android-powered Walkman not-phones has always been named "Music." I've always been curious about this. Sony's Android-powered Walkman not-phones and Sony's Xperia phones and tablets come from different divisions of Sony, so I have assumed that the reason amounts to corporate politics or corporate bureaucracy, but I've never heard an official explanation for this and other software differences between Android-powered Walkmans (Walkmen?) and Xperias.

I buy dedicated Walkmans to this day, and am sad to see the Walkman name go.

Poor decision Sony.. Sinking further in irrelevance Nexus 5 (AT&T)

It's only going from the Xperia app. Sony will still be producing normal dedicated Walkman devices ;)

Now if only they'd retire the Xperia name aswell, they can start gaining some ground in the mobile market.

I'm 17 years old but I knew WALKMAN since I'm 9 because my dad told me and he loves SONY products I like the old name and the icon and the app's name is totally common
WALKMAN still rules! totally sad that they remove the name in Xperia :(

I miss my old Sony Walkman slider phone. It still works today but the speaker is blown in it. Posted via the Android Central App

Makes me want to hold onto my Tablet Z a while longer. The Walkman app is really cool and nostalgic. Posted via Samsung Galaxy Alpha

Im 16 and I love walkman. My dad gave me his old walkman cassette player when i was 5 and I loved it! I went on to owning 4 walk man Ericsson phones, my favourite being the w910i. I wish sony had continued with the old phone idea on android - a cyber shot phone with the best camera on the market and a Walkman phone with the best speaker. They could have done one of each a year as the flagships and used the xperia brand for low end phones aimed at social people (RIP Timescape). Its a wasted opportunity and I'm sad at the current situation Sony is in.

I would buy 400 dollar walkman without a blink....coz its worth it. Forever young for iconic walkman
Android Central Newsletter
Get instant access to breaking news, the hottest reviews, great deals and helpful tips
Thank you for signing up to Android Central. You will receive a verification email shortly.
There was a problem. Please refresh the page and try again.