Sony offering free PlayStation Mobile games for the next 6 weeks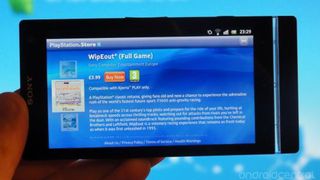 Sony is hoping to entice more users to take advantage of its PlayStation Mobile platform today by offering 6 weeks of free games from its PlayStation Store. Every 7 days for the next 6 weeks Sony will make one game from its PlayStation Store available for download free of charge, hoping that once the promotion ends more users will stick around and use its store. This promotion is only available in select countries -- Japan, United Kingdom, France, Italy, Germany, Spain and Australia to be exact -- leaving U.S. users out in the cold for now, but this at least shows that Sony is willing to put some marketing behind its storefront.
This offer will only be useful if you have a PlayStation Certified device, which unfortunately doesn't encompass that many phones at this point. There's a full list of compatible devices at the second source link below, but it's primarily just a listing of Sony phones with a few recent HTC models thrown in. If you're interested in the first game that will be offered, Samurai Beatdown, you can see its game trailer after the break.
Source: Sony Mobile; PlayStation Store
Android Central Newsletter
Get instant access to breaking news, the hottest reviews, great deals and helpful tips
Andrew was an Executive Editor, U.S. at Android Central between 2012 and 2020.
Wonder why there is no US support for this?

Kudos to Sony for doing this, just wish they included the US too :(

It's working for me. Downloading now.

no US support?
No customers for Sony!

It's a shame, but then again, we international users have been missing out on Google Wallet since it was launched. Thanks for sharing the pain. :p

I have a Sony Tablet S and a PS Vita, and live in the US. I was able to download this game for free on both.

Ya, worked for me on my EVO 4G LTE and Vita hours ago.

Mr Andrew Martonik, please UPDATE the title and edit your article, the free game promotion IS FOR ALL PS STORE ENABLED COUNTRIES INCLUDING THE US! Just to set the record straight and not see anymore "wonder why there isn't any US support for this" comment for people who probably don't even own an Xperia. Plus, support for what? the PS Store? lol.

Still waiting for PlayStation mobile on my HTC Droid DNA and my nexus 7

Woot! An Xperia S in Germany, feeling happy now! Thanks Sony! - just realised I would need to transfer a lot of apps to my laptop first.. :S

Nice. just downloaded on my vita & evo lte!

Official from sony blog http://blog.us.playstation.com/2013/01/16/grab-a-free-playstation-mobile...

Just to confirm, completely works in the US, on my rooted Verizon Samsung Galaxy S3, which was PlayStation Certified through nefarious means involving the installation of zips and apks of questionable origin. I even told the thing that I was in the US when I set it up, and now I'm playing Samurai Beatdown completely duty-free. If you haven't PlayStation "Certified" your rooted phone, you should get in on that pronto. Worst case, your phone still doesn't work with the PSM store, which is possible. Best case, you get 6 or 7 free games.

This is to coincide with them killing off the Vita.

They should strike a deal with Google and the Play Store and have Google host all their content in their market with a special section dedicated to Playstation Mobile. Qualified devices would have access to this section, low end devices wouldn't see this section appear in their play store.

Works fine on my U.S UNROOTED Tablet S here in Georgia (the state not the country). This is one of the reasons I got my Tablet S when it first came out, the content was so scarce, I never went back to the store good thing this promotion came along I see that they have added more games.
Android Central Newsletter
Get instant access to breaking news, the hottest reviews, great deals and helpful tips
Thank you for signing up to Android Central. You will receive a verification email shortly.
There was a problem. Please refresh the page and try again.