Sony NSZ-GS7 Google TV player review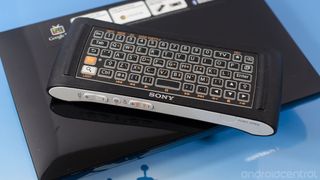 Ever since CES 2012 we've been hearing that a Google TV push is coming. First at bat comes from Sony, with their NSZ-GS7 (add in a Blu-ray to get the NSZ-GS9) which features everything you love about Google TV combined with new hardware and Sony's touch in the application drawer. Checking in at $199 puts it at odds with plenty of other (and often cheaper) competition like a Roku, or even a cheap HTPC.
I was a big fan of the first generation of Google TV hardware, so I was excited to have a look how it works with newer, better spec'd units. Read on to see how it went.
Pros
The dual-core Marvell SoC makes all the difference in the way applications and media are presented to the user. The unit looks good and will match any current entertainment system. The remote gives complete control in a smaller package.
Cons
It's still Google TV. That means not a lot of content, not a lot of great apps, and not much more than you can get from a $49 Roku. The remote that offers great functionality is also pretty cramped and complicated.
The Bottom Line
If you're a Google TV fan with 200 bucks burning a hole in your pocket, this one is a no-brainer. On the flipside, if you're not a Google TV fan there's nothing here to sway you in that direction. Until more content and developers get on board, there is no real lure or customer appeal. Without customer appeal and sales, there won't be much content or development. Google TV is still in the Catch-22 phase, and will need more than decent hardware from people like Sony to change any of that.
Swipe to scroll horizontally
The set-top box
The unit itself is small, unassuming, and looks like every other piece of electronics in your home entertainment cabinet. It's roughly an 8-inch by 3.75-inch rectangle, that's a little under 1.5-inches tall -- which means it will easily fit anywhere you might need it to fit. It's glossy black plastic is a total fingerprint magnet, but you'll never have to touch it after installing so we'll give it a pass there.
Underneath the unit you'll find four rubber feet to keep it elevated so that air can flow through the venting. besides the screw heads to disassemble the case, the only thing of interest here is the connect button which you'll use to pair the remote. We've heard some reports of the box itself getting rather hot, but we've not experienced that ourselves -- even after marathon Futurama sessions on Netflix or the full second season of Game of Thrones played in succession. I'm betting that "ambient" airflow is a big player here, and as long as you have ample airflow in your cabinet or stand you won't have any issues.
The left side of the box is also a bank of vents. With no internal fan on the ARM CPU, airflow is important. Other than the vents, and the aforementioned connect button, there's not much to say about the exterior of the device -- until you get to the rear.
Around back you'll find the important parts. You've got an HDMI input and output (the box goes in-line between your cable box/DVR), an optical audio out port, a plug for the included IR blaster, a standard CAT5 network jack, the power port, and two full-size USB 2.0 ports. Because the player runs Android 3.2, USB host ability works and you can plug a thumb drive in and watch movies or play music right from the drive itself. Depending on the power requirements, some USB hard drives may work as well. An old Seagate with its own 5VDC power supply worked just fine.
The Specifications
Yes, specs can matter -- even on a TV set-top box. This is where the new Google TV hardware, with ARM innards (versus older Intel Atom processors), shines above the older versions. With better chips inside, and software better optimized for this architecture, the Sony Internet Player is miles more capable than devices like the Logitech Revue.
You notice the speed increase everywhere, but it's easy to see loading Chrome. Pages like Google+ that would struggle on older hardware now run almost as well as they do on a nicely spec'd desktop, and this opens the doors for HTML 5 web applications -- like HBO Go. Side by side, on the same television, I also get a better picture and better sound from the Sony Internet Player than I did from the Revue. This is to be expected, as newer hardware and newer software should run better. Here's your bullet point list.
Android 3.2 (Google TV specific)
Marvell Armada 1500 1.2 GHz dual-core processor
750 MHz GPU
1GB DDR3 RAM
8GB internal storage
8.03 x 5.12 x 1.38 (inches)
Two full size USB 2.0 ports
HMDI input; HDMI output
Digital optical audio output
External IR blaster input/output
10/100 CAT 5 Ethernet port
802.11 b/g/n Wifi
Bluetooth
Dolby Digital + 5.1 audio out, with support for H.264, DivX, Xvid, WMV, MPEG2 / H.262, FLV, AVI, MP4, M4V, MKV, MOV, ASF, MPEG-1 files
Support for WAV, AAC, WMA, MP3, Ogg Vorbis, 3GPP audio codecs
Of course a full suite of Google specific applications (including the Google Play Store) are included.
The remote
Sony has seen a lot of hate for their Google TV remotes. I'm not going to pile on that wagon, because I think they did a decent job with it. Google TV has a million different buttons and functions, a QWERTY keyboard, and a method to move a mouse pointer. It's damn near impossible to squeeze that into a remote control unit that will make everyone happy. I'm still liking the remote that came with the Logitech Revue a bit better, but for many folks (Mrs. Hildenbrand included) a full size 101 key keyboard with a trackpad is too big. The way Sony has tackled this is to use a two sided unit, with keyboard functions on one side, and the other has a trackpad and a few function buttons.
One one side, you have a keyboard. The keys are a bit small, but functional enough. You won't be typing 80 words per minute with this thing, but you really have no need to do so. The keys are backlit in a red, night-vision friendly glow at the press of a button, and there's a fairly robust set of symbols available via a function key. That same function key allows buttons on the keyboard to act as media controls, and theres also a set of arrow keys to position your cursor.
Flip the remote over (there's a sensor inside that only allows one side to be active at a time), and you have a spacious trackpad, Android Home, Back and Menu buttons, a picture-in-picture button, and four-way navigation buttons. There's also media controls, and buttons to do things like change inputs on your TV, or to turn on your DVR. If you have supported equipment, the remote can pretty much do anything and everything the dedicated remote that came with your other components can. Volume, quick channel up/down, and mute controls are on the edge of the unit.
It's complicated, but with all the needed controls for Google TV it almost has to be. It's also a bit cramped (which is why my big paws prefer the full sized Logitech remote) but Sony was able to cram everything in and still keep it the same size as the rest of your remotes. It's also pretty power hungry -- plan on changing out the two AA batteries monthly.
The software
There's nothing special added by Sony to the basic Google TV software. Save for a few pre-bundled apps, it appears pretty much as you'd see it on any other brand of Google TV box. There are a couple highlights in the app drawer though, the biggest of which is HBO Go. It's an HTML 5 optimized app that runs inside Chrome, and does it really well.
At first, I was thinking that it was silly to worry about an app that mimics what you can find in your cable box. They're both connected to the same screen, and deliver the same content. But HBO Go saves your spot when watching a show or a movie across devices. This means I can start something on my tablet or my laptop, and move over to the television and pick up right where I left off. You appreciate this when you do it a few times.
There's also an internal FTP server built in to the software, which allows you to easily transfer media (or anything else) to the box without using an old-school sneakernet of thumb drives, or using adb over your LAN. In the settings, tick a box to enable the FTP server and you're ready to go. Thsi si especially helpful once you start to investigate sideloading apps that aren't yet Google Play compatible. You can simply copy them to the downloads folder, and click to install them from a file browser.
You can then use any Windows, Mac or Linux FTP client software and transfer files to and from your Google TV. You can also install an FTP client on your smartphone or tablet, and do it from one Android device to another. It's a great way to keep a large capacity external drive full of media, and a decent substitute for a real NAS (Network Attached Storage) device.
Last, but definitely not least, Google has sorted their issues and the Google Play version of Google Music once again works on the Sony Internet Player. All Google needs to do here is open up the Google Play Movies app and this will be a fairly complete media solution.
Wrapping it up
Pros
Much better performance than previous models
Full featured remote with backlit keys
Easy set up
Lots of media codecs
Cons
A good bit of Internet content is still blocked from Google TV users
No easy way to play purchased Google Play movies
At $299, it's more expensive than many other options
That full-feature remote has a confusing layout
The verdict
If you're a Google TV fan, it's time to upgrade to newer hardware. Do it for the video quality, do it for the games, do it for better browsing. Not much else has changed, as Google TV still seems to be just a hair short of being fabulous. If you're not a user of Google TV, but are all-in with Google and Android, it's worth a few extra dollars to step up from a Roku or those Samsung apps on your DVD player.
Is the Sony unit worth the extra hundred dollars when compared to the other offerings from Vizio and Hisense? The jury is still out on that one, but anyone who is a Sony fan is well aware of the extra money involved to buy their products. I won't tell anyone to run out and buy a Sony Internet Player, but I would recommend it to folks who are looking for a Google TV, or just want to try something different in their home entertainment system.
Senior Editor — Google Ecosystem
Jerry is an amateur woodworker and struggling shade tree mechanic. There's nothing he can't take apart, but many things he can't reassemble. You'll find him writing and speaking his loud opinion on Android Central and occasionally on Twitter.
I'd bet dollars-to-donuts that this will be first in line for any new updates from Google. That might be worth $100 premium over the Vizio, right there. That's if it gets another update!

Owners of Sony NSZ-GS7 -- Does it do 5.1 audio output while playing movies? I can't seem to find this answer anywhere. I'm NOT talking about 5.1 passthrough from TV. I'm talking about 5.1 output from video files played on the device (either directly on the device, via UPnP/DLNA, or via a proprietary app like Plex). When playing videos or ANYTHING other than passing through TV, can the device actually do 5.1 audio output? If it can, can it do it via HDMI or just optical? The reason that I ask is that the vizio costar famously CAN NOT do 5.1 audio output. If it matters, my media is mostly 1080p m2ts files with H.264 video and AC3 or DTS audio OR lower def MP4s with H.264 video and AAC audio.

Sony box connected to Onkyo receiver via HDMI. I certainly sounds like it's 5.1 audio when playing streaming content. I'll have to check with local media, don't have anything attached at the moment.

Jerry, I had a similar setup to you: Cable Box -> Sony GTV -> Onkyo Reciever -> Samsung TV. I had to return it because I think the HDCP or whatever the encryption is from the digital provider of my Cable kept tripping, the entire video would start flickering on the TV set including all the overlays from the GTV. If I unplugged my Cable Box from the Sony GTV, everything worked fine. I think that the video was going through one to many devices before it hit the TV. I'm curious if you come across that scenario as well.

Had the very same issue during the initial setup. Quick call to Sony directed me back to Comcast, who gave me a newer model DVR to replace my old one

Did that resolve the issue?

I may try the Sony GTV again then and have my DVR replaced. Thanks for the tip!

I'll stick with my boxee box for now.

Better yet, can anyone but a nerd learn to use it? My mom would hold that up to here ear and say Hello???
My wife would throw it thru the TV. I'm not sure the quest for simplicity leads down the road to more buttons.

You sir deserve a +1 for that post.

My wife is non-techie and she knows how to use the GTV quite well in some cases better than me. Not sure why you think it is hard to use.

Perceived complexity.
It doesn't matter how simple something may actually be to learn to use, the perception of complexity, and this device certainly has that with 60+ buttons, will turn off many consumers. Heck, I'm tech savvy and I think it seems too complex. it's poor design. Much as I love Google, they have a knack for designing things from the engineering perspective, rather than the user perspective (yes, I know Sony is the manufacturer, but their hardware is a reflection of Google's system).

I like the remote. Not so sure about the box. I think these devices would be a lot more popular if they played anything that was thrown at them (mkv, avi, asp, mp3, aac, dts, ac3 etc.) via a native DLNA client AND offered apps to other services. Perhaps you can build it up to be something like that especially when XBMC turns up. At that point it may actually be worth a sniff.

Jerry, I think you are completely missing the point of this device, and also of Google TV.
You say That it does not offer much more than a $49 Roku Box? seriously, did this website get purchased by CNET? For me there are two things about the Google TV boxes that make them much more useful than a roku box, or a Network enabled DVD player: 1). Chrome browser..believe it or not some people actually enjoy a bit of surfing on the TV it can be extremely convenient. 2) QWERTY remote...to me this is worth Price Premium for vizio or Sony over roku for sure. For those of us who get most of their TV content streaming...(Amazon Prime, Netflix, Chrome browser), using a traditional remote control to search for content on a regular basis is NOT worth saving $150. When I search for the latest issue of a TV show I want to be able to Type in the name, not mess around with some sort of on-screen Alpha-numeric selection maze...no thank you.

I get where you're coming from. I also have a Boxee, Chromebox, and HTPC attached to televisions around the house. Google TV tries to do some of each of those, but just can't get it all mashed up fluidly. I think they will eventually, and I think they will be able to score the content eventually, but for now people who want the media are better served with other options. People who want a browser on the big screen are also better served by other options. Agree 100% on the remote. As mentioned, I think Sony did a great job making something that has to be complicated into something very usable. I like the Logitech remote a little better, but only because it's bigger -- the exact reason why my wife doesn't like it. That doesn't mean that most people don't hate it though. I tried to mention why it's good in the post.

I have a Roku and am having a REALLY hard time trying to justify a Google TV. Especially without Hulu Plus. I got around the remote problem and on-screen keyboard using the official Android Remote from Roku. It works great so I don't have a compelling reason to move away from that. As for TV web browsing, it doesn't do it for me. I have done it before with other systems like the Boxee Box and Wii. Jerry, is there going to be a review of the Vizio Co-Star? If there is one already, forgive me.

I'd really like to see a comparison between the Vizio Co-Star and this new Sony box. I picked up a Co-Star, and while it seemed a little snappier than my Revue initially, it certainly is no speed demon. Also an interesting side note for the Chrome from the couch fans - the IE browser integrated into the latest XBox dashboard (beta) really put Chrome to shame in terms of speed and smoothness! Believe me, I was shocked too. I still think (and am hopeful) that it's this crappy Honeycomb port that's bogging everything down on GTV. I really hope that there is a Jellybean update for GTV coming soon. Having an optimized OS is about the only thing that will truly make these boxes mainstream.

Well said dmaster277 , i used to hate typing stuff on my Samsung bluray player, it used to take for ever and the you tube app didn't have. access to all the YouTube content . The roku 2 i only got cuz of angry birds, but its very limited with internet content. I love my Sony google bluray player

I really, really like the TV & Movies app. Live and streaming in one easy to view UI, genres, covers, info, time left, etc. So much better than the cable guide! I don't know anything about those other boxes tho.

Can you pair the Logitech Revue keyboard/remote to other Google TV devices, such as this one? /Kevin

This remote works over Bluetooth and does not have RF like the previous models.

Would love to have one, but HDMI only. I'm one of the few who still have a CRT SD TV and cannot afford a fancy new HD TV. My Roku on the other hand does SD or HD.

I'm still rocking my old 52" RCA that's on WHEELS, so I feel your pain :) HDMI didn't even exist when this thing was built, so I'm still stuck on the component inputs.

This box was unveiled at CES in January and was suppose to come with 2 Terabytes of storage,wtf happened?! They said you could pretty much record entire seasons of all your favorite shows in HD.

I recently side loaded the newest play store update and then play movies and TV app from my gnex to my revu and I have never been happier. Besides having to restart it every time I turn on my TV I'm fairly content with what I have.

I have an issue with this part "No easy way to play purchased Google Play movies". All though there is no dedicated app for Play Movies like we are used to with our phones/tablets, there is a YouTube app with a Rentals sections that has all my movies I purchased/rented from Play Movies.

Any news on the ETA for the NSZ-GS9? I thought it would be available in October but I cannot find it anywhere.

Anyone having issues with the HBO GO app on this? I'm able to access the app fine but when I move the mouse over to the top right of the screen to click "sign in", nothing happens. The mouse just blinks out. No matter what I click on that page, the mouse disappears. Any idea how to fix this? Is there a pop up window that is supposed to come up for me to sign in? Thanks