Snapdragon 835 vs. Snapdragon 821: How much of an upgrade is it?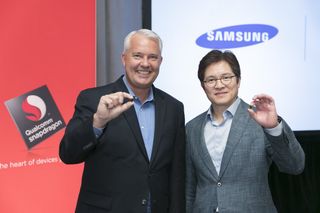 Qualcomm formally detailed the Snapdragon 835 during its CES keynote, serving up a look at what's new in this year's flagship SoC. The Snapdragon 835 offers improvements across the board, and Qualcomm has incorporated a slew of new features, including Bluetooth 5, gigabit LTE, 802.11ad Wi-Fi, and much more.
The 14nm Snapdragon 820/821 was no slouch, but the move to the 10nm node has allowed Qualcomm to register huge gains in energy efficiency and performance. The Snapdragon 835 is 27% faster while consuming 40% less energy, with the overall size being 30% smaller than the previous generation. Here's a look at some of the key areas where the SoC differs from last year's offering:
Swipe to scroll horizontally
Category
Snapdragon 835
Snapdragon 821
Node
10nm FinFET (LPE)
14nm FinFET (LPP)
CPU
Four 2.45GHz Kryo 280 cores
Four 1.9GHz Kryo 280 cores
Two 2.35GHz Kryo cores
Two 1.6GHz Kryo cores
GPU
Adreno 540
(OpenGL ES 3.2, OpenCL 2.0, Vulkan 1.0, DirectX 12)
Adreno 530
(OpenGL ES 3.1, OpenCL 2.0, Vulkan 1.0, DirectX 11.2)
Memory
Dual-channel LPDDR4X
1866MHz
29.8GB/s
Dual-channel LPDDR4
1866MHz
29.8GB/s
Storage
eMMC 5.1
UFS 2.1
eMMC 5.1
UFS 2.0
Camera
Dual ISP up to 32MP
16MP dual camera
Dual ISP up to 28MP
Modem
X16 gigabit LTE
Download up to 1000Mbit/sec
Upload up to 150Mbit/sec
X12 LTE
Download up to 600Mbit/sec
Upload up to 150Mbit/sec
Bluetooth
Bluetooth 5
Bluetooth 4.2
Wi-Fi
802.11ad multi-gigabit Wi-Fi
802.11ac gigabit Wi-Fi
Charging
Quick Charge 4.0
Quick Charge 3.0
We'll have to wait until the Snapdragon 835 makes its way to consumer devices — which is slated to be sometime later this quarter — before we can take a detailed look at how it fares next to last year's Snapdragon 820/821. However, based on the hardware and the node shrink, it looks like it will be another good year for Qualcomm in the high-end mobile SoC space.
Android Central Newsletter
Get instant access to breaking news, the hottest reviews, great deals and helpful tips
Harish Jonnalagadda is a Senior Editor overseeing Asia at Android Central. He leads the site's coverage of Chinese phone brands, contributing to reviews, features, and buying guides. He also writes about storage servers, audio products, and the semiconductor industry. Contact him on Twitter at @chunkynerd.
Haven't even recieved my 821 OnePlus 3T yet and it's already outdated. Ah well. This phone will last me a couple years anyway. Too exhausting trying to keep up lol

Remember how easy is to swap the battery of the 3/3T. That gives us at least 4 years... the only problem is the storage degradation

Doesn't that suck? It's can be a bit annoying when you're a spec nerd like I am. But I had to jump on the 3T because of the price though. Just remember that for the 6 month period the 3T will have been on the market before the 835 arrives its the fastest Android phone ever made to date. I say this because it's been smoking everything it goes up against side by side on a ton of comparisons all over YouTube for the last month, and that includes the Pixels' as well. I haven't seen anything but the iPhone 7 match it yet. So that speed combined with 6 gigs of RAM and the low price makes the 3T something special IMO

Oh I agree. When my note 5 took an untimely swim I needed a replacement quick so I picked up a pristine condition OnePlus One cheap the next day and it's still a really nice unit. Convinced me quickly that the 3T was a good choice. The waiting for it is killing me though :)

You're going to be very pleased with it when it gets to you. Everything from the design to the build quality, the slickness of oxygen OS, and unmatched speed, smoothness, and specs make it the best of the best in the mobile market at this point

You do know that you can never keep up with technology, that's how the ball rolls.

Well some years the tech is just not that much of a jump from what you already have. I have a feeling 2017 is not going to be one of those years. This is looking like a big leap year in every way.

Battery life yes....Speed and smoothness in day to day usage, maybe a little bit. But the 820/21 with UFS 2.0/2.1, and F2FS are gonna take a couple of years to gain significant speed improvements on. Regardless of what the spec sheet says

How so, it looks the same too me, a slightly faster chip than last years offering, nothing special.

Dude, did you miss the fact that the 835 is an octa core chip?!?!?!

Yes but this is 14nm tech and the cores out clock the 821, with 4 extra

Nah you'll see a 10 percent (being generous) performance gain over the 821.

Looks like batter life is about to go up.

Marginally, if we're lucky. Most likely the OEMs will figure out how to give us around the same battery life..

Nah, they'll just make phones even thinner, because everyone wants their phone to also serve as an edged weapon, right?

Not if they keep using the QHD AMOLED screens it won't. That is the single biggest battery suck on these devices right now.

Until 4K AMOLED screens start making the rounds.

Hopefully there will be some Bluetooth 5 compatible smartwatches available soon after the 835. Any word on a new Snapdragon Wear chip there supports Bluetooth 5?

That would be interesting, but I feel that it may be a while before we get that unless it's from Samsung with their custom processors. The AW watches just got a new processor to use and I don't think it supports BT 5.

im coming from a 810 6p and if Fi goes away I might try out the new windows phone or stick with android with what ever onplus does or maybe wait for the next pixel

Did you just say WP, really, LMAO.

Relax....Fi isn't going away, please don't utter those terrible words.

New Windows Phone? Why is that even under consideration lol? Stick with the Pixel line or even iPhone if you want to jump ship. Windows Phone Land has become a tragic place.

Which new Windows Phone is that? The fabled Surface Phone that will only be available on the shores of Loch Ness in the month of June every fifty years?

WP? Nice joke, Android is the best and your 6P kills any crappy WP or W10 mobile phone for that matter why? Because it runs Android amongst a whole lot of other reasons.

Give him a chance. I know WP is a dying platform, but I've always been curious.

This new Snapdragon chip will give Windows Phone what it needs: virtualization of Win32 apps. This will make Windows Continuum's dream come true. A phone that turns into a PC running real Windows apps, not only store apps.
I love Continuum on my Lumia 950xl, but it's limited with choices of apps in store and even more limited in apps that support Continuum, but with Win32 apps virtualization, the limitation will go away.
Windows Phone really is the best phone OS around, just limited by lack of apps and used as a phone, apps are not a big concern for me as long as I've got the main ones which I do...

WP is still garbage against Android and it's capabilities and customisation which makes WP totally garbage. No platform stands a chance against Android, especially WP.

I agree that WP has its share of problems, but at the same time it has a lot going for it from just the "it works and is simple" category. My wife had been using a WP up until dropping it in a hot tub. I gave her my old Android and she hates it in every way besides the fact that it has a couple of apps she previously didn't have. She finds the way of doing just day to day tasks very convoluted and that the swipe keyboard is significantly less accurate (which I agree with her on that). She doesn't care about customizing or boat loads of apps. Android is great, but it is far from perfect and some people just don't like it. I hope that WP makes some gains in the future. The world needs more than just iOS and Android.

Looks like a nice step-up on paper. Though I think the real-world benefit is likely to be lesser of a difference than what the spec difference would suggest.

Eventually we reach a point where it's difficult to SEE the differences in power from day to day use, I imagine the impact in battery Will ve More noticeable than the speed increase. What really interested me is that "download 1000Mbit" and gigabit LTE...Is this practically 5G?

That is 5g tech. And just like Bluetooth 5 no one supports it yet.

Of course they are, LMAO.

You're right. I'll guarantee it actually

Pretty impressive. I think I will plan my next phone around this chip.

On paper the 835 looks better than the 821 but it's marginal to be honest, ain't gonna stop me getting a 3T as I'm really impressed by the 3T with the 821, it has blistering performance, 6GB RAM and all for the low price of £399 or £439 for the 64GB or 128GB models respectively and it smokes every Android flagship on the market.

This is what's interesting. Depending on who you talk to... Speed supposedly is gained by an efficient instruction set - hardware - software compatibility. So... How does the 3T smoke the Pixel at all? How did the designers of the 3T work around the instruction set optimization in certain instances? Someone's pail of water - isn't holding up too well. Just saying... Seems to me that there is a multitude of ways to optimize the efficiency of the device.

I think he's prone to hyperbole since he's excited about it. However, the 821 in the Pixel *is* 'underclocked' compared to the normal 821's like in the 3T.
Android Central Newsletter
Get instant access to breaking news, the hottest reviews, great deals and helpful tips
Thank you for signing up to Android Central. You will receive a verification email shortly.
There was a problem. Please refresh the page and try again.