Snapchat is clamping down on third-party apps, threatens to lock accounts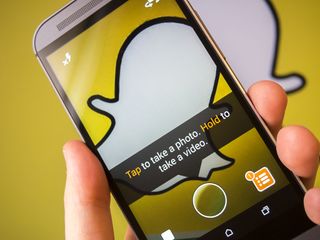 Snapchat has a had a rough few weeks in terms of security. People's photos were allegedly stolen and posted online recently through the use of a third-party apps. Those apps used reversed-engineered APIs to access the service, which creates a significant vulnerability in account security.
Now, the company appears to be taking a hardline against the practice by sending out emails to those who have been utilizing third-party apps.
We've gotten numerous tips from people receiving emails from the company asking the user to stop using third-party Snapchat apps:
The email then directs users to snapchat.com/locked for more information, which reveals the consequences for not heeding their warning:
For what it is worth, Snapchat has said they will develop a public API to avoid such security breaches in the future. However, there is no ETA on when that API development will be completed.
For now, users will evidently have to stop using third-party apps or risk having their accounts permanently locked.
Source: Snapchat Blog; via: Windows Central Forums; Thanks, Elias, and others, for the tips!
maybe you should make SNAPCHAT available to all platforms then and not just ONE!! problem solved

You know it's available on iOS and Android right?

That leaves out BB10 and WP. There's also the matter of third party apps that save images without notifying the sender. Those apps are also presumably huge security concerns which is why Snapchat has taken this course of action. Posted from my TARDIS!

i agree and nicka yes i do know im not thick im just saying there quick to dish out threats but not make the app available to everyone on every platform? and they wunder why people do it

Quick? They waited until someone used a third-party app(s) to compromise the service they provide. This is damage control. It is evident they need to do this ASAP, and they can't wait for official apps for other platforms to be ready (that is if they are planning to create them). BlackBerry and Windows Phone users should perhaps consider using another service that does support their platform. Posted via Android Central App

Like the Snapchat variant that Facebook came out with! lolol

Yeah ok with their platform but people have all different types of platforms so why segregate them? Why not have Snapchat contact those individual developers and partner with them to develop for them in that platform? The developer can keep proceeds from being a paid app and Snapchat keeps it's users. Or we could all switch to bbm which has calling and Snapchat like features... and available on all platforms... Posted via Android Central App

I think this has more to do with the apps that save all the snaps without notifying the sender. Those are the apps that pose the largest security risk and threat. Those were the apps hacked and how all those "snaps" got leaked.

You are right it was the third party apps that saved all the snapchat pictures and videos, and they collected over 12 GB's worth of pics and vids. Most of the Snapchat pics and Vids were mostly from Northers Europe like in Sweden or Norway and the third party app that was hacked was from the same area too. The rest of the world seems not to have much to worry about from the hack.

this is the only reason 3rd party clients exist because they where too lazy to go all platforms and the ones they made for others suck lol.

its kinda stupid if you think about it tho :/ like there threatening loads of people on locking there accounts but they cant build one single app for all platforms its just stupid because now they look like horrible people and loads will hate them not if they made it for all they wouldn't have this problem

exactly its had time to grow and if they wanted to stay right by all users make it native for all this would never have happened.

So wait, because they only have a sanctioned app on android and ios it is all their fault? That makes no sense other than to point out a sense of entitlement. Maybe the amount of energy versus the roi just isn't worth it for the other platforms....but that doesn't mean those platforms should have full run to reverse engineer and hack the existing apps. Posted via Android Central App

About time. Snapchat needs to do this if they want to stop ending up in the limelight for security breaches. Posted via the Android Central App

My friend had a blackberry z10 and Q and has to resort to using third party applications to access Snapchat, and the app is much better than the stock Snapchat app at that. Maybe make it avaible for other platforms. It's stupid they do this, when some people have to resort to third party applications because they have no other choice Posted via the Android Central App

Given the fact Android apps run on BlackBerry your friend does not have to use 3rd parry Snapchat apps. He could install the Android version and it would work fine. Posted via the Android Central App

+1 Posted via the Moto X (2nd Gen) on 5.0

Hey i have a brilliant idea, instead of making our app truly cross platform lets yet again ignore two other platforms and lock those users accounts tehehe

Just make snapchat available for all platforms and stop complaining... Posted via Android Central App

Ah FK, I'll have to go back to xposed and ruin private mode :*( Things I like about third party app I use:
Can choose previous taken photo
Don't have to hold damn screen to view
can rewind/fastforward video
view each photo/video individually
no time limit to view after its loaded
mark viewed if I choose to or not
no screenshot notification
...

Yeah make Snapchat available to the 4 people using Windows mobile and that guy over there using blackberry.

You mean 9.3 Million new Windows Phone users last quarter? Stop being a dick. While I'm not a fan of this app they should make an official app for Windows. Posted via Android Central App

The windows phone market is drying up my friend. I'm sorry for your purchase you made. Posted via the Android Central App

good ... ... ( 0ppo F5) ...

Or just dont use the stupid app!! Problem solved. Wow! That so so damn easy Posted via Android Central App

BBM on BlackBerry 10 now has SnapChat capability for messages and pictures. You can also Retract messages. No need to mention that with BlackBerry there will be no leaks, impossible to hack BBM. Now that BBM is supported on iOS and Android I recommend stop using unsafe apps like Whatsapp and snapchat.....just switch to BBM.

As they should, people are misusing the app the pics/vidoes are meant to be temp. Posted via the Android Central App
Android Central Newsletter
Get the best of Android Central in in your inbox, every day!
Thank you for signing up to Android Central. You will receive a verification email shortly.
There was a problem. Please refresh the page and try again.