Skype for Android adds file sharing, improves battery life and video quality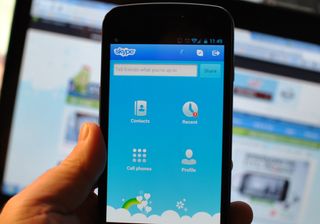 Android's Skype app got itself a nice little update today, with improvements to battery life and video quality, the ability to send photos and videos to your contacts, and it's now much easier to sign out. (That'd be the little arrow button in the top right of this picture.)
Skype says tablets with the NVIDIA Tegra 2 processor will greatly benefit from the battery and video improvements, with full-screen chat looking better than ever. Also, the HTC Amaze 4G, Motorola Droid RAZR and the unannounced Motorola Droid 4 are now supported for video chat. (Update: Skype now tells us it jumped the gun on all that Droid 4 stuff.)
We've got download links after the break.
More: Skype
Does out work with cm7 -.-

Slap you Philllll... quit showing me that phoooooooone....

Funny, I've video chatted multiple times on my Amaze.

Can anybody post whether the EVO 4G works properly now with the front camera? The last couple of updates have rotated the video in strange ways, and I keep having to revert back to an apk that I downloaded somewhere...

I had to do a full uninstall and then reinstall to get the front facing camera to work on the Evo 4G. Talking with your head tilted was driving me crazy! It was working with the last update and seems to work with this one.

does it work with the galaxy nexus? cause i tried it and it said my device wasnt certified or something to that regard.. and the person couldnt see me

Mines working on AT&T. Booted up without thinking about it

Still no official support for the SGSII irt video calling...epic fail.

Can I use my Bluetooth earpiece yet?

The stupid thing STILL insist you enter the password each time you log in? Very annoying. They even added an option to log you in each time skype starts, but no option to retain the password, so it can't log you in automatically. What were they thinking? Does "HTE" pass anyone's spell checker except Phil's?

Mine logs me in automatically

You are correct. In order to get that to work, I had to un-install, clear data, and re-install. Upgrading didn't work for me on my Acer Iconia.
The re-install fixed it.

It's so fumbled. I wish they would make the options more user intuitive:
- Remember password
- Automatically sign in at app launch
- Automatically start Skype on phone boot Before, you couldn't exit the app without signing out -- and signing out meant you had to type your password again upon signing in, which was a pain. Also, "Sign me in automatically" meant to launch the app on boot.. which also sucked. Now, you can "remember password" by hitting the "Sign me in when Skype starts" button when you sign out. It also seems that "remember password" *implies* "automatically sign in at app launch". I'm not sure where the autostart on boot option is now; I guess it's gone? Not like I wanted that idea anyways -- it's not *that* hard to start Skype when you reboot your phone, for those who want it. On another note, I know most people, including myself, already have a bad rep with the Skype for Android app because it's pretty bloated and laggy.

Works great on my HTC Rezound!

So, to benefit from the improvements, one needs at least Tegra 2? I removed Skype after they added video calling for Android -- worked fine, but was hogging too much resources when not in use... I wish Skype had a "lite" version, one that only supports chat (and maybe file transfers)...

They still didn't fix video calls to/from the Asus SV1T.. whaaa

They secretly added support for some Ice Cream Sandwich devices. Runs great on the Nexus S build of ICS. The previous version of Skype didn't work with ICS at all. Other people should test with ICS to see if the ICS Support is universal.

I've checked the option for it to launch at startup, but whenever I reboot my phone it still fails to start.
Samsung Galaxy Plus and Nexus S 4G.

Does it solve *general* battery drain problems on all, not just Tegra 2 devices? When they've first introduced video-enabled Skype for Android, I realized it horribly drains my battery.
Android Central Newsletter
Get the best of Android Central in in your inbox, every day!
Thank you for signing up to Android Central. You will receive a verification email shortly.
There was a problem. Please refresh the page and try again.