Skype adds video calling -- and ads - to another round of phones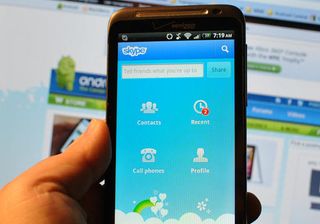 You don't usually get sumpthin' for nothin', and the adage rings true with the latest update to Skype for Android. The good news: A baker's dozen devices have had video calling turned on, but at the price of having to put up with advertising. You can get around the ads (which show up for everyone, not just the new crop) if you've got Skype credits laying around, which we're betting most of you don't.
Anyhoo. Here's the list of phones that gained video calling:
Samsung Galaxy Tab 10.1 (T-Mobile)
HTC Shooter (KDDI)
Sony Ericsson Xperia Live with Walkman
Sony Ericsson Xperia neo V
Acer Iconia Tablet (A500)
LG Optimus Black (landscape only)
LG Optimus 3D (landscape only)
LG Optimus 2x (landscape only)
Motorola Photon
Motorola Droid 3 (landscape only)
Motorola Bionic (landscape only)
Motorola Xoom
Motorola Atrix
A nice smattering, indeed. Download links are after the break.
Be an expert in 5 minutes
Get the latest news from Android Central, your trusted companion in the world of Android