Should you upgrade to the Galaxy Note 9 from the Pixel 2 XL?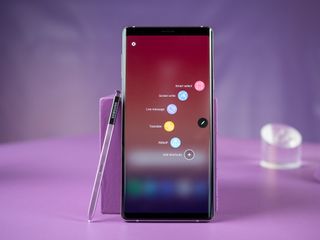 (Image credit: Android Central)
Google's Pixel 2 XL is still holding up incredibly well despite coming up on its first birthday, but even with that being the case, Samsung's brand-new Galaxy Note 9 is likely giving all Android owners at least some level of envy.
The Pixel 3 XL will be here is just a few short weeks, but whether you can't stand its oversized notch or just want an upgrade this very second, the Note 9 is proving to get a lot of pre-orders from former Pixel fans.
Just check out the AC forums to see what we mean!
What say you? Are you keeping your Pixel 2 XL or upgrading to the Note 9?
Joe Maring was a Senior Editor for Android Central between 2017 and 2021. You can reach him on Twitter at @JoeMaring1.
Absolutely you should upgrade! Triggered Beno meltdown incoming in 3,2,1,

Something something SamSheep, something something MA PIXEL 2 XL

I have the 2 XL, and I'm making the jump. Pre-order is supposed to arrive today :-)

Yeah it'll be a nice honeymoon period but reality will sink in that TW is still annoyingly bloated and you'll miss pure Android.

Came here to say this. Stock Android to anything else is a downgrade.

Title is very misleading there is no upgrade why not put switch if a pixel user is to upgrade then I'd say they upgrade to the next pixel no. That's like asking a note user to upgrade to the Galaxy s10 doesn't make sense if you're going to upgrade then wait on the note 10 hope you guys get the difference. Don't like to see those misleading titles

Sticking with my Pixel 2 XL. Sure the Note 9 is a beautiful phone. But, it's not $590 (incl. tax) more beautiful, nor more useful than my Pixel 2 XL.

holding on until pixel 3. May get the oneplus 6T if the P3 ends up to be a flop

It will probably be a good mid ranger with a great camera. Sales will for sure be a flop though..

You can still use Pixel as a paper weight.....great phone

Pixel 2 XL is definitely no paper weight :)

The only opinion that matters is Beno. And I'm sure he'll be advising people to go for the Note. He loves dem Sammies

I'd bet he actually does love Samsung, and that he's rockin' the Note8 and has been rockin' Samsung devices since the S3. 😆

Why wouldn't you upgrade? Pixel 2 XL is a mess between that horrid screen and buggy software releases. Say all you want about Samsung being slow with updates, but I'd prefer they take their time than push out a buggy update.

I think the whole "update" thing to be almost a joke. If there really was a security issue with any Android version, then one's device should already be affected by it.

Better to be proactive than reactive.

The Pixel 2 XL is definitely not a mess, have you used one? I doubt it, I'm happy with my Pixel 2 XL and the screen issues are way overblown, I wouldn't trade my Pixel 2 XL for any Samsung phone with their oversaturated colours and awful bloated software.

Didn't display mate rank the Note 9's screen as the most color accurate of all smart phones? They said indistinguishable from perfect. Seems a lot better than the pixels screen. And samsungs software is a lot better than it was before, I mean its 2018. Its all personal preference. Literally every flagship phone these days is going to be nice and buttery smooth. Of course there will be bugs with new software releases though.
https://gadgets.ndtv.com/mobiles/news/samsung-galaxy-note-9-display-revi...

No, the screen issues are NOT overblown at all. I returned mine pretty well the day I got it and got the regular pixel 2 instead. Plus kinda blue is a much cooler colour than panda.

Maybe my eye for screen quality isn't as good as yours, but I don't have any problems with my P2XL screen.

I'm happy with my Pixel 2 XL do I have no intention of upgrading to a Note 9 but I'm not gonna lie, the Note 9 ticks alot of the boxes, but software over hardware for me and Samsung's bloated mess they call software is what keeps me away. The Pixel is the only Android device that makes me happy.

The way you talk about your pixel... I mean... that phone has got to be sticky AF 😷

If you are looking for a powerhouse go with the Note 9. It may have a ton of features for some but with Android you can make any phone fit your style. I am a bit disappointed with the Pixel 2XL with the recent reports of lag and unresponsiveness. So you can no longer say it's the fastest Android I would say the One plus 6 would be the best alternative

Absolutely not Google has Samsung beat in every way stay with the pixel.
Android Central Newsletter
Thank you for signing up to Android Central. You will receive a verification email shortly.
There was a problem. Please refresh the page and try again.