SCUF Vantage vs. Razer Raiju Ultimate: Which PS4 controller should you buy?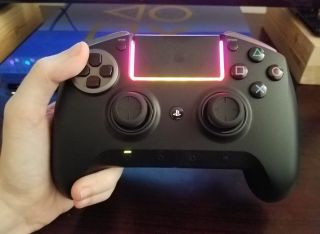 (Image credit: Android Central)
Razer Raiju Ultimate
If you prefer ease-of-use combined with app control, the Razer Raiju is for you.
Razer Raiju Ultimate
Quick control panel
App support
Chroma lighting strip
500 customized profiles saved in the Cloud
No faceplate customization
Heavier
SCUF Vantage (wireless)
The SCUF Vantage caters to those who want a fully customizable experience, right down to the controller's looks.
SCUF Vantage (wireless)
Interchangeable faceplate customization
More remappable buttons/paddles
Audio touch bar
No app support
Cannot adjust vibration modules to different levels
Which model is for you?
For the purpose of this article, I'll be comparing the higher-end models of the Razer Raiju and SCUF Vantage controllers. Both companies do offer cheaper models which come with a few less features. For instance, SCUF's cheaper Vantage controller does not support Bluetooth connectivity and must be played via wired USB. The cheaper Razer Raiju Tournament does not feature a quick control panel nor does it sport the signature Chroma light strip around the touch pad.
What's the difference?
The Razer Raiju easily beats out standard DualShock 4 controllers in terms of performance and features, but how well can it stack up against another premiere controller like the SCUF Vantage? Aside from the various customization options that they offer, you'll immediately notice that the SCUF Vantage features offset thumbsticks similar to those found on an Xbox controller, while the Razer Raiju Ultimate provides a more traditional PlayStation experience with symmetrical thumbsticks. Key differences like these set them apart in ways that may make or break your purchasing decision.
Swipe to scroll horizontally
| Category | Razer Raiju Ultimate | SCUF Vantage |
| --- | --- | --- |
| Price | €200 | $200 |
| Dimensions | 4.17" x 6.09" x 2.6" | 4.25" x 6.5" x 2.5" |
| Weight | 352g | 256-287g |
| Thumbsticks | Symmetrical | Offset |
| Triggers | Hair trigger | Hair trigger |
| Bluetooth | Yes | Yes |
| Remappable buttons | Yes (4) | Yes (6) |
| App control | Yes | No |
| Quick control panel | Yes | No |
| Audio touch bar | No | Yes |
| Interchangeable faceplate | No | Yes |
What these features mean to you
You may not be familiar with some of the above features and what role they play on your controller, so I'll break them down for you to help you make a better decision as to which controller is right for you.
Hair Trigger mode
Hair triggers enable faster shooting. Instead of fully pressing down on a trigger like you normally would, hair trigger mode allows you to shoot faster by only needing to apply a small amount of pressure on the trigger. When you're in a multiplayer session in your favorite FPS, even milliseconds make all the difference. Because both controllers feature similar hair trigger modes, though the SCUF Vantage offers slightly more control.
Remappable multi-function buttons
The Razer Raiju Ultimate has four remappable buttons: two next to the inner corners of each bumper, and two paddles on the back where your fingers naturally rest once you're holding it. The SCUF Vantage, on the other hand, features six: two buttons on the side and four paddles on the back. These allow you to remap the controls however you wish so that you can perform important actions in games quicker and more efficiently.
With the Razer Raiju Ultimate, you can create more than 500 customized profiles according to the company. These are then saved in the Cloud and can be programmed via the app to one of four on-board slots on the controller, allowing you to switch between them instantly.
App control
Why does a controller need an app? Even though this may seem strange, it comes down to ease of use and quality of life, and as noted above, gives it greater flexibility when it comes to remapping your buttons. With the Razer Raiju's app, available on the Google Play Store and the iOS App Store, you can remap your controller's buttons and change its settings with little hassle. The app's user interface appears intuitive and clean so you shouldn't have a problem finding whichever setting you are looking for.
Not only that, but Razer's app allows you to adjust the vibration levels on either module on the controller. With the SCUF Vantage, you can only take each vibration module out or leave them in, making it an all-or-nothing type of situation without any finer control.
In lieu of an app, you can remap buttons on the SCUF Vantage manually on the controller itself, which should save a number of different configurations. The same can be done manually on the Razer Raiju as well.
Thumbstick placement
The great thumbstick debate: Are offset or symmetrical sticks better? Answers will vary from person to person, but there's no denying that most professional gamers use the offset design (found on every official Xbox controller) in tournaments, as evidenced by the wide breadth of premium controllers featuring such a layout. (Even the cheaper Razer Raiju Tournament model features offset thumbsticks). However, if you're more accustomed to the standard DualShock controllers that PlayStation officially sells, you'll feel at home with the Razer Raiju Ultimate.
Interchangeable faceplate
With the SCUF Vantage you can choose from dozens of faceplate designs, ranging from licensed designs based on your favorite games or streamers to more generic, plain colors. Thanks to the SCUF Vantage's magnetic faceplate, these are all easily interchangeable at a moment's notice. This simply cannot be done with the Razer Raiju as it was not designed to be taken apart like that. If you want the Razer Raiju, you'll need to stick with its plain black color.
Quick control panel and audio touch bar
The lower front of the Razer Raiju Ultimate features a quick control panel with four separate buttons: profile/remap, configure, lighting, and lock. These allow you to switch between remapped profiles/manually remap buttons using your controller, connect your controller to the app, switch between different lighting effects on the Chroma strip around the touch pad, and enable/disable the Share, PS, and Options buttons along with the rest of the quick control panel so that you don't unintentionally press a button.
In place of this, the SCUF Vantage sports an audio control bar, allowing you to adjust the volume of your headset and mute your microphone.
The bottom line
Both controllers are fantastic premium products for those willing to spend the extra cash, but the Razer Raiju Ultimate edges out the SCUF Vantage with its finer app control. Still, the biggest factor you may consider when purchasing is whether you prefer offset or symmetrical thumbsticks seeing as each controller offers a similar experience in terms of its remappable buttons and purpose.
Heavy duty
App control heaven
A controller truly worthy of being on the market in 2018, the Razer Raiju Ultimate nearly does it all.
Personalized appearance
Greater physical customization
Those looking for greater customization options need look no further than the SCUF Vantage, another quality controller.
Get the Android Central Newsletter
Instant access to breaking news, the hottest reviews, great deals and helpful tips.
Games Editor - PlayStation, Android, VR
Jennifer Locke has been playing video games nearly her entire life. You can find her posting pictures of her dog and obsessing over PlayStation and Xbox, Star Wars, and other geeky things.