Samsung's Messages app is finally gaining support for Google's RCS Chat features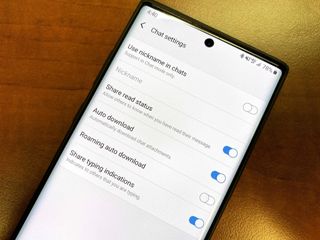 (Image credit: Andrew Myrick / Android Central)
What you need to know
Samsung's Messages app is starting to receive support for Google's RCS Chat features.
You no longer have to install the Google Messages app on your Galaxy phone to use Google's RCS Chat features.
Support for Google's RCS Chat features in the stock Samsung messaging app is expected to become widely available within the next few weeks.
In April this year, Samsung announced that it was working with Google to bring support for the search giant's RCS Chat implementation to Galaxy phones. Nearly eight months later, Samsung has finally started pushing a new update for its Messages app, adding support for Google's RCS Chat features (via XDA Developers). Until now, Samsung Galaxy users had to install the Google Messages app on their phones to be able to access all of Google's RCS Chat features.
As can be seen in the screenshot below by Reddit user ChunkyLoverMark, users will see a new dialog when they install the new Samsung Messages update on their phone, notifying them about the new chat features from Google. You can either choose to enable the feature or continue using the Samsung Messages app without the chat features.
After you enable the RCS Chat features in the Samsung Messages app, you can head over to Chat settings to enable or disable read receipts, change the auto-download behavior, select the default messaging type, and more.
Unfortunately, it looks like the new Samsung Messages update with support for Google's RCS Chat features has only been rolled out to a small number of users so far. It is likely that a wider rollout will commence by the end of the year. Once the update becomes more widely available, it should help make RCS a lot more popular than it currently is.
How to set up RCS Chat on Samsung phones with Samsung Messages
yaaaaaaay. i would LOVE to delete the google messages app from my galaxy and only have one texting app installed. the google messages has been super buggy for me too. RCS works great on wifi, but when switching from wifi to data, it gets stuck on connecting unless i force restart the app. hopefully this solves both problems on the s10e!

I have had it on my S10+ since I got the phone in January 2020. I have always been able to use RCS on my default app. I am in the UK.

Maybe it was carrier dependent.

I'm confused. I thought my Samsung Messages app already did this... Are there new features coming? My Note 20 Ultra does read receipts, downloads, etc.

some carriers had supported it previously, but this would allow the features to be carrier agnostic and also work on unlocked models.

Awful thing, I am glad the message app on my phone don't support it, i prefer just bog standard SMS

We really need to get rid of sms, it's just a bad and outdated system.

Why is it bad? It works and is simple, none of these silly gifs or a load of Emojis that is just a waste of text space. Ok you have got some, but nothing like what is available on other messaging services. Also, no one can see my typing my messages, so I do not feel like I should replay right away.
I just like plain text, maybe with the odd smily and thumbs up. Most people I know have Iphones, so messages from them will come through as normal SMS.

SMS could send gifs through MMS, and sends emojis very simply. You don't need RCS to do those, so to not be wanting those things with RCS is ridiculous since they can already be sent. Read receipts and the typing indicator can also be turned off. SMS is bad now because when it comes to sending videos and pictures, they get compressed a lot. RCS allows for much bigger files (compared to SMS) to be sent. RCS is a huge improvement over SMS, and it baffles me as to why you wouldn't want improvements to the texting experience.

I never receive GIFs via SMS/MMS or Emojis apart from the normal ones, apart from the normal smily stuff, if you turn off read receipts and typing indicator, then may as well stick with SMS. I don't send photos via SMS or videos, and I would not want people to send them to me either, if they want to send something like that then use something like dropbox.
RCS don't offer me anything I need, I just want to send a message to someone to say do you want to meet for coffee tomorrow or just to ask if they are ok. I don't want to spend an hour messaging, if i am going to do that then I prefer to phone them
SMS is what it says on the tin, short messaging service and that is all I need. The other thing is, my provider don't support RCS anyway, so if I used RCS, my messages have to go through Google servers, I prefer them not to
Android Central Newsletter
Thank you for signing up to Android Central. You will receive a verification email shortly.
There was a problem. Please refresh the page and try again.