Samsung and Google team up to bring RCS to Galaxy phones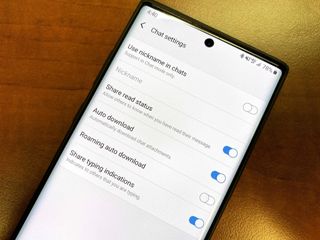 (Image credit: Andrew Myrick / Android Central)
What you need to know
Samsung has worked with Google to enable RCS in Messages.
Users of the Samsung Messages app will no longer need to rely on carrier-based RCS so long as Google supports RCS in their country or region.
Samsung's Messages app is the first non-Google made app to work with Google's RCS implementation.
Samsung is enabling RCS support for more Galaxy phones in partnership with Google, the company announced in late April (opens in new tab).
"Samsung is bringing support for Google's Rich Communication Services (RCS) to Galaxy smartphones to make your conversations more seamless. The two companies have been working since 2018 to bring the features to Samsung devices," Samsung said, in April, "the Samsung Messages app with RCS allows users to do more, including chat over both Wi-Fi and mobile data, send and receive high-resolution photos and videos, receive read receipts, and create feature-rich group chats. The Messages app is also available on desktop, making it easy to transition seamlessly from mobile to PC."
Here's where it gets a little confusing. Samsung has already supported RCS via its Messages app for years now. As long as your carrier, e.g Vodafone UK, supported RCS, you could communicate with other RCS enabled phones. What appears to be happening here is that Samsung is signing on to Google's Chat service as well. With Google, it doesn't matter if the carrier supports the messaging protocol or not. if Google Messages RCS (branded as Chat) works in that region, then Samsung Messages should have RCS as well.
That said, while Samsung still notes that "Samsung Message app with RCS capabilities vary by market, device and carrier", some users of Samsung's phones reported gaining access to RCS in the Samsung Messages app just two days after Samsung's announcement.
For RCS adoption, this move could prove huge. Yes, RCS has a large theoretic userbase, but users would have to either be using a device that ships with Google's Android Messages app as a default, or they'd have to install it themselves. This cuts out a large OEM like Samsung or even fan favorites like OnePlus. Google has been working with Samsung for a while now, even telling users via an FAQ that they were "working on bringing chat features broadly to more regions, operators and other messaging apps (e.g. Samsung Messages)."
With Samsung phones getting access to Google's RCS by default over the next couple of months, it's going to be visible, and the benefits are going to be tangible.
How to set up RCS Chat on Samsung phones with Samsung Messages
Android Central Newsletter
Get instant access to breaking news, the hottest reviews, great deals and helpful tips
This is an important step forward.

This already works for me between Samsung messages and Google messenger on T-Mobile. Started working after the UI 2.1 update.

How what did you do im using note 10 plus tmobile usa non unlocked

I just had chat settings active on both Messengers.

Wondering how to get Samsung RCS on my S20U (Verizon). Seems I haven't gotten a "chat" settings yet.

I was wondering the same as to how to activate chat. Using Galaxy S20+ on Verizon, locked. Samsung messages app version 11.1.60.93 I have been switching back n forth between Samsung messages and Google messages.

Good news, nothing but good news. Samsung will get in on the party. With Samsung getting in on the party, it will be motivation for google to roll out RCS worldwide. Win-Win.

Absolutely. All about competition so to speak and like you said, motivation to get this done!

No one give a flying flamingo about RCS outside the USA. We've long moved on from SMS.
Time for the US to join the rest of the world and move unto WhatsApp, Messenger, Telegram, Signal etc.

Time for you to think like an American and not give a flying **** what anyone else thinks we should do.

I have friends and relatives spanning 3 countries in Europe and not one of them uses SMS. In my country of residence they stopped advertising free messages with data plans cos nobody uses it.
The only time I ever receive a message is the odd one from the bank or from my phone company when I travel to a different country. The sms always makes me reminisce about how primitive the old Internet days were 2g and early 3g floppy disks etc can't believe folk still use it en mass

Might be nice if it ever actually rolls out.

Unbelievable. Been reading similar articles about this for years. It's such a mess. Google initially was working with carriers to finally get this going, then you had to download Google messaged app for it to work, and now this wow. I feel like just giving up once and for all and make the jump to IOS. But don't like IOS all that much, so I guess I'll just have to keep on waiting. For now Whatssap is a good alternative for me, and my friends and family 🤷‍♂️

RCS works on my Note 10 but not on Pixel 4 lol

Huge news... Once every Samsung phone has rcs working it will change how ppl look at Android phones.... I've notice ppl I was texting a week ago all of sudden has rcs

Since the Google Messages app exceeded one billion downloads in the Play Store, I wonder what percentage are Samsung users who installed Google Messages for the RCS feature.

So how do we know if it's cross compatible? Google messages says "chat message". Says nothing in Samsung messages

Its great that progress is being made but I don't have one person on my contact list with RCS enabled. 😭 *one is the loneliest number...*

I wish ppl from these poor 3rd world countries would shut up about USA still using sms.... You ppl was forced to find a solution do to not being able to afford text message plans years ago or your relatives couldn't afford to constantly text u so u was forced to download a app... We text in this country

This is a bit much. Many 1st world countries (and others) moved on from texting, because texting is inferior and less secure than, say, WhatsApp or Signal. That said, RCS will bring feature parity (at some point). Don't forget RCS still isn't end-to-end encrypted either.

Naah even 15 years ago the telecoms companies in Europe were giving away almost unlimited text messages in their data plans. The advent of smart phones made SMS obsolete as a multimedia messaging app

RCS was working just fine until sometime in May. I always used Samsung messages and now RCS just isn't working at all. It only works on Google messages. No matter what I've tried it just won't work and its the same on my husband's phone. I have the S20 on T-Mobile fully unlocked. Anyone knows what might have happened?

I just started using Samsung Messages on a Galaxy S10+. I don't see the chat option under settings. Does anyone have this working yet?
Android Central Newsletter
Get instant access to breaking news, the hottest reviews, great deals and helpful tips
Thank you for signing up to Android Central. You will receive a verification email shortly.
There was a problem. Please refresh the page and try again.