Samsung shows off Galaxy S5 HDR camera performance from 'Sunrise to Sunset'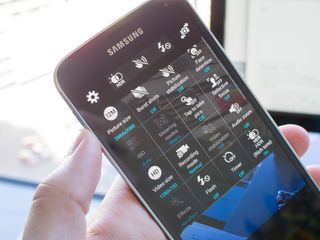 In a short film titled Sunrise to Sunset, Samsung is highlighting the strength of the Galaxy S5's camera, in particular shooting videos in HDR mode. Shot in Trieste, Italy, the video shows that Samsung was able to pull out great colors and details in some pretty hard shots, like those with dark shadows lit by a bright background, a great function of the HDR mode.
And despite being criticized for lacking optical image stabilization, a video sequence that appears to have been shot on a helicopter looks good.
That said, at the end, the video discloses that "certain images and videos may be enhanced." We're not sure what enhancements and adjustments Samsung may have made to the video.
How are you liking the Galaxy S5's camera performance? Is it all that Samsung is making it out to be?
If you have more questions about the Galaxy S5's camera, be sure to take a look at our walk through.
The Galaxy S5 camera is the best camera on any flagship device.

Wrong. Posted via Android Central App

no, S5 is the best camera, your opinion is irrelevant, facts are facts, see here expert tests: http://bgr.com/2014/06/16/galaxy-s5-vs-iphone-5s-review-camera/
http://www.phonearena.com/reviews/Camera-comparison-Sony-Xperia-Z2-vs-Sa...

One of Posted via Android Central App

From sunrise to sunset and if you hold it with very steady hands(no OIS). Once the sun goes down its performance turns into a turd.

Wrong, the G3 is. If there was OIS I would call it closer (even in the low light) but there isnt

ROFL. It's good. But it's no Lumia.

Very good camera better then any other iPhone. Posted via Android Central App

"any other iPhone"? You know the Samsung Galaxy S5 isn't an iPhone right? Posted via Android Central App

Ya I know I was saying that the Samsung S5 shows better then any other iPhone out there. Posted via Android Central App

Your comment still doesn't make sense, but at least we now know what you meant... Ha Posted via Android Central App

Arguably the best Posted via Android Central App

Not better than the 1520. But definitely one of the best. Posted via Android Central App

I've had a great experience with the camera so far, and it's been able to adjust to many different types of shots. I haven't had as much of an issue in low light as has been posted by many, but I agree the M8 takes better low light photos. The HDR really does a nice job on the S5

Along the lines of GS5 commercials... https://www.youtube.com/watch?v=bVMXnQtlRkk - great commercial for Ultra Power Savings Mode And the GS5 is one of the best outdoors, I love the shots I get and that HDR is basically as fast as normal mode.

The "real time HDR" is one of the underrated aspects of the S5 camera, and I have been very happy with the colors and exposures this is able to achieve without any additional processing time. While the S5 does create noise and blur in low light shots, it also does not blow out light sources (street lights, candles) as I have seen in sample shots from other cameras. The lack of stabilization can lead to shaky videos, but I have not used a phone with OIS to know if there are any trade-offs.

The S5's software stabilization does a REALLY good job in videos, in some instances I"ve seen it be even smoother than the G3's OIS. Though it's clear they have it mounted to something in a few of those shots... It's still the winner outdoors, hands down, IMHO and experience. But indoors and in medium to low light, it still falls short.

I realize I have never tried the video stabilization because this option is greyed out with HDR on. I will turn off HDR and try out this feature to see how well it works for me.

I feel like they used stabilization in their video editing software for the delicopter shot. it looks aritfiically stabilized Posted via Android Central App

Really amazing HD shooting vidz and picts and its got so vivd and rich colorful image.so stunning Posted via Android Central App

Certain images and videos, this means plural so in other words you don't get what you see. Nice they enhanced it, and to portray it as anything special and easily repeatable by your average person off the street just using the phone is total bs. Feeble minded people will belive it though. Thanks for pointing out the small print Posted via Android Central App from my HTC M8

Yeah, ok. A commercial showing a product at it's best. Imagine that.

Yeah, a product at it's best that the average person who buys one can't get it to do this.
It's called deception for marketing and I'm glad AC pointed this out. While I am sure that it takes great pictures and videos, to enhance the images just to portray it's capabilities in a video clip is misleading and totally bogus. Now, if the enhancements can be all done onboard they needed to promote this aspect alongside the video instead of burying the disclaimer of enhancements in the fine print. That is the key here. Posted via Android Central App

No surprises here. "Posted from my HTC One M8". Posted via Android Central App

the camera on my s5 takes 5+ seconds to fire up, usually i miss the shot, when I do manage to take a pic it's good but the cam has def gotten slower since I've owned the phone, I only use the stock cam...and image stabilization is off... Posted via Android Central App

Something is wrong with your phone, the camera on my S5 is up in less than 3 seconds. Posted via Android Central App

I might just get this phone. Between the drippy and comfortable back panel, the water and dust proof, the excellent camera, and the fact that Samsung supports its products with timely updates, this is a strong option to boost to with my T-Mobile boost. Posted via Android Central App

"certain images and videos may be enhanced." Trust me! Certain things I've said just now are a lie. Posted via Android Central App

the s5 and note 3 have proven to be the best phones for video recording

And let all the hate come pouring in! Posted via Android Central App

Not really as impressed as I thought I would be. That said, my nexus 5 can't do HDR Video, even though I'd live that feature so props to Samsung.
Posted via Android Central App on my N5 with Android L
Android Central Newsletter
Get the best of Android Central in in your inbox, every day!
Thank you for signing up to Android Central. You will receive a verification email shortly.
There was a problem. Please refresh the page and try again.