Samsung sees massive smartwatch growth in Q2 2019 while Wear OS barely holds on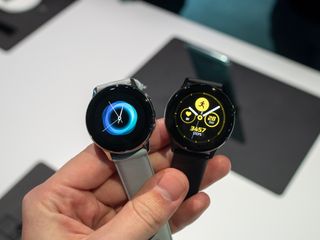 What you need to know
The North American wearables market grew by 38% YoY in Q2 2019.
Samsung saw a massive annual growth of 121% for a total market share of 10.6%.
Wear OS is barely on the map, with Fossil Group having a 4.1% market share.
Apple continues to dominate with 32% annual growth and 37.9% market share.
Research firm Canalys has released its numbers for the smart wearables market in North America, and as a whole, things are looking up. During Q2 2019, the wearables market reached a total value of $2.0 billion with 7.7 million shipments — an increase of 38% compared to Q2 last year.
To not much surprise, Apple is once again the market leader in this space. The company's Apple Watch dominates just about every other wearable out there, and this shows in the numbers. Apple now holds a market share of 37.9%, and while that is a decrease from the 39.5% it had in 2018, there was still a strong annual growth of 32%.
Fitbit takes the crown for 2nd place, finding itself with a respectable 24.1% market share and annual growth of 18%.
Although Samsung is trailing behind the fitness-focused brand in third place, it had an incredible past year of sales — specifically, Samsung's annual growth was 121%. Its market share is still relatively low at just 10.6%, but with numbers like that, it's certainly heading in the right direction.
Per Canalys:
When it comes to Google's Wear OS platform, things aren't looking that good. Fossil Group is the only Wear OS brand that made it into the top five, and while it saw decent annual growth of 34%, it shipped just 0.3 million units in Q2 2019 and has a current market share of 4.1%.
To be fair, the "Others" group accounts for 16.3% of the market and likely includes other Wear OS brands such as Misfit, Mobvoi, and others. However, there's no telling how big those numbers are for other Wear OS vendors and further drives home the point that Wear OS has an identity crisis.
Commenting on Fitbit's budget-focused Versa Lite (opens in new tab) smartwatch, that doesn't appear to have been the success Fitbit was hoping for.
Fitbit must have taken note of this, as we're expecting the company to launch one of its most powerful smartwatches at some point next month with the Fitbit Versa 2 — offering Alexa built-in, Fitbit Pay included by default, and 4+ day battery life.
Well-rounded wearable
(opens in new tab)
Samsung Galaxy Watch Active
Plenty of features at a price you'll love.
Considering how awesome the Galaxy Watch Active is, it's no wonder Samsung's numbers are as good as they are. The Watch Active has a simple design, good performance, a bevy of features, and offers all of this at an incredible price.
Chris Wedel is a fan of all things tech and gadgets. Living in rural Kansas with his wife and two young boys makes finding ways to get and stay online tricky. By utilizing his years of experience with the tech and mobile communications industries — success is assured. When not conquering connectivity challenges and testing new gadgets, he enjoys cruising a gravel road in his UTV with some good tunes.
I wonder why, google does a fantastic job promoting WearOS.

All watches can do fitness tracking and media control, even with better battery performance.
As for Google Pay ask Google why is it blocked for installs even in some European countries. My bank is in Germany and I can not use the feature! Download is GEO-Blocked on Google Play Store. Think twice before buying Google crippled-ware.

Not a surprise, it feels like Google and Qualcomm don't really take wearables seriously. Only thing I'd change about the galaxy watch is adding Google services. It's annoying that it doesn't sync with fit and having to use Bixby sucks. Also the NFC capabilities are completely useless to me without Google pay.

Yep your spot on with that and the reason I went with the tic watch Pro. For me it ticked all the boxes. I've enjoyed it so far to big step up form my moto 360 but I still perfered the moto design. Something needs to happen with wareos as less and less of the big players are using it and developing there own os for them.

"Samsung saw a massive annual growth of 121% for a total market share of 24.1%." The chart says Fitbit is the one with 24.1%, and Samsung has 10.6%. That being said I love my Samsung Gear Sport.

Yeah, chart and column don't match.

Misfit is part of Fossil Group so it wouldn't be included in the 'Others' category.

IMO the Gear S3 is the best well-rounded watch. With a plethora of features, I will not upgrade to anything else. MST, NFC and decent onboard fitness tracking, I get everything I need from it.

Same. I love my gear S3 frontier. I won't upgrade unless they release another new one with MST. It's a shame non of the latest have it.

I really wanted to keep my Gear S3 but the Galaxy watch called me because of the improved water resistance.

Awesome! Everyone has different needs so they should choose what works the best for them.

I will be switching to wear for my next watch if Samsung doesn't get better support for their watch.
To name a few
My workout app doesn't support it
My audio book player doesn't support it

Look at Workout Trainer by Skimble. You have an app for your phone and the companion app for your watch. I use it for my weight lifting and only use the stock workout app for basic cardio, like walking or running. Other than that, what do you need? I'm afraid you'll find Wear is worse than what you think Tizen offers.

Yet not many apps for samsung, only watch faces.

Like what? I think there are more Samsung apps than what I have installed.

Mostly apps are not used beyond sport tracking, notifications, media control, weather.
Payment are non-functional in Europe because Google decided to GEO-Block installs of Google Pay for some European countries, so even if you are at a German bank no Google Pay for you. Apple pay is available on Apple Watch. Go figure Google's strategy of crumpled features.
Android Central Newsletter
Get the best of Android Central in in your inbox, every day!
Thank you for signing up to Android Central. You will receive a verification email shortly.
There was a problem. Please refresh the page and try again.