Samsung's Pen.UP is a great social network for people who love to create digital art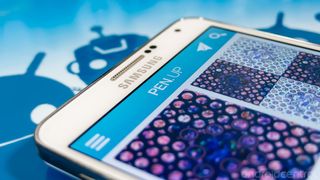 The folks at Samsung love the S Pen on the Note series. If you've tried one, you can probably understand. It;s not a stylus, it an integral part of the device that can do some pretty wonderful things — including create some excellent digital art.
To showcase all this great work, Samsung has set up a unique social network that features original work from people just like you and me. Open to folks with a Samsung Note 10.1, Samsung Note 8, Samsung Note 3, Samsung Note 2, Samsung Galaxy S4 and Samsung Galaxy S3, Pen.Up is a lot like Instagram for the pictures you draw instead of the pictures you take with a camera. It's a great idea, and it's filled with some of the best artwork from creative Android users you'll find anywhere.
It's also feature-rich. You can follow people, comment on their posts, even favorite their work to show how much you like it. Of course, they can do the same to you. Hashtags are supported (which is going to be important right very shortly — stay tuned) to make for easy sorting and searching, and built-in categories let you find just the sort of thing you're looking for. Submitting your own content is easy, but even if you're not artistic it's still a great place to find some really cool pictures.
I'm just getting settled into Pen.UP (we've been a little busy here at AC the past few weeks), but I'm really liking what I see. This is something I'll stay interested in, both by just looking as well as posting my own drawings from time to time. We've got a full walkthrough after the break to help explain it all a little better, and if the Pen.UP app isn't already installed on your Samsung device, you can grab it at the Google Play link above.
I'll see you there, look for gbhil!
Jerry is an amateur woodworker and struggling shade tree mechanic. There's nothing he can't take apart, but many things he can't reassemble. You'll find him writing and speaking his loud opinion on Android Central and occasionally on Twitter.
Wow. It's actually a nicely designed app. Nice job Samsung, you guys are improving. Posted from the AC app

+1 via Android Milkshake 5.1

Definitely a nice little application. I can see this growing as days and months move forward. Posted from my Galaxy Note 3 on Tmobile via Android Central App

I'll stick with Deviantart, thanks. Posted via Android Central App

These two things really aren't the same. |❌_❌|

Given the way the word looks, my brain/eyes want to read it as "devian-tart", even though I know it's "Deviant-art". Anyone else experience something similar?

This is a great idea for Samsung. I am really looking into picking up the new 10.1 model (hoping for some Black Friday deals) and would love to try this out. Would love to see Google pick up this idea and open up something similar for the entire android platform. |❌_❌|

I have the tablet and found out it's not supported. :( How odd.

Are you sure that it works on the S3 and S4? The Play Store says that it's not compatible with my S4 (normal, not Google Edition) so maybe they've limited it to the devices with a S-Pen. Edit: Just watched the video now. Looks like it's US only then or so :/ Could someone provide the apk?

I don't think it's compatible with the non-Note devices. I went to install it on my S3 but it said it wasn't compatible with my device. Anyone else get it to work?

At sign up I get Samsung account doesn't exist..... Running CM 10 =4.2.2 Posted via Android Central App

I just tried to install it on my note 10.1 2012 version and is says not compatable! Posted via Android Central App

It hasnt been compatible with note 10.1 (2012) and it is still not. Where did you get the idea about compatibility? That I know it is only compatible with Note 3 and 2. Posted via Android Central App

By installing it from Google Play on my Note 10.1, as well as every other device i listed. I'm trying to find out what's up. In the meantime, I bet someone (cough) will post the apk file in the forums.

maybe it is only in usa... but it would be too wierd... Posted via Android Central App

You're right, it's limited to some countries. Can't download it in Germany either.

Not compatible with Note 10 2014 edition. Kind of a drag too as it has the s pen. And I got it for drawing... Posted via Android Central App

Surprised to find that this app is not compatible with the NEW Galaxy Note 10.1 2014 edition! Posted via Android Central App

Well, not compatible on my Note 8 as well. That sucks. Posted via Android Central App

Not compatible with my Note 8 also.

Can't get it on my note 8 either Posted via Android Central App

Its compatible with my s4, but im running cyanogenmod so i cant create an account. Weird seeing as the cyanogenmod team is slowly being bought by samsung. Awesome app otherwise. Please fix the log in glitch

I own last year's Galaxy Note 10.1 and a Galaxy S3, sadly Google Play says neither one of them are compatible with this app. Hopefully that will change soon. Posted via Android Central App

Weird it worked with my note 2 now play store says to available in my region

Are you sure it works with Verizon S3? Play Store states it is not compatible Posted via Android Central App

On a sidenote, Jerry the 3 pieces you had on your profile deserves more likes.

LOL Looking at some photos you can tell which are the ACContest are really bad as in intentionally bad.
However there are also a few that are insanely good. Posted via Android Central App

Shoot ... the app is showing incompatible with my note 2. Super odd. Anyone facing the same issue ?

Did you read any of the comments above before posting your own question? If you dont live in usa, then it probably wont work. as wierd it is, google play and apps are totally mess nowadays. not only google play but also samsung with its apps and updates. some works, some not, some are updated, some not... feels like it is time to change ecosystem and abandon android before it sinks: android and samsung are going to be more and more problematic nowadays. samsung has too many version of same model, some are updated, some not. Some gets apps, some not. Google play is working fine on some areas, some areas are blocked. you never know nowadays, are you able to buy devices from google play or not, are apps working (in your region) or not. good luck!

I've been meaning to try it and keep forgetting that it's on my phone. I need to put it on my main screen LOL Posted via Android Central App

Im not sure if im the only one who had this problem, but upon registration, I could not use my facebook to login. Weird. Only twitter. When I want to log in via facebook.. it says.. facebook authentication failed. Try again. Any tips?

Not bad at all. Pictence is more fun though.

I just with that the "artist mark" would show up like it was supposed to on EVERY image, and not just on Full Screen on the images it decides to show up on. I also didn't like that after an app update the "artist mark" got cleared out and unless you checked, didn't know that it was gone.

It works on the Samsung Note 4.
Android Central Newsletter
Get the best of Android Central in in your inbox, every day!
Thank you for signing up to Android Central. You will receive a verification email shortly.
There was a problem. Please refresh the page and try again.