Samsung to reportedly axe the Galaxy Alpha as focus shifts to low-cost alternatives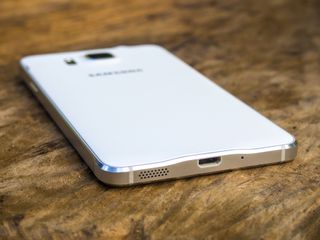 If you've been holding out on getting the Galaxy Alpha, best do it while you can, as a report out of South Korea suggests that Samsung is looking to discontinue production of the handset as soon as current inventory of materials runs out. ET News states that Samsung will instead by shifting focus to the mid- and entry-level segments with devices like the Galaxy A5.
Samsung's plans for 2015 will see the introduction of the Galaxy A5 in its home market in the month of January or February, which is when production of the Galaxy Alpha is said to be phased out. The Galaxy A5 shares a similar design as the Galaxy Alpha in that it also features metal, but is aimed at a more affordable price point due to the lowered spec sheet. Set to launch for an estimated KRW 400,000 ($365), the Galaxy A5 will be Samsung's main offering in the mid-tier segment. Of course, there is no confirmation from Samsung that this will indeed be the case, so until such time, we suggest you take the news with the obligatory grain of salt.
Source: ET News; Via: The Verge
Harish Jonnalagadda is a Senior Editor overseeing Asia at Android Central. He leads the site's coverage of Chinese phone brands, contributing to reviews, features, and buying guides. He also writes about storage servers, audio products, and the semiconductor industry. Contact him on Twitter at @chunkynerd.
There you go.. Just when you're on to something nice. Focus on crap nobody wants. Nexus 4

+1 Posted via the Android Central App

Correction: Focus on "crap" that nobody who reads this site wants. They can't just ignore the middle and low end of the market. That's probably where they sell most of their phones and just because all those people buying them don't hang around AC and nitpick high end handsets all day doesn't mean they're not out there. Samsung has been rumored to be streamlining their catalog instead of producing 20 variants a year and it's about time. This move is probably indicative of that.

The middle and low end is where most of the Android phones are sold world wide. Most in areas where phones are not subsidized won't or can't spend $700+ on a phone.

That's Samsung. Posted via the Android Central App on the 2nd Gen. Moto X

I say Axe the S series phones as they aren't selling well anymore and just run with the Alpha! Posted via the Android Central App from my Nexus 7

Isn't the Alpha already a cheap phone at least spec wise???

not really, same chip and internals as the S5...just lower res screen and slightly lower camera. Still has 801/330/2gig ram with 32 memory

True that but, why didn't they just make it an all out high end device with a better camera and better screen, and use it to replace the S line (at least design wise)? Posted via the Android Central App

Then you'll have another S5 device. Would that make sense? Posted via the ACA on NEXUS 6

Then why did they make the price this high.. I really don't see any logic in the alpha.. Posted via the Android Central App

I can agree there. What was the point? Posted by my soon to be retired Note 3

First device to get the tooling in order for the Note 4. I saw it as more of the beta device to test it's metal design. Posted via the Android Central App

Especially when you can get a Z3C for ~$500. Posted via the Android Central App

But it would then have made more sense to make the s5 from the same materials as the Alpha. In fact, the Alpha with a 1080p screen and a 16mp camera is what the S5 should have been. Posted via the Android Central App

They've been doing it since the S2. AT&T had 3 different variants of the S2 at one point.

It makes sense if you want a mini. That is, a mini that really is a mini and not just downgraded mid-level phone that bears the same name as a flagship but with mini. Posted via Android Central App

720p screens are low spec, I have no idea what Samsung was thinking with all those Chinese manufacturers pumping out high end phones for a fraction of the cost.

O please. 720p on a 4.7 is reasonable. No where near low spec. Next thing you know 1080p will be low spec which I see coming for those who only care for specs. Pixel density is more so important than generic resolution. One example includes the iPhone 4/s. Not even a 720p screen but with its resolution on a 3.5 device garners a nice pixel density of 326 Posted via the Android Central App

For the future set, screen res is very important. These things will be used with VR Headsets for gaming and movie watching. Its coming. Posted via the Android Central App

Not in the low to midrange market. The S6 will be super spec'd and metal. The Note 4 already is and will surely only be better again next year. But as was stated previously, they cannot ignore the mid/low range altogether. Sure it is coming, but not to the average person..

Totally agree with Pirate. Posted via Samsung Galaxy Alpha

Wasn't it the same price as the S5 or close enough to it, to not justify a lower spec camera or screen? Was a phone of the wrong compromises. Now that they are looking into real leather backs and whatnot this could be moot. But when this phone came out it was a contradiction. Premium build and lower specs. Posted via the Android Central App

I think it was a way to ready the manufacturing for the S6 without all the cost being dumped on their flagship phone. People could basically get a metal S5 and help recoup some of the costs associated with switching to metal designs.

Hard times eh Samsung. Posted via the Android Central App

So.... They make their most beautiful phone and then discontinue it? Why??? I hope they bring the design of the alpha to the high end models. Which genius decided it was a good idea to make a "high end exterior" and pack it with "not-so-high end specs". I mean come on a 720p screen? Should have been at least 1080p. Posted via the Android Central App

I know someone who has galaxy alpha, feels nice.
But I will still never get another Samsung phone. Touchwiz is horrible and Samsung puts so much of there own services in there to try to get your money
Good job Samsung by brainwashing public into thinking the only phones available ate Galaxy or IPhone. Posted via Android Central App on 1+1

Says the guy with the dumbest phone on the market. Your life choices already say you have no clue. Posted by my soon to be retired Note 3

He said that as if Google and Apple don't want your money.. Foolishness lol.

Hypocritical statement right here.
While OPO and Cyanogen might be horrible at marketing and companies in general, the One Plus One is still a quality device which has a good camera and amazing battery life for just 350 64 GB spec Posted via the Android Central App

Correct me if I am wrong, but his position as I understand it from reading many posts on the issue is that TW brings features which make owning larger phones worthwhile. His main problem with the '1-' as he says being there is no software in vanilla android/Cyanogen to take advantage of the larger screen.

Get out of 2012-13 and join us here in 2014-15. things have changes in the last year or 2. Touchwiz is no longer aweful

I just got the Note 4 (Replaced Nexus 5) and TouchWiz is good by me.. Don't see why all the hate! Yes it has some lag, but unless your Launching Rockets for a Moon Shot with it, your good to go....

The only lag that it has is with the recent apps button, there seems to be a slight delay. But it's fixable If you switch to ART. I think many still hate on TW because the S4 and note 3 still aren't far enough in the rear view mirror yet. I think TW on the s4 and note 3 looked terrible personally, but it's about 10 times more aesthetically pleasing now (other than the launcher). I never thought I'd say I like touchwiz, but it's now one of my favorite skins.

I love my Note 3, and have no clue what TW looks like on it because I immediately put Nova (and then ActionLauncher) on it. Some people just like to hate on one company or another because someone else said it and it makes them feel like they're "in the know".

Take a look at your notification panel, settings, dialer, messaging, gallery, contacts, s-pen functionality, and all other native apps. What you're talking about is just a launcher, only one minor aspect of touchwiz UI. It's funny how some people seem to think touchwiz is just a launcher.

I'm a software developer for a living, so I fully understand that TouchWiz is more than just a launcher :) That said, you can also replace all of the things you mentioned. I use Textra for SMS, QuickPic for gallery and I have disabled or replaced several of the other native apps, I'm sure. I don't really have a problem with the dialer, but I am one of those people who doesn't use it very often. Most of the time I use Google Voice Search and "Call...." As for the SPen functionality, that's not something visual that would need replacing, and I'm not overloy worried about the settings screen.

Changed the Runtime and your right less lag, or I should say stutter not lag..

Dalvik was written back when these devices had a *lot* less RAM, so it's pretty aggressive with the garbage collection, which is what causes a lot of that stutter. ART is much more forgiving. That said, I wouldn't recommend switching to ART until you get Android 5.0, since the ART that was included with 4.x will likely cause a decent number of app compatibility problems.

I had a galaxy s4 and htc one m8 before I got Oneplus one. I will never settle for plasticy crap that over heats and horrible battery life. Htc one was good but customer service and camera turned me to oneplus Posted via Android Central App on 1+1

The only Samsung that doesn't look or feel like cheap crap and they discontinue it...well played Samsung! Here's to another plunge in profits for you! Posted via the Android Central App

Know how I know you never held a note 4? Posted by my soon to be retired Note 3

Lol plus "another plunge in profits" as if they still weren't more profitable than most other OEMs.

That has nothing to do with my comment Posted by my soon to be retired Note 3

Can't take people who agree with you, or just unused to it?

That doesn't change the fact that their profits plunged 60%.

Wtf does that have to do with the note 4? You know, the best phablet on the planet?

I am getting mighty sick of being attacked by people I clearly agree with. But to answer your question, neither the article nor the first post in this thread were about the Note 4. NoNexus was clearly pointing out that the Note 4 feels great as an example of Samsung phones not feeling crappy, and I was adding that a drop in profits is meaningless since they are still crazy profitable - destroying the other half of the idiotic argument..

My last comment was responding to this dude with the Nokia avatar bro, not you. I understood what you were saying to nonexus, I think he misunderstood though.

OMG I am such a dork. I thought the email was telling me you replied to me. Lol. My mistake. Edit: No the email does say that. I got it twice. Either a glitch or the wrong button is being pressed..

(assuming you were answering me, which this new comments layout makes impossible to tell after 3 answers):
1 - Best phablet FOR YOU. I don't recall any commission being summoned to elect the "best phablet on the planet".
2 - I didn't mention any phone in particular. I said I think it's a bad decision to retire the only Samsung device that I don't think feels like cheap crap (and yes, I think the Note 4 feels as such, whether you like it or not, disagree or not) and that with the decisions like these I'm not surprised their profits are plumbing.

Yes from 10x times that of their nearest Android competition to only 4 or 5 times as much. Oh no. Lol this sounds bad, but it is like the flappy bird guy only making 20000 dollars per day in profit as opposed to 50000 per day. It is still more profit than the other Android OEMs..

It's still irrelevant. A drop in profits of 60% is NOT something that Samsung takes lightly. Even if they still sell more than other Android OEMs, it means that they're slipping down hard. If you made 10000 and suddenly you just make 40000, it's not good for you, even if the competition is only making 20000. Samsung isn't concerned with other OEMs profitability. They're concerned with THEIR profits. And to keep and expand their profits, they have to meet what the market is demanding. And clearly a drop of 60% in profits is a sign that they're no longer being able to do that.

Foolishness. Dreams from a hater. Sure is concerned them, so they changed their strategy massively. They have time and money to do that. Here is a clue, drop in profit or not, having massively more money and more marketshare than your competition means you are in a much better position than your competition. Despite what you wish was true.

I have, actually. I still hate it and wouldn't use it even if I was offered one. Samsung makes the worst crafted phones on the market. Simple as that. The Alpha promised to mark an improvement on build quality. Apparently it won't. ;) And don't even get me started on BloatWiz. (BTW, the Note 4 still feels like a plastic dinner tray. If you like it, good for you. I demand higher quality from phones at that price and less junk.).

With all due respect, you couldn't be more wrong. There's quite a few reasons that the vast majority of tech reviewers and bloggers are saying the note 4 is the best android device on the market, mostly BECAUSE IT IS !!!

With all due respect, I have a mind of my own, I don't need Phil or Jerry or any other tech blogger to tell me what is the best Android device on the market. If I think that the Note 4 isn't it and I tell you my reasons, then to me it isn't. For me to form my opinion on a device, it's completely irrelevant what you think. For example, for a long time Android Central (and a bunch of other tech sites) basically carried the Moto 360 on shoulders and did nothing but praised it. I never ever thought the Moto 360 was anything special. It's a semi-round Android Wear watch. And that's it. To me the LG GWAR is much better. I like the design better, I like the screen quality better, I like the battery better and I like the fact that it's a complete circle better. It's irrelevant that other blogs say the Moto 360 is the best. From my point of view and according to my own guidelines, the GWAR is better. Period.
(BTW, AC recently placed the Zen Watch in 1st place and the GWAR in 2nd in their list of best Android Wear smartwatches. Despite the continued praising of the Moto 360).

Yes, you do have an opinion of your own, even if it's very inconsistent. You praise the galaxy alpha for its build quality and that it "doesn't feel like cheap crap" and say the note 4 feels like a plastic dinner tray, and feels like "cheap crap", when both have almost identical metal frames and removable plastic back covers. Wtf is that all about? Lmao. Maybe you just hate samsung. Good for you. Just try to be a bit more objective and a bit less silly and biased about it.

Also, whether or not metal is "better" than plastic is extremely subjective. I actually prefer a plastic (polycarbonate, whatever) device do to it being lighter and more durable. I thought the Note 3 was one of the best-feeling devices I've ever held. To each their own. You're opinion is not the only one that matters. You can still demand your "higher quality" from some other manufacturer.

Which is why I refuse to buy Samsung devices. They don't meet my quality standard demands, therefore I opt for other phones that I think are much better crafted. I would like to see Samsung improve their hardware. Yes, I would. If only to stop listening to people complaining about Android just because their experience with Samsung devices is bad.
But I can't force Samsung to do anything. The Alpha was the first Samsung that I thought "finally, Samsung is going in the right direction". So they cancelling it disappoints me. However, some people here can't accept the fact that someone doesn't like what Samsung does. Android, fortunately, doesn't begin and end with Samsung. (Btw, it's not really a matter of plastic vs metal with me. I'm not even that big of a fan of metal phones. But there are different ways to deal with plastic. Nokia and HTC also used polycarbonate on their phones, as Samsung. But the difference between the feel of an old Nokia N9 or an HTC M7 is completely different of that of a S5 or Note 4. Samsung devices feel cheaper because Samsung doesn't work the plastic to be as resistant as other OEMs. Their back covers are always flimsy at best, for example.)

Lmfao. They are cancelling the Alpha not cancelling their metal designs. Yeesh.

I don't often hear people complain about Android because "their experience with Samsung devices is bad." Mostly, the complains I hear about Android come from people complaining about devices that they don't use, or that are based on "somebody on the internet said". Arguments like "Android is riddled with malware" or "Touchwiz is laggy and makes the phone unusable". These are not true statements. Now, it *is* possible to get malware on Android, just like it's possible on any other platform. Android makes it a little easier for people who don't know what they're doing, but that's really the only difference. I was a fervent HTC guy until I got my Note 2 a couple of years ago, because I wanted to larger screen and stylus. That's not to say that I'm a Samsung "fan boy" (although I do love my Note 3 and will probably get a Note 4) and you're certainly entitled to your own opinions about what phones you prefer, but all these comments (not just you) about "Samsung will fail because *I* don't like their devices" is silly and pointless. You complain about Samsung not "working" the plastic, and that was true of the slick plastic they have used in the past (I always put a case on my phone anyway) but the newer devices like the N3/S5/N4 have backs that don't even "feel" like plastic. And I've never noticed the battery covers feeling flimsy while actually on the phone. One advantage to "plastic" is that the case itself can be thinner, without problems like bend-gate. BTW, there's a reason the M7 doesn't feel like plastic: it's aluminum ;)

You being a Nokia guy must surely know by now that looks isn't that relevant when it comes to technology? It's an easy target for a troll on the internet but clearly not as relevant in real life as the haters wants it to be. Furthermore, the A line looks pretty neat too, actually like a slimmed down version of the alpha, and the Note I'm typing on right now isn't considered very ugly either.

Looks are pretty important. Obviously functionality is the most important thing, but I'm not going to spend $600+ on something that I will carry around with me for at least a year if it's ugly. Attractive design is absolutely something we should expect from expensive electronics.

If looks were as important as trolls around here wants to make it, and Samsung's devices looks like shit, why are so many manufacturers copying their designs? LG and a whole bunch of Chinese brands. And why are most people buying phones that looks like Samsung devices if "ugly" doesn't sell? What looks good is your individual personal opinion. TRolls uses that on the internet with vocabulary that argues that their PERSONAL opinion is the only right one, and what they hate (the thing that most people ACTUALLY prefers) is wrong. I honestly couldn't care less about some of the people's opinions on here, and personally, I'd love to see a blocking feature on comment sections, so I could mute the worst trolls and idiots right away. You know, the "haters" and corporate lackeys who are here to troll against anyone who likes a Samsung device.

I think others would also like that blocking feature so they could block you.
Grow up and understand that YOUR opinion is just that. YOUR opinion. And that plenty of others will NOT agree with you.
But according to what you wrote, I guess you're declaring yourself a Troll. Which goes well with your attitudes here. Also..."why are so many manufacturers copying their designs?".
Go to an optometrist and get some glasses. You're definitely needing them. Also...want to go into how Samsung "copies" Apple? No, I guess you don't.

Don't worry, DJCBS. I'd love it if you could block me.

Yeah... Samsung copies Apple constantly, which is the only reason they made the Note series. ...Wait... Every manufacturer copies each other on stuff. It's called market research. And it happens in every manufacturing industry, not just mobile phones. Car manufacturers are the worst about it. I've really never seen a huge similarity between the iPhone and the Galaxy series. About the only legitimate parallel is "colorful icons" but that's getting back into market research territory. If some market research firm says "iOS proves that more people will buy a device with colorful icons" then Sammy (or any other OEM who uses that firm) is going to give their device colorful icons. It's not really rocket science. It's the same reason Apple "stole" the Notification Drawer from Android, why they are now making larger phones, and why iOS8 supports (at least a little bit) widgets: Apple's market research tells them that their customers want those features. The "Samsung copies Apple" argument is just as silly as it was a year ago.

Pedersen wrote "Samsung's devices looks like shit, why are so many manufacturers copying their designs?". I contradicted him. Not only that's completely false (LG phones look as much like Samsung phones as cats look like dogs) but if we go that way, we would end up in the "Samsung copies Apple" argument. Which yes, I agree, is a silly argument.
I'm perfectly aware that everyone is always borrowing design cues and ideas from each other be it in hardware or software. That doesn't mean that they're copying Samsung because of Samsung. They copy each other, period. Apple, for example, copied the multitasking screen design from WP. So what? I wish Google had done the same instead of the new "piled cards" of Lollipop. WP copies Google's notification draw. So what? It was a good idea. Samsung has some sort of tile-mode on their tablets that looks a lot like Windows 8 live tiles. So what? And I wish Google would copy Apples quick toggles from the bottom instead of the Google Now button. These companies copying from one another isn't a measurement of a company being better or worse.

I was responding primarily to this comment: "Also...want to go into how Samsung "copies" Apple? No, I guess you don't." I agree with you about most of the rest. I would point out, however, that most devices (not sure about the Nexus line) have the same king of quick toggles in the notification drawer, and have for a couple of years, now. That's something Apple copied from Android manufacturers.

"Grow up and understand that YOUR opinion is just that. YOUR opinion. And that plenty of others will NOT agree with you." Dear Lord.. that is *his* exact point. Yeesh.

Very true. Back in the interchangable faceplate days, Nokia had very attractive phones, but nowadays I would say middle of the road. WhIle many people who comment on these tech blogs have convinced themselves Samsung = ugly, I don't think that has ever been the consensus in real life. They make popular phones that people like, that's why they are on top. Haters are gunna hate though, and have a million excuses for why they don't 'deserve' to be on top, but that don't change the facts none.

People make way, way too much of an issue out of build material. How does build material effect what you actually do with a smartphone, such as Facebook, YouTube, Netflix, web browsing, and Google Maps... Posted via the Android Central App

Crapwiz is why a lot of people don't like Samsung, not what's it's made of. If you're more worried about what a phone is made of, get an iphone, that's all they care about.

Yeah because most people know what Touchwiz is. People still love Samsung. The issue is in certain parts of the world you can get better phones for cheaper. "I'm da Blur boys!" - Me with 1200 ping. Yes. My Internet got worse.

Just a matter of time until people realize how much of a dirty scam vanilla Android is Posted via the Android Central App

Wrong. Posted via the Android Central App

Because people want something that costs almost 700€ to be well build, with good materials that last. Not some cheap plastic phone that costs Samsung "nothing" to produce and then is sold for hundreds and hundreds of Euros.
Yes, build quality matters. A LOT. Not everyone buys phones every year. Actually, few people do. If someone buys a 700€ phone, they expect it to last and be well build with quality materials. If build quality didn't matter, people would not buy Mercedes or Bentleys. They'd just buy Fords of Seats which has cheaper models.

Actually, those Mercedes and Bentleys are frequently not about build quality as much as status. Sure, they're comfortable cars, but ask someone who actually owns one and they'll tell you they end up in the shop plenty. I won't get into the discussion about "cheap plastic" again. I've already said my piece about that opinion.

In the US, maybe.
I'm European. Mercedes and Bentleys aren't that much of a rarity over here. Also, I mentioned those two specific brands because my girlfriend drives a Mercedes SLK 350 and I now drive a Bentley Continental GTC. Neither of us ever had to go with the cars to the shop. They are sturdy, reliable and we know they'll last us way more than a decade. And that's why neither of us bothered to pay the steep price each of them cost.
If those brands weren't great, they wouldn't sell. The speed limit is the same whether you're driving a Bentley or a Seat Ibiza. You can't go past 120km/hour in most of Europe (some places 100km/h, others 130km/h. Germany has autobahns that have no limit though but it's one country in over 20.). And normally people who buy cars for social status quickly lose them because we have some heavy taxes in Europe over cars that you have to pay annually and that are indexed to the value of the car. Same goes for phones. I don't mind giving 700€ or 800€ for a phone as long as I know it's really well built (regardless of being polycarbonate, aluminium or gold) and I know if I have to, I can rely on it to last me for way more than the 2 years of legal warranty they come with.
There's a reason - besides hating iOS - why I don't buy any iPhone. I refuse to pay 800€ for a phone whose internals are those of a 2012 flagship and whose build quality leaves A LOT to be desired.
But yes, tons of people buy iPhones for the social status it gives (or used to give. The moment the iPhone became banalized, the "status" went away).

Admittedly, my experience with these brands is limited to the US. I'm sure there are even differences in the engines, due to differences in fuel efficiency and emissions standards that have to be met in the US.

My guess is that the S6 is going to be better quality or Samsung has lost their minds. Posted via the Android Central App

Probably lost their minds. The more they lose market share and profits the harder they try to stay relevant which causes the demise to get worse faster. Similiar to old hags like Madonna trying to stay relevant in the industry. They'll do anything foolhardy to stay hip. Posted via the Android Central App

For something costing 365 dollars, the specs are mediocre with it having similar specs to the Moto G at 179-217 with it having just 1-1.5 gig of RAM and a Snapdragon 400. At least a S4 Pro, Snapdragon 600/800. Seems the 600 is never used as mid tier when it's more capable than the Snapdragon 400 Posted via the Android Central App

It's very simple....two things need to happen here.
1. The S6 needs to have an aluminum frame and feel like the Alpha with the specs of what you'd expect in an S6
2. Samsung needs to par down (or eliminate) duplicate functioning apps, exclude crapware, and iron out Touchwiz so that only the truly useful features remain...take note of the Moto X

The Moto X is how phones should be done, both in ability to design and lack of OEM bloat. Some will argue that the Motos don't sell well, that more a function of advertising and what the sales people are pushing.

Motos would sell a lot more if Motorola paid any attention to other countries. You barely see Motorola in Europe nowadays, for example.

Dang I was hoping for round 2 of the Alpha to be something really good. Just needed a little bit bigger battery and OIS on the camera. Well that and to be available on the big 4. Posted via the Android Central App

Samsung phones are garbage anyway, had two and both were crap, Just another reason to not have one again.

I have to disagree, I'm still sporting a S3. It has been my best phone and I haven't seen much of a reason to upgrade until recently. Posted via the Android Central App

What phones, and in what way were they "crap"? You're certainly entitled to prefer other companies phones, but there are a few hundred million people who would probably disagree with the statement "Samsung phones are garbage".

Wonder when they will learn that their laggy bloat-o-rama is no longer appealing? Posted via the Android Central App

When they stop shipping more phones than any other android OEM. "I'm da Blur boys!" - Me with 1200 ping. Yes. My Internet got worse.

Samsung is a huge company, despite your "knowledge" of all things android, you don't know the issue. It's not "Crapwiz" and it's not even the materials. I personally think it comes down to pricing now. Samsung phones simply cost more than the competition and people are spending less money now. Not everyone is willing to pay for brand loyalty anymore. When you realise most people car for how their phone works as a freaking phone, suddenly all the bloatware and Touchwiz arguments go out the window. Samsung is simply being under cut on price. Again, imo "I'm da Blur boys!" - Me with 1200 ping. Yes. My Internet got worse.

Aight. Also blaming competition as HTC does is dumb.
How can you blame others for offering a better option for consumers at a certain price?

There's also this whole discussion to be had about how the carriers supposedly "fix" the handset prices. That's why all these sub-$350 devices end up being sold directly and bypass any specific carrier.

As long as they merge the design improvements into the GS6.

Never understood the reason for the Alpha in the first place. The money toting consumers sure aren't going to be able to break down the difference between it and Sammy's other phones that are very similar. Can't see why carriers would want it for the same reasons. Sammy has rang the register for so long that it was getting very loose market wise imo. They just started throwing #$%#$% at the wall in every niche possible. Lo$ing steam may help them dial in their products a bit more efficiently with better definition (or not). Are all the little variations to the "Galaxy" line really necessary? Why not make clear definitions between the tiers of your offerings and make nice defined variants of your cash cows. For example, make the Note "business" line in a large variant and small variant. Same specs outside size. Make the S series in a larger and smaller variant with top-end "consumer" design & specs. Make a large and small mid ranger. Make a variant or 3 of the entry levels for worldwide markets and market share. Cut the niche crap, keep designs, parts to a minimum (does every new device need a different battery?) and thus exploit your economies of scale. This could lead to better consumer brand recognition, more R&D for each device, less costs and more profit. Just my general view from the other side of the planet. The Alpha, and a lot of other Sammy devices are very nice. I just scratch my head at the strategy.

The Galaxy Alpha had a quality build with midrange specs and a flagship price. I won't mind this move that much if it means that the build will get integrated into future Galaxy devices- that's the piece they need to keep. Posted via the Android Central App

Why don't they just focus on making high end phones? And then previous gen phones will be cheaper. If someone wants an entry level phone right now, they can go buy an S3 instead of an S5. Why bother remaking old tech?

I'd like to add that my wife has an Alpha, and she really likes it.... aside from battery life. The screen size is just right, with a compact form that's easy for her to hold, and better internals than at least her old S3.

But endurance and bigger size are also important...
I'm sorry but you set yourself for it.

ha.....ha. That's why i got the S5 Active. To overcompensate, lol.

I would have loved to be in on that meeting... CEO: "Hey guys, anyone know why the carrier-exclusive non-advertised model didn't sell as well as the highly-advertised flagship released on all carriers?"
Peon: "Nope, let's axe it." It's a shame as I had high hopes for this device. I really thought that Samsung was on to something.

This is exactly why I got the Alpha earlier this month. I figured Samsung would pull the plug rather quickly on it. I was surprised that AT&T even carried it to begin with, honestly. It's a really nice phone, but too low key to stick around with the Note 4 out and the S6 on the way. The Alpha was just meant to be a reference design phone. Glad I got one when I did. Posted via Samsung Galaxy Alpha

Awesome Posted via the Android Central App

Screw the mid to lower market. Just make premium, top of the line, spec packed devices. Stuck to the Galaxy and the Note line. As far as affordability goes lower income individuals can always get last years phone. No big deal. Posted via the Android Central App

Don't worry, Samsung will make another crap phone to replace it. As for the A5. No one should buy the A5 when the equivalent Moto G is cheaper and isn't made by Samsung. Sorry to be so harsh, but I haven't seen a single phone made by Samsung that hasn't been total junk. Posted via the Android Central App on the 2nd Gen. Moto X

Sorry to be so harsh, but you've got your head up your ass. Good luck getting it out. And the note 4 pisses all over your moto X. Just a little fyi.

The Note 4 Junk??? Oh well, even Bad opinions are not against the law! PS Could you elaborate on how the Note 4 is "Total Junk"?

This kind of crap is why Sammy are getting into trouble. Why get rid of this after a few months? If sales were bad, it's because it was overpriced as the specs were decent for anyone looking for a nicer handset but did not want the size of an S5 or a Note 4 I guess that it's only purpose was to try and compete with the iPhone 6 and if it failed then nothing will turn the tide. Problem is that you now have another load of phones that most people won't have heard or care about. Stop diluting the brand, keep nicely defined products for each market segment then strive of make those the best at that priice.

There really needs to be more low-cost smartphones on the market, screw this $600-$700 crap!!! Posted via the Android Central App
Android Central Newsletter
Get the best of Android Central in in your inbox, every day!
Thank you for signing up to Android Central. You will receive a verification email shortly.
There was a problem. Please refresh the page and try again.