Samsung Galaxy Watch vs. Apple Watch Series 4: Which should you buy?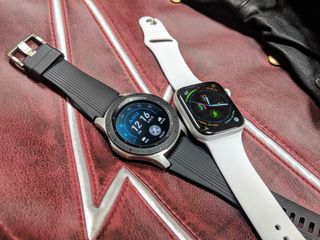 Samsung Galaxy Watch (46mm)
Samsung made a big watch that does a little bit of anything and runs on just about everything. Its most important feature is the battery, which can get 4+ days of us when set up correctly.
Samsung Galaxy Watch (46mm)
Multiple days of battery life
Always-on display
Hundreds of watch faces to choose from
Unique bezel navigation system
Kind of big for what it is
App selection is pretty basic
Apple Watch Series 4 (44mm)
Apple's latest wearable is polished, comfortable to wear, and can get you a little more than a day's use if you're not too active. Its biggest strength is the wealth of fitness apps at your disposal.
Apple Watch Series 4 (44mm)
Sleek, thin design
Fitness tracking is excellent
Impressive haptics
Polished UI
Battery is just okay
No third party watch faces
No always-on mode
iOS Only
The price of longevity, the cost of elegance
Smartwatches strike an often clumsy balance between trying to look like a watch and act like a gadget. A lot of this is because there's not one thing every person wants or needs from these watches. Some want a nice watch-shaped gadget which tells time and occasionally delivers information from your phone. Others want a standalone fitness accessory which allows you to leave your phone at home when you work out. And in this divide, Samsung and Apple exist at mostly cross purposes.
Samsung's Galaxy Watch looks and feels like a watch at all times, with an always-on display and plenty of watch faces for total personalization. Apple's Watch looks and feels like an iPhone accessory, with a massive array of first and third-party fitness apps and health accessories but little opportunity to control individual features. The fitness features on Samsung's Galaxy Watch can track quite a bit, but there's very little outside of these Samsung-made options available to users.
The truth is these are both excellent watches, but the experience you're going to get out of each will be very different. Ultimately, it's going to come down to how you use your watch every day.
Swipe to scroll horizontally
| Header Cell - Column 0 | Samsung Galaxy Watch (46mm) | Apple Watch Series 4 (44mm) |
| --- | --- | --- |
| Display | 1.3-inch AMOLED | 1.78-inch AMOLED |
| Resolution | 360x360 @278ppi | 448x368 @326ppi |
| Battery | 4 Days | 18 Hours |
| Weight | 63g | 48g |
| Voice Calls | ✔️ | ✔️ |
| Heart-rate Monitor | ✔️ | ✔️ |
| Wireless Charging | ✔️ | ✔️ |
| Third-party apps | 🤔 | 🎉 |
| Third-party watch faces | 🎉 | ❌ |
| iOS Support | ✔️ | ✔️ |
| Android Support | ✔️ | 😂 |
There's a lot to like about both of these watches, both of which quite honestly stand as the best you can buy today. Samsung's Galaxy Watch does a great job lasting multiple days, offering substantial health and fitness tracking features, and it actually looks like a watch on your wrist. But it's also thicker and heavier than the Apple Watch by quite a bit, so much so that this watch doesn't always fit comfortably under a nice shirt when you'd want it to.
Meanwhile, the Apple Watch looks and feels like an elegant piece of machinery on your wrist. It's not round, but it's highly functional. And whether you're trying to get a couple of extra eggs hatched in Pokemon Go or you're training for a Century ride, there are highly focused apps on the watch for you to use to reach those goals. But those fitness features and slender design cost quite a bit in battery life, making it so you have to charge it every night if you want a full day of use tomorrow.
You can force the Apple Watch to last two days if you really try, and you can force your behaviors around the Samsung-only apps for tracking health and fitness, but it's clear these experiences are for very specific kinds of users. Once you know which one you are, the choice between these two watches becomes quite clear.
Preparing for the future
While these two watches offer particularly similar feature footprints right now, it's important to note Apple's plans for the Series 4 Watch in the future plan to increase that feature set dramatically. While technically available right now, a new Walkie Talkie feature on the Apple Watch is extremely limited. In the future, Apple envisions users being able to quickly chat with friends over brief audio messages. This is a quality evolution over sending voice messages via iMessage, especially since it can be quickly started and used exclusively through the Watch. It requires everyone you know to have an Apple Watch, obviously, but that could easily become worth it if this feature gains in popularity.
Something that is not speculative is the soon to be active ECG feature on every Apple Watch Series 4. This feature allows users to create a basic ECG readout from your body, giving you a simple idea of how your heart is performing. This feature isn't expected to replace actual ECGs in an actual doctor's office, but like the heart-rate monitor can offer early detection of potentially serious medical issues. Apple's efforts in capturing a total picture of your health and encouraging you to see a professional when your readings appear unusual is commendable, and as long as these features are treated as accessories to actual medical professionals these are quality features which benefit everyone who wears an Apple Watch.
Samsung's Galaxy Watch is very much an as-is product. Aside from software and security updates, Samsung is unlikely to add any features which radically alter how you use the Watch over time. It's not impossible, but not particularly likely given Samsung's history and the current state of the Tizen OS running on the Watch.
Everything you need
A stylish watch with days of battery life and tons of clever features.
Samsung made a Watch it thinks offers a little something for everyone. And as long as you don't mind large watches, that is true.
Polished Excellence
The most health-focused Apple Watch ever designed.
Apple's polished wearable has taken a firm turn toward health features and usability, and as long as you own an iPhone the experience is great. As long as you're ok with a single day of battery, this is a great experience.
Get the Android Central Newsletter
Instant access to breaking news, the hottest reviews, great deals and helpful tips.