Samsung Galaxy Note 10 & 10+ hands-on: No headphone jack, no problem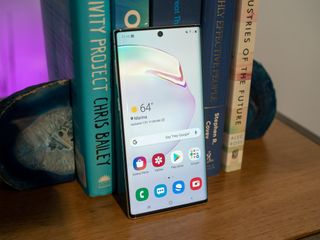 I've been saying it for years: the Galaxy Note line is getting so close to the Galaxy S line that it's struggling to stand out. All of Samsung's phones are great, so it's tough to keep finding unique things to make the Note greater.
Being a consistent leader in so many areas and ultimately becoming a victim of your own success is a fine problem to have. And serving a customer base of diehard Galaxy Note fans ready to buy anything with an S Pen isn't something that happens overnight. But it's a big responsibility to keep serving them.
Outside of leaning on the S Pen, what can Samsung do to keep the Galaxy Note on a pedestal as its latest and greatest device that's leading the smartphone world?
I've been ruminating on that question for a week since spending time with the Galaxy Note 10 and Note 10+ — here's where I stand so far.
Galaxy Note 10 The basics
Samsung has taken its highly profitable strategy of launching multiple Galaxy S devices at different sizes and applied it to the Note line. So now in addition to the Galaxy S10+, S10 and S10e, we have a Galaxy Note 10+ and Note 10. Like the Galaxy S series, the basics are shared between the Note 10 and 10+, but let's break down the specifics.
Both phones are built with the same design, materials and proportions, but are obviously different sizes. The Note 10 has a 6.3-inch display and the 10+ a 6.8-inch; both are the same quality Dynamic AMOLED panels, but the Note 10 is 2280x1080 resolution while the 10+ is 3040x1440. Both run a Snapdragon 855 processor (or Exynos 9825 globally), but the Note 10 pairs it with 8GB of RAM while the 10+ has 12GB.
You get 256GB of base storage on both, but the Note 10+ has an option for 512GB. Both have the same S Pen and stylus features. They have the same cameras, aside from an additional depth-sensing rear camera on the 10+. The Note 10 charges at a maximum of 25W wired and 12W wireless, but the 10+ bumps that to 45W wired and 15W wireless.
Samsung Galaxy Note 10 and Note 10+ specs
Got it? Good. Now I can get into everything shared between the phones in how they feel and what they bring to the table.
Galaxy Note 10 Hardware, display and design
The Note 10 series absolutely presents itself differently than the S10, and it's noticeable from the moment you pick one up. Like previous Notes the 10 is more boxy, angular and sharp. There's just enough metal around the top, bottom and sides to give you that little dose of cold-to-the-touch quality, but with curved sides and a sub-8 mm thickness this is substantially a glass-in-hand experience. Samsung's build quality is well-known at this point, and it's still excellent here; you have no questions about whether this a phone worthy of the money — yes, even at $950 to $1100.
By bifurcating its Note line, Samsung got to show off two different tricks: making the Note 10+ the same basic size as the Note 9, but with a larger screen, while making the Note 10 with the Note 9's screen size in a smaller body.
The Note 10+ is frankly huge, and many people will find its combination of size, weight and shape to be unwieldy. As long as you accept the trade-off you're rewarded with a massive screen, but you have to be ready for a phone that's tough to use at times in one hand. The Note 10 is, by contrast, a reprieve: it's actually smaller than the Galaxy S10+, and if you can imagine it's even smaller than the Note 3 (released in 2013, you'll recall). Getting this size and quality of screen, plus cutting-edge design and the S Pen, in a more compact package is enticing. And that could finally open up the Note line to people who refused previous models for their size alone.
Image 1 of 4
Repositioning of the power button about midway down the left side of the phone, underneath the volume rocker, feels incredibly awkward at first, because I've spent years forcing myself to remember that that was the Bixby button and I never wanted to touch it. But after using the Note 10 and 10+ for even a short period of time, picking up my Galaxy S10+ I immediately missed the Note 10's power button placement.
And to clarify the button situation: a single press of the power button acts as you'd expect, with a double press launching the camera, and a long press launching Bixby. You can, however, make that long press return to the power/restart menu, disabling Bixby in the process.
Image 1 of 6
The new colors are great as a group, but my goodness "Aura Glow" is the one that takes your breath away. This hyper-mirrored finish looks like a different color in every lighting and angle combination, shifting from orange to blue to green to yellow and everything in between. It makes the white, black and blue models feel mundane by comparison, but they have their own charm. The white is simple, the black is more of a deep charcoal color, and the blue is a few shades darker than what was available on the Note 9. All three are still plenty shiny, but they thankfully aren't nearly as crazy with soaking up fingerprints as Aura Glow.
Sadly most Note 10s will find their way into a case; but even when they do, you get to enjoy a gorgeous new display. Having tiny bezels is a very nice visual effect, and what remains all fades away when the screen is on. Samsung just keeps further cementing its dominance in smartphone displays, and the latest panels are a treat.
It's tough to find new ways to explain just how good these screens look. Viewing angles, colors, brightness and every other metric are just top-of-the-heap. Yes, the Note 10 is "only" 1080p, but I couldn't tell the difference. Your eyes will be happy with either screen. Both also have a new central hole punch cutout for the front-facing camera, which is roughly one-quarter the size of the Galaxy S10+. I far prefer the central location, and considering how generally useless the secondary "wide" camera was on the S10+ I don't mind losing it.
In my brief time with the phones, I didn't have time to set up and use the in-display ultrasonic fingerprint sensor, but Samsung is making no claim of improvement over the S10 series. That's unfortunate because the S10's sensor wasn't great to begin with, and has since been surpassed by other in-screen sensors like the one on the OnePlus 7 Pro. It'll get the job done, though — and it's far better than trying to shoehorn it on the side of the phone or in an awkward position on the back.
Say goodbye to the headphone jack and SD card slot
Yes, Samsung has removed the headphone jack from the Note 10 series. I'm not at all surprised that Samsung decided to drop the headphone jack from a flagship phone; I'm just shocked that it chose to do so with the Note rather than a Galaxy S release.
Missing this sort of feature in the phone that Samsung knows is for its most loyal and diehard fans — the ones who have stuck with Samsung, in many cases, just for these two hardware features — just doesn't make sense to me. Particularly a phone, in the Note 10+'s case, that's so massive and packed with every other feature and spec imaginable.
Samsung's stuck in the dagger just a little further by removing the SD card slot from the smaller Note 10, which also doesn't have a higher storage option than 256GB. The lack of both a headphone jack and SD card slot isn't going to sway my thoughts on the phone — I've been using a Pixel 3 XL without either just fine — but I know that these are make-or-break features for a lot of people.
I can at least give Samsung credit for one thing: it removed the headphone jack, and didn't make a deal about it. The port is gone, it includes USB-C headphones in the box, and didn't say a word about it. No "it takes courage" line to poke fun at here.
Galaxy Note 10 Software and features
The Note 10 introduces One UI 1.5, up from 1.1 on the latest Samsung phones, which isn't necessarily indicative of actual user interface changes as much as it just marks the addition of a bunch of disparate features. There are small tweaks in the camera with AR Doodle, improved video stabilization and Live Focus for video recording, plus an improved video editor with more powerful tools to cut together clips using the precise control of the S Pen.
DeX can now run directly on a Windows or Mac computer over USB, which actually makes it considerably more useful if you need to regularly access your phone's apps and data. Just plug in your phone to a laptop, and you get a window with the DeX environment running just like it did before. You can also drag and drop (at least certain kinds of files) between the phone and computer. For a middle ground approach that doesn't pull up a full desktop interface, there's also Link to Windows — a utility that lets you mirror your messages, notifications, screen, and recent photos onto your Windows computer.
One UI 1.5 also brings a screen recorder function, which Samsung is targeting at gamers that want to record gameplay but works anywhere in the interface. You can turn on a front-facing camera picture-in-picture view while you record, and illustrate or annotate on the screen with the S Pen at the same time.
A huge charging upgrade
The Note 10 makes big strides in charging of all kinds. The Note 10+ supports 15W wireless charging, while the Note 10 matches the S10 with 12W wireless. Both support reverse wireless charging as well.
Wired charging is where things get very interesting: both phones support 25W wired charging, which is almost twice as fast as the last generation. And thankfully, Samsung is including a 25W charger in the box of both phones. The Note 10+ steps up further with support for 45W charging, which finally puts Samsung on equal footing with the competition.
Tossing a 45W charger in the box for this $1100 phone would've been a nice gesture, but just having support for something more than effectively Quick Charge 2.0 we've been relying on for years is wonderful. Samsung wasn't able to quote detailed charging numbers, but using a 45W charger you can expect to get upwards of 70% battery in 30 minutes.
The S Pen gets mightier
Samsung's Bluetooth-enabled S Pen from the Note 9 was seemingly popular, because it's being leveraged even more now. On top of just pressing the S Pen's button to perform functions, you can now hold the button and perform gestures to do even more. These "Air Actions" are usable across a variety of apps, just like the basic button presses — for example in the camera you can wave left/right to move between modes, twirl in a circle to zoom, and wave up/down to switch between cameras.
Samsung once again is making an SDK available for developers to integrate Air Actions into their apps, but I'm not expecting many to do so. For now, Air Actions offer a similarly niche use-case to the other wireless features — they're neat, and some people will find a use for them here and there, but they don't make or break the Note experience. The S Pen's main function of being a precise input element is still the real draw. Nobody will see S Pen gestures and have that be the final addition that makes them use a Note.
Outside of Air Actions, Samsung has changed the look of Air Command but it interfaces with all of the same great apps as before. It has also added handwriting-to-text export for Microsoft Word, though, which is nice to see for the hardcore enterprise users out there. The S Pen's design has changed to be more ergonomic and balanced, and the button has moved up the stylus slightly to fit better under your thumb's usual placement. I found it natural and easy to jot notes or control the interface, even with my larger hands.
A familiar camera setup
My key disappointment with the Note 10 and 10+ is that they aren't pushing the envelope on camera quality. (Yes, that's more important than the headphone jack.) Using the same sensors, lenses and software as the S10 isn't necessarily disappointing (or surprising) in itself; but in phones that are so similar to the Galaxy S10 series in every other way and struggling to differentiate themselves, it would've been great to see bigger strides. And considering how similar the S10's cameras are to the Note 9 (and S9), there isn't even an appreciable improvement year-over-year outside of the new ultra-wide-angle option.
The Note 10's cameras will be consistently solid, just like the S10's, and the ultra-wide shooter in particular is one of the best available. But the shot-to-shot photo quality already isn't as good as phones like the Google Pixel 3 and Huawei P30 Pro, let alone the successors to those phones that are on the horizon. It would've been great to see Samsung add something to the camera experience outside of a gimmicky "AR Doodle" mode, video bokeh effects, and improved stabilization and audio while recording video. That's just not enough for phones that are supposed to be the absolute best in the market and show off Samsung's latest and greatest technology.
Galaxy Note 10 More to come
If you feel, like I do, that the Galaxy S10+ is the best Android phone you can buy at the moment, the Note 10+ just goes a step beyond it to take its place. Take everything the S10+ offers and turn it up a notch with a bigger display, larger battery, faster charging, and a few new capabilities.
The only area where the Note 10+ truly loses out is in comparative value. It's roughly $250 more than the S10+, and while it is better in many ways those improvements are mostly marginal. And in so many areas, like the cameras, it's the exact same. You get the S Pen of course, a slightly larger display, and more memory — but you're also losing a headphone jack in the process. Does that equate to $250 in added value? If you're a diehard S Pen fan, or a spec fiend that needs the latest and greatest at all times, it may be. Otherwise, probably not.
The real conundrum for me is justifying the smaller Note 10. Yes, it has the latest design language with smaller bezels and a less-intrusive selfie camera, and it has an S Pen ... but that's it. Size-wise it lands between the Galaxy S10 and S10+, but it has a smaller battery than the latter. And in either case, it doesn't have the SD card slot or headphone jack. The rest of the experience is near-identical to an S10 or S10+. Choosing to buy a Note 10 relies even more on the requirement of having an S Pen — because if you at all doubt your stylus needs, there's no reason to buy it over an S10+.
Ahead of seeing the Note 10 and 10+, I was asking myself the question of what Samsung can do to justify the Note 10's existence when the Galaxy S10+ is already so great. From the perspective that there are still millions of Note fans who only want a Note, the 10 and 10+ bring enough to the table to justify the hype and are desirable upgrades within the line. But by sharing so much with the S10 line, and not bringing anything particularly new or exciting in the grand scheme of the smartphone world, the Note 10 and 10+ don't have what it takes to entice new people to join the ranks; most will be better off buying a less-expensive Galaxy S10. With the way the full Galaxy lineup looks as a complete set, Samsung doesn't mind.
Biggest and best
The best smartphone Samsung makes.
It's a powerhouse of a phone that will do absolutely everything you want. Hardware, specs, display, features and cameras are all solid. And you get the S Pen. But you have to pay for it — so be sure that that's all what you want (and need) before choosing it over the S10+.
Compact with an S Pen
An S Pen in a more manageable package.
If you have been intrigued by Notes but ultimately skipped them because of their size, this may be the phone for you. A proper Samsung flagship, with the S Pen, in a size smaller than the Galaxy S10+. You just pay extra for the privilege.
Get the Android Central Newsletter
Instant access to breaking news, the hottest reviews, great deals and helpful tips.
Andrew was an Executive Editor, U.S. at Android Central between 2012 and 2020.