Samsung brings the Galaxy Note 5 to India, prices start at ₹53,900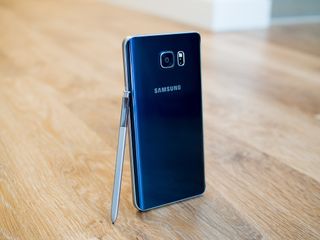 A soft launch of the Galaxy S6 edge+ last month in India prompted murmurs that Samsung would not be bringing the Galaxy Note 5 to the country, but the manufacturer has put rumors to rest by officially launching the latest in its Note lineup today.
The Galaxy Note 5 will be available for purchase from September 20, with the 32GB model priced at ₹53,900 ($842). The 64GB variant will retail for ₹59,900 ($935), with both models available in a variety of color options including black, gold and silver. Samsung mentioned that all Note 5 units sold in the country will be manufactured locally, with the Live Broadcast feature that allows you to stream live videos directly to YouTube developed at the Indian R&D facility. ($842) Samsung is also incentivizing the purchase of the Note 5 by offering a wireless charger for free to all customers pre-ordering the handset until September 19.
As a refresher, the Note 5 continues Samsung's new industrial design language introduced with the Galaxy S6 and S6 edge, featuring a metal body and glass back protected by Gorilla Glass 4.
In terms of hardware, the phone offers a 5.7-inch Super AMOLED QHD display, octa-core Exynos 7420 SoC with four Cortex A57 cores at 2.1GHz and four 1.5GHz Cortex A53 cores, Mali T760-MP8 GPU, 4GB of RAM, 32/64GB of internal memory, 16MP camera with f/1.9 lens, 5MP front shooter, Wi-Fi ac, Bluetooth 4.2, LTE connectivity and a 3,000mAh battery.
You also get the latest iteration of the S Pen, which now features a push-button release. Oh, and you should take care to insert the pointy bit first.
Indian readers, how many of you will be looking to pick up the Galaxy Note 5?
More: Galaxy Note 5 review
Harish Jonnalagadda is a Senior Editor overseeing Asia at Android Central. He leads the site's coverage of Chinese phone brands, contributing to reviews, features, and buying guides. He also writes about storage servers, audio products, and the semiconductor industry. Contact him on Twitter at @chunkynerd.
Interesting, I was expecting its release in India but not so soon after Edge+ release Looking forward to see if it lands in Europe. Posted via the AC App on Galaxy Note 4 (5.0.2)

Samsung lost my money (Europe) I am getting the new Moto now...

Dude just buy unlocked what the big deal Posted via the Android Central App

Agreed. Posted via my brand new Samsung Galaxy Note 5!! Yes, I broke down and bought it!

Yes, where can I buy it?
Of course I want unlocked, we only use unlocked in Europe (more or less) But where can I get it?

How about starting with Amazon. That's where they a are and Samsung has unlocked on there site in all the colors all though sliver and gold might be backorder Posted via the Android Central App

Amazon.com, they have Gold, Black and White available in 32GB same as the 64gb version. Posted via my brand new Samsung Galaxy Note 5!! Yes, I broke down and bought it!

Amazon.com?? That's in the US I'm in Europe, Amazon.co.uk doesn't have the Note5 - there is ONE 3rd party importer and they only have the black 32GB version, which should be avoided like the plague if you ask me.

Just get the moto. Save yourself a ton of aggravation and money on a well built, near stock experience Posted from my Droid Turbo

Or not. Nothing beats the Note 5 right now. Posted via the Android Central App

Great for India. Samsung decided that I should not have the Note 5 in the UK. Looked at other companies but I'm still hooked on the SuperAMOLED screen. Got myself a 6gGB Edge+. Maybe a Note 6 next year. Posted via the Android Central App

"6GB" hehe meant to say "64GB". I do remember when I had a GB phone then phones started getting 8GB and that was a big deal. I'm happy with 64 now but my original choice on my upgrade was a 64GB Note 5 but hey. Even money doesn't talk and beggers can't be choosers. Posted via the Android Central App

LOL So basically "f**k you Europe". Seems we weren't important in making Samsung the manufacturer it's today.

The lack of sales of the Note 5 in the EU is payback for the EU blocking Samsung from selling the Galaxy Tab in Europe in 2011

Would rather wait for the upcoming iPhone than this, had used a Samsung phone earlier and had enough with this brand. I wonder if I ever gonna buy a new Samsung device..... Posted via the Android Central App

Haha get an iPhone I guess if you want to take a step back 4 years. There still trying to play catch up and always will be... Posted via NOTE 5

Ugh. Fanboy sighting. Posted via the Android Central App

Your right, Apple is only 2 years behind Check out the new Nexus! https://youtu.be/u3uFOavLo_w, not a Rick roll

I'm thinking there about 4 years back yep that sounds about right haha . I can't quite understand the logic of ok note 5 lost some features so....oh yeah let me get a Iphone. ..right ....???? . Used to be the iPhone had a Legg up on performance. . Not anymore my note 5 is a beast Posted via the Android Central App

Not really I would give the iPhone a try if they would let me use custom launchers, Have more than a 1 mega pixel front camera, 1gb ram, better displays ect.. I like to make my phone mine. IPhone should be called TheirPhone. Oh but you can change the wall paper on it at least. Posted via NOTE 5

You and I both have a n5 . There's know I'm sure you'll agree you'd trade for a Iphone 6 . The past samsung galaxy were a little buggy so apple was up on us in that category. But since the gs6 Sammy is right there and more. And storage the iPhone 16 gig is the same price as a 32 gig gs6 actually more with a bill discount on att no Brainer if you ask me Posted via the Android Central App

Exactly. And I'm all about using new phones I've had blackberry, Droid, htc, moto it's just lately Samsung has been getting my attention now. But thinking hard about that Z5 premium now.. Posted via NOTE 5

Phillip, I bit my nails and bought the 64gb Note 5 yesterday and I have already fell in love with it. It absolutely has zero lag. Apps open with a breeze. Camera pictures are crisp and clear. The new S-Pen is the real deal! Feels like I'm writing with a real pen on my phone. Touchwiz has less bloat. I take back everything I said about the Note 5. I have plenty of hard drive space, plus I have 1TB of cloud space from OneDrive because of having Office 365.! This thing rocks!! Posted via my brand new Samsung Galaxy Note 5!! Yes, I broke down and bought it!

Glad to hear you came around it is a amazing phone so far . I actually ended up trading my gs6 edge. The battery was killing me but boy I sure loved the looks . Thought about the 6 plus but in the end more then happy with my n5 and no more battery issue for a light user the gs6 is great my girlfriend loves hers Posted via the Android Central App

I looked at the Galaxy Edge Plus as well, but after playing with the Note 5 at the AT&T store I had to stick with the Note line. They have a beautiful line of phones on the market right now. Doing what they did to the Note 5 was a very smart choice. Posted via my shiny brand new Samsung Galaxy Note 5!!!

Shhhh... Can you hear that?... That's the sound of Alex Dobie grinding his teeth. Posted via the Android Central App

I'm still questioning the decision to launch a hugely pricey device in a country that's developing over a continent that's already made up of a whole lot of developed countries. I know India has a super-large population, but I don't think lots of people in India can afford a smartphone over $800. Correct me if I'm wrong, but there's a reason why $200 phones from various OEMs like Moto and especially Chinese OEMs are hugely popular in India. I've got a couple of friends based in the UK, and when I told them about my pleasant experience testing the Note 5, you can tell that they are pretty bitter over the fact that they can't get one in their country unless they import one from somewhere.

The option to buy unlocked is always there for the uk folks and they get more color choices and usually the phones are a bill cheaper so what's the problem Posted via the Android Central App

Hence, why I said "unless they import one from somewhere."

Hello, Yes, you are correct that $300 or lesser price phones are popular in India. But premium devices are also popular in young generations of India as well. I have used Note 2, Samsung S3,S5 and Note 4. Also Nokia devices like 920 and 1020. All premium devices. India is 3rd largest mobile market in world. So it does have market for all types of mobiles phones. Posted via the Android Central App

Yes! !! Here in the UK we are still scratching our collective digital heads... I ended up with an incredible S6Edge plus but i WANTED a Note 5. Posted via the Android Central App

Thing is, India is a very economically unequal country. There are a lot of poor people, but there are also a lot of wealthy people. Hell, in a population that size there are a lot of any kind of people. What might be a niche market in India may well be worth more than the UK market is. Posted via the Android Central App

True Posted via the Android Central App

On a positive note this phone is awesome. Posted via the Android Central App

I'm planning to buy one Posted via the Android Central App

Hi Anna! Congrats on your marriage!!!

Really not the forum for this, but thanks!

Lol so Europe doesn't get it but India do for some reason. Posted via the Android Central App

Folks Samsung has done there homework they know there target audience. And where to ship what phone it's just business folks shouldn't take it personally. India is huge market for Samsung they have a 45% market share there there's your answer Posted via the Android Central App

This makes Samsung's policy over Europe feel even more strange.

Like i said earlier for the folks across the pond amazon is your friend they have them in all the colors except silver you'll have it by the end of the week Posted via the Android Central App

Haha terrible terrible especially with 950 for 64 gigabytes! Awful should've been 138 or even 256 Posted via the Android Central App

Ouch. that's pretty damn expensive Posted from my Droid Turbo

Get complete accessories of samsung galaxy note 5 visit our website cbuystore
Android Central Newsletter
Get the best of Android Central in in your inbox, every day!
Thank you for signing up to Android Central. You will receive a verification email shortly.
There was a problem. Please refresh the page and try again.