ROM review: CyanogenMod 7 (VALPHA 2) for EVO 3D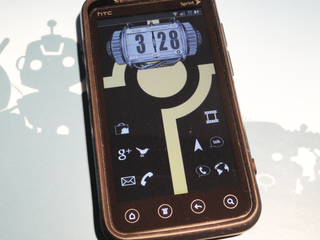 I'm an AOSP man. Sense has gotten good, but I just can't seem to tear myself away from vanilla Android, and more specifically, CyanogenMod.
The speed, the themes, and the customization are just a few of the reasons I'm always drawn back into Steve Kondik's world, so the night the EVO 3D alpha went live, I flashed it.
If you're curious about the goods, follow me after the break.
For anyone who has used vanilla Android anything, CM7 should look familiar. The launcher is back to ADW (the free version), with the same old lockscreen we're all accustomed to. Pop open the app drawer and you'll see all the apps you're accostomed to seeing, including the CM7-specific ones, like Theme Chooser and File Manager. There's not a bit of Sense to be found, and I like it.
Installation & Setup
Install is no different from any other ROM. Nandroid your old stuff if you're coming from a different ROM, wipe everything, and flash away. You'll want to be sure you grab the latest gapps and flash those right after you've flashed CM7 (and before you reboot), or else you'll be missing most of the good stuff.
Performance (with numbers!)
What needs to be said? It's CyanogenMod, and that means it screams. It flies. It goes as fast as you want it to (and faster) and chuckles as it leaves lesser ROMs in the dust. Scrolling is quick and snappy. Menus open and change near instantly. The only time I find myself waiting on anything is when I'm refreshing Google+ or Plume, and that's a data connection thing, not a ROM thing.
Because I've heard folks like numbers, I've added some of them into the mix. On FPS2D, average FPS was 56 (as seen in the picture). Deviations are higher than I'd care for, but I haven't noticed any real world issues, so take it for what it's worth.
Both the Quadrant and Neocore scores are great and indicative of how much this ROM wants to fly. Again, I'm not surprised that Neocore scored so high (I mean, hey, it's runnning an Adreno GPU), but it's good to know that performance isn't adversely affected by poor programming. Wait, did I just say "poor programming" in a CM7 review? Silly.
NenaMark 1 and 2 always kind of elude me. While they might make the CM7 port to the EVO 3D look sort of 'meh,' it's not meh. It's actually quite awesome. But hey, if there's a benchmark out there that makes this phone (or ROM, or any combination of factors) only score a 40 or a 25, that's ok. Because in everyday, casual-to-hardcore use, it's fine. I've yet to run something or try to open something and say to myself, "Man, this performance is terribad."
Battery Life
I feel like this is something that has to be noted because I specifically waited for a particular fix to come out before reviewing it. Originally, when CM7 was released for the EVO 3D, the battery life was so-so. It wasn't atrocious but it wasn't the excellent battery we've all come to expect from Cyanogen and his ilk. In short, it was average, par the course, if you will.
When alpha2 came out, some strange niggle was introduced that kept your battery from (appearing) to charge all the way. It was frustrating because you could wake up at 530 in the morning (like me) and see your battery had 61% on it. Halfway through the day, I'm hurting for a plug socket and am on my way to having a nice, expensive paperweight until I get home.
Well, a fix was finally released for that issue specifically, and boy, is it great. My battery easily lasts all day without problem. I even left it off the charger last night just to see what would happen. The result? The second picture. Battery life on this ROM absolutely rocks my socks off, and I don't say that lightly.
If you're a moderate user, you'll be able to go from morning to when you get home from work (and then some) without asking for a charge. It's great.
Known Bugs
For all the good that's in an alpha build of CM7, not all is well in jockey land. Fortunately, everything is well documented. Things that still need fixing are:
bluetooth borked for now
nextflix has a security issue
wimax broken for now
keyboard all massive. i use Gingerbread keyboard from the market
taking 3d images and video not working
3d pictures (mpo, jps, ect) do not display in 3d
FFC takes pics upside down
Epic Conclusion
I know "alpha" might be a little scary to some and off-putting to others, but aside from a niggle here and there, toastcfh's CM7 port is good enough to be my daily driver. In fact, it is my daily driver.
It's fast, stable, and works just about as well as I could ask. Yeah, there's a couple of things that aren't working, but if you're not dependent on 4G or Bluetooth, this is more than usable.
If you're looking for the vanilla, stock Android experience and have an EVO 3D, it's here, waiting for you to flash.
Be an expert in 5 minutes
Get the latest news from Android Central, your trusted companion in the world of Android