Rockmelt brings the best of the Internet to Android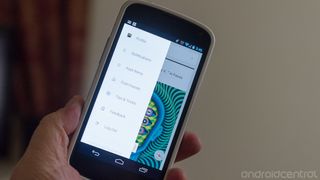 No longer 'just' a browser, Rockmelt has released its app for Android
Rockmelt is bringing their critically acclaimed "everything" aggregation service and social network to Android, and they're doing so with style. If you're not familiar with Rockmelt, they started life as a web browser on the desktop, complete with social tools and ways to subscribe and share what the web has to offer, and now their new content discovery and delivery system has made it's way into Google Play.
We sat down and had a little chat with Tim Howes, Rockmelt's CTO and Co-founder, and Sharon Chang, Head of Marketing for the company and and discussed both the history of the Rockmelt brand as well as the present iteration. They're excited about what they're doing, and after having a go with the Android version of Rockmelt for a while, I think they have good reason to be.
Like many developers, Rockmelt got caught up in the mobile revolution whether they wanted to be or not. Growth on the desktop, especially through the web browser, has made a drastic shift in the past few years towards more portable devices. Rather than buck the trend and try to lure people back to the traditional way of content consumption, they rolled with the punches and started to focus on mobile, releasing an application for the iPad to catch the wave. An iPhone app soon followed, and the question of the hour quickly became "what about Android?"
Tim and Sharon both told us they didn't want to just port another iPhone app to Android. There were special challenges, as well as unique advantages to contend with, and they wanted to do the platform justice. Android devices have "big beautiful screens" and that means navigation through the app needed to be different, as did the quality of the content delivered. The unique UI is a result, and Rockmelts backend will send content tailored for your device's screen size to best take advantage of Android's high-resolution high-ppi screens.
It's a beautiful design, and one that doesn't feel out of place on an Android device. The sidebar gives things a very Android look and feel, while the unique on-screen controls make the app easy to navigate with one hand on devices like the Galaxy Note 2. Landscape view is fully supported, as market studies show Android users are more likely to use their devices this way than folks on other platforms. To complete the picture, the app is very fluid and smooth-running. It's definitely a testament to hours and hours of development and great ideas. They have done their homework, and their Android app shows it.
You use the app like you would Flipboard or Google Currents. It's a typical endless list of Internet content, from categories that you define during setup. There are a few major differences here that set Rockmelt apart though. Besides the content delivery, there's also a social aspect, When you join Rockmelt, you can interact with others about the content you're finding and seeing, with ratings, comments and mood icons. You can choose to follow other users to see what they are liking, wanting, laughing at, or even hating and they can follow you as well. Of course, Android sharing intents are fully supported and you can share the content you find with just about anyone.
What really sets Rockmelt apart from other similar services and apps is the ease in which you can add your own content. Come across something that isn't in any of the pre-existing feeds? Add the website to Rockmelt and share it with people. This way, Rockmelt will soon have your own unique stamp of approval, with content that interests you delivered in a beautiful and easy to use way.
I'll be keeping Rockmelt around as a great way to see what's going on around the Internet, and really suggest you give it a try. It's a new way to do what we're used to from apps that came before it, and the design and UI choices deserve some attention.
Android Central Newsletter
Get instant access to breaking news, the hottest reviews, great deals and helpful tips
Senior Editor — Google Ecosystem
Jerry is an amateur woodworker and struggling shade tree mechanic. There's nothing he can't take apart, but many things he can't reassemble. You'll find him writing and speaking his loud opinion on Android Central and occasionally on Twitter.
They completely abandoned the original desktop users with little or no notice and it left a pretty bad taste in my mouth - especially as they shifted all support to an iOS only version for quite a while. I'm reluctant to give the mobile version a try because of it. I think I'll give this a few months to see what it becomes before I become an early adopter again.

That's bad to hear. I just played with the Android app for the last hour and really like it. Posted via Android Central App

I was really pee'd off too when they ditched the desktop browser. I used it as my main browser all the time and there was and still isnt anything out there like it now and I hate their new "idea" of what rockmelt should be, its a load of crap to be perfectly honest.

Well I'll try this, but I too was upset when the browser was dropped.

You had me until you mentioned social network and logging in. However I'll add it to my wish list and give it a look. Has the desktop version completely gone or are they just not updating it anymore?

They stopped updating the Browser version sometime in late 2012 (which was based on Chromium) to build an iOS version which came out in December 2012. Then they killed off the browser all together in April 2013 to get folks to move to a web-portal based version of Rockmelt - which is wholly different product and not nearly as useful.

Was just playing around with it and I just don't see where it matches up to blinkfeed on my HTC One. I can choose much more content and more specific content with blinkfeed and the look and feel is so much cleaner.

On my SG3, I'm finding it neat, but very hurky jerky, and it doesn't seem to do anything I can't do more smoothly with G+. I'm encouraged that it's mentioned you can add your own websites to it, but I'll be darned if I can figure out how...

Exactly. I had a hard time trying to even figure out how to get to Google. HTC ONE ~ Android Central App
Android Central Newsletter
Get instant access to breaking news, the hottest reviews, great deals and helpful tips
Thank you for signing up to Android Central. You will receive a verification email shortly.
There was a problem. Please refresh the page and try again.