Ring Floodlight Cam review: Semi-pro and fully awesome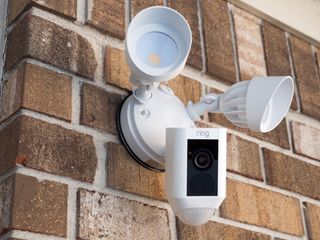 Off-the-shelf home security cameras — that is, of the DIY variety that you can install and manage yourself — are seemingly a dime a dozen these days. Indoor cameras, outdoor cameras, (and my favorite) doorbell cameras. There's a lot from which to choose.
One interesting one that I've been using for a while now comes from Ring. (You'll remember them from my continuous gushing over their Ring Doorbell.) Part of the problem with outdoor cameras is figuring out how to power them. Plugging into a traditional outlet just isn't sexy enough. Ring's got a fun solution with a solar panel charger (I've used it, and it works pretty darn well.) But I wanted something with a more stable power source. I also was in the market for a new floodlight.
Time to kill two birds with one stone, and I picked up a Ring Floodlight Cam.
See at Amazon (opens in new tab)
First things first: This is a very expensive floodlight at $250. If you just need something with motion detection to light things up at night, $50 at the home improvement store will do just fine. But I wanted more now that we've got a pool (and more) in the backyard. I don't just want the lights to kick on if they see something move — I want to be able to see what's going on out there. It's a safety thing as much as anything. If I'm not home and the kids are trying to go swimming, I want to know about it.
So the Ring Floodlight Cam is kind of a perfect choice. It's a floodlight. (An LED floodlight at that.) It's got a camera with motion detection. And it's got a microphone and speaker so I can yell at the kids to get back inside where they belong. And if that doesn't work, it's got a loud alarm that I can sound to really freak them out.
Installation was simple. If you've ever changed out a light fixture in your home, that's what you'll be dealing with here. Basic wiring and brackets. It took me all of 10 minutes to do. It's maybe not the sexiest mounting system you've ever seen, but that's not the sort of thing I sweat over.
The floodlight I had before the Ring was controlled by a switch inside the house. That's not necessarily ideal given that the Ring Floodlight Cam has a camera that you'll actually want to be powered on all the time. But neither is this sort of setup uncommon. I could have taken out the switch (again, that's a simple wiring job), but the Floodlight Cam comes with stickers that you can put on a switch like this, telling everyone else in the home to not turn it off.
Work smart, I say. Not hard.
For the most part, the Floodlight Cam looks like floodlights. OK, floodlights with a big ol' camera mount beneath them. Inconspicuous it is not — but that's not necessarily a bad thing. I don't mind if folks know they're being watched.
My house is small enough (and the Floodlight Cam is in the right spot, I guess) so that getting Wi-Fi to it hasn't been an issue. It also has to help that this is a hardwired product, so the radios tucked inside this thing have plenty of power to work with. So setup was fine for me. (I know some folks have issues with Wi-Fi Direct-type things, and I agree it can be a mess. It's possible I've just become so accustomed to setting up these devices that I don't notice the headaches anymore, but your mileage may vary.)
Once things are set up you'll want to spend a few minutes in the settings of the Ring app (opens in new tab). First, you'll want to adjust the motion sensors, and Ring does a nice job of letting you define the area that'll trigger an alert. (The app is also where you'll turn off notifications for motion alerts, if you want — and remember that you'll need to do it for any device on which the Ring app is installed. Phones, computers, whatever.)
Motion isn't the only thing that'll trigger the lights. You've got scheduling options for them as well, and there's also a slightly confusing "Lights" switch in the app. Scheduling works just as you'd think — the lights come on when you say, and turn off when you say. The switch overrides that. Flip it, and they turn on. Flip it off, and they turn off.
Get all that tweaked how you want it, though, and this is pretty much a set-it-and-forget-it device. It just works as it should.
One of the bigger dings against Ring still has to do with how the video actually looks. What you get in ease-of-use you also start to lose in image quality. But I think context also comes into play here. For instant (close enough, anyway) notification on your phone, it's not bad. For archival purposes, the 1909x1080 video you download from any of Ring's apps isn't spectacular. (And GIFs on a webpage don't quite do it justice either.)
The point is, it's decent. It's not something that's going to let you identify every nose hair of a would-be intruder. But you'll definitely get the big strokes. And you have to remember, we're dealing with a lot of data here. Video doesn't come cheap when it comes to bandwidth, even in 2018. And while power isn't a concern with the Floodlight Cam, the wireless aspect still remains. It's pushing a lot of video through Ring's cloud services, so of course, file size matters.
You'll be able to see enough, I think, to make it worth it. Some of this will depend on the application, of course. I want to be able to see if my kids have sneaked out to the pool when they're not supposed to. Or if someone's in the backyard uninvited. I'm not quite using this as professional, 24/7 monitoring.
But for an off-the-shelf, semi-pro installation, it's not bad in the slightest.
See at Amazon (opens in new tab)
I like mine. Though the Ring app is intermittently awful. About 50% of the time that I get a motion alert when I click the alert the app simply clocks and does not show me video of the alerted action. The same is true of the Ring video doorbell which I'll be replacing with Nest Hello soon enough

I have several of the Ring Floodlights as well as the doorcam. I wish I had experimented more before investing. The performance is really erratic. I have a fast reliable wifi set up, and I'm using google mesh, so my entire property has coverage. Yet, the ring cameras are erratic with too much lag time to be useful. Half the time, it won't even give me a picture until ten minutes later. Cloud based security cameras are way better in theory than practice.

You need a Nest. The cloud thing isn't the problem. Ring is the problem. I love Ring's support but I'm not in love with my original Ring doorbell. It's okay. But the app leaves a lot to be desired and I'm sort of tired of the delayed alerts and catching the backs of people as they walk away (and this is with very strong wifi...Linksys Velop mesh). My Nest Outdoor cams, on the other hand, are on a whole other level. The app is awesome. The cameras just work. And the video quality is great.

We appreciate your feedback, Only1Z. I would love to speak with you more to learn more about the features you would like to see as well as take a look into the delayed alerts you are receiving. At your earliest convenience, would you please send me an email at jennifer@ring.com? I look forward to hearing from you! Thanks,
Jennifer F., Community Manager
Jennifer@ring.com

Hi Kilgore Trout, I'm sorry to hear about this. Notification delay is normally attributed to WiFi/Bandwidth connection. I see that you noted having fast internet connection. Do you happen to know your upload speed? Send me an email at jennifer@ring.com and we can certainly take a further look into this and get your camera up and running to its full potential. Thanks,
Jennifer F., Community Manager
Jennifer@ring.com

Hi Dsignori, That certainly is not the Ring experience we want you to have! We would be more than happy to take a further look into why you are only receiving 50% of alerts when you should be getting 100%. Would you please send me an email at jennifer@ring.com so we can get to the bottom of this for you? I look forward to hearing from you! Thanks,
Jennifer F., Community Manager
Jennifer@ring.com

I own TWO ring cameras (video doorbell and a stickup). I hope you are not writing this review to get paid! ALL Ring cameras have a common fatal flaw: lagging start The video recording usually delays for several seconds. For example, if a UPS delivery person drops a package at your door step, the video will start when he/she walks away so you will never get a face image. Ring always claims it is the slow WiFI network that causes the lagging. That is an engineeringly false statement. My wireless-N AP is only 15 feet away from the camera and I have a fiber-optic Internet service with tested up-link speed 988 mbps! It is in their design. With this kind of price, they sure can put at least 5-seconds worth of video buffer in the camera so it will never miss the starting point. If they worry about constant video buffering costs battery drain, the can turn this buffering on when people use external power source. Their detection mechanism is flawed. Among all the $200+ cameras in the market, theirs is the worst in lagging. It is really important to catch somebody from the very beginning before the object moves out of your camera site. Unless you stay in the view long enough, the Ring camera will never catch you. Such lagging renders the whole video clip useless.

Hi Yrenster, Sounds like we may need to adjust your zones a bite! We can certainly help :) Send me a message at jennifer@ring.com so we can find the best settings for you and your home. I look forward to hearing from you! Thanks,
Jennifer F., Community Manager
Jennifer@ring.com

I own a Ring Doorbell -- love it. But this fellow would be put on the peak of a garage (like a lot of other users). Once I install the device waaay up there is there ANY reason i have to push ANYTHING on it?? I have heard stories of wifi dropping its IP, and having to get a long ladder to push a reset or something.

Great question, TomMariner! On top of the Floodlight Cam is the setup button. Check out this help article from Ring.com to learn more about the setup button on your Floodlight Cam and exactly what it does: https://support.ring.com/hc/en-us/articles/115001278003-Floodlight-Cam-S... Let us know if you have any further questions! Thanks,
Jennifer F., Community Manager
Jennifer@ring.com

I've been debating between outdoor cams for awhile now. I finally went with Arlo wireless cams. It mainly came down to subscription services, as I don't want to invest in a large monthly bill... I have five Arlo cams that record for free, they're wireless and have easy to install batteries. ... My only problem is that I need a doorbell service. I was also thinking about a flood light came for the back & above the garage to scare off any would be Intruders. After reviewing again, it seems like Ring is the way to go... Three cams (or unlimited) for $100 a year isn't bad. Google just told me that they charge $10 a month for the first cam, and $5 more for each cam thereafter. So for a a doorbell and two floodlights, I'd need to pay $20 a month, and it only gives me 10 days recording. ... Does anyone know if you can hook up a hard drive to Google or ring cams?

You folks have something against Blink? Ok its "flood light" is just a single LED but its bright enough to startle someone. Speed is about the same as Ring. Its cheaper and works on a couple of AA's for several months or more. You can easily put one just about anywhere. Amazon just bought out Blink, they'll be coming out with Blink doorbell soon.

I mostly like my Ring Floodlight Camera, but the app bugginess and lights just randomly staying on all night is weird. I've got them set to stay on 5 min when motion is detected, but sometimes they stay on all night. I live far enough away from the road that it's not the cars setting it off. I would blame my pathetic 1.5mb upload for some of the issues, but even on WiFi with the Ring is wonky at best and my router reports it connected at 117mb so that's plenty of bandwidth on the LAN. Not wifi congestion, since I'm 200 yards from the nearest house. Good hardware, just needs some software work.

What's going on, TheUnforgiven? We would love to help! I noticed you mentioned your lights randomly turning on and staying on. We can certainly assist with getting that sorted out for you within the app. Send me an email at jennifer@ring.com when you have a moment. Thanks,
Jennifer F., Community Manager
Jennifer@ring.com
Android Central Newsletter
Get the best of Android Central in in your inbox, every day!
Thank you for signing up to Android Central. You will receive a verification email shortly.
There was a problem. Please refresh the page and try again.