'Return of the Titans' - CEOs from Sprint, Verizon and AT&T lead CTIA keynote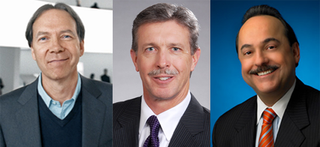 From left, Sprint's Dan Hesse, Verizon's Dan Mead and AT&T's Ralph De La Vega
Set your alarms, folks. We're going to get a second dose of keynote awesomeness on Tuesday when the CEOs of Sprint, Verizon and AT&T all take the stage together for the opening keynote at CTIA in San Diego.
Think back to March, at the spring show. Just days before these joined CNBC's Jim Cramer for a pretty frank discussion, AT&T announced its plans to purchase T-Mobile, and the gloves came off. CTIA's dubbed this one "Return of the Titans," and it should be interesting, to say the least, when they're back for Round 2 in San Diego next Tuesday. And, as always, we'll be there. Stay tuned.
Source: CTIA
Android Central Newsletter
Get instant access to breaking news, the hottest reviews, great deals and helpful tips
Interesting that they are taking the stage together. Isn't Sprint still in on the DOJ's suit against AT&T's acquisition of T-Mobile? Will they open up the floor to questions? If they do, SOMEONE is going to ask about that, and it could get ugly... and entertaining.

Dan Hesse is the only one that doesn't look like he should be in an SNL skit.

Hows that? Look at that goofy smile! He could definitely be in an SNL skit!

Mainly I am looking at the porn mustaches, but yeah he has the smile and butt hair.

I think Ralph looks more like a used car salesman.

Or the old Micro Machines guy.

Hesse looks the most normal. the other two look like washed up 80's porn stars.

Dan looks like he just got out of bed...SMH

wow. two with unfortunate facial hair and one with bad plugs. don't these guys realize that mustaches went out in 1983? sheesh.

If Hesse has plugs, then he needs to get his money back as his forehead goes way back. Had trouble making fun of Hesse's appearance since he's lacking the obviously lame mustache? Gotcha. You could have made fun of his crooked toothless grin. Amateur.

i said that Hesse looks the most normal. Pancho Villa has the hair plugs AND a bad mustache - double offender. i thought that was obvious.

You think De La Vega (assumed from the Pancho Villa reference) has plugs? That's even worse than Hesse. Why would a multi-millionaire pay for plugs that start at the very back of the top of his head?

please. http://www-bgr-com.vimg.net/wp-content/uploads/2010/08/610x.jpeg

De La Vega's picture looks like a cartoon or something.

The Verizon guy looks like my probation officer ...lololloolololol

Maybe they will all be getting the Nexus Prime including T-Mobile :)

means they are all getting the Nexus Prime most likely hopefully all same day :D come on sprint my bday is the 15th and i need a present lol

Mine is on the 15th as well! Come on Sprint

If they really wanna make everybody happy all 3 of them should carry the Prime!

More "Let's talk iPhone noise". Calling it.

hmmm...on the same day that Samsung is going to unveil something big...all i can picture is the three of them on stage and Samsung coming up saying "Hey, you guys want the Nexus Prime? You got it buddy! You guys got the Prime!!!"

They're gonna talk about how the Iphone turned their data plans to crap!... LOL

Seeing as how iPhone are now on all major 3 carriers it would be smart for google/samsung to introduce Nexus Prime for all 3 carriers.

AT&T dude is starting to channel "trollface" guy...

lmfao @Ralph De La Vega
dude got a puff piece on the top of his head like the girls do.
lmao @2011 style.
Android Central Newsletter
Get instant access to breaking news, the hottest reviews, great deals and helpful tips
Thank you for signing up to Android Central. You will receive a verification email shortly.
There was a problem. Please refresh the page and try again.