Razer Phone gets Netflix HDR, camera fixes, and Meltdown, Spectre patches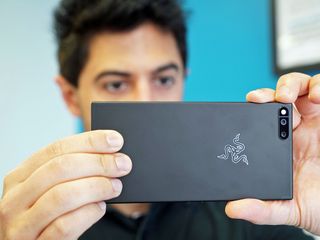 Razer is pushing out a new firmware and patch update for its gaming-focused Razer Phone.
Coming in at 249MB, the update brings Netflix HDR and Dolby 5.1 audio playback through a new customized Netflix application for the Razer Phone (which is now baked into the ROM).
Announced at CES 2018 Razer is currently the only phone in the world that supports Netflix HDR, which when combined with the 120Hz display and easily the loudest speakers on the market make for an excellent movie watching experience.
Also, Razer (as promised) is continuing to tweak its camera, which was heavily criticized when initially launched. While the camera hardware is solid, the software and algorithms need work. Today's update builds on an earlier one to keep improving that camera.
Finally, there are the usual Android security fixes, which jumps from October's security patch to January's keeping the phone up to date. The Meltdown and Spectre security vulnerabilities are also patched as those affect ARM processors as well.
Here is the full changelog:
Razer Phone January update
Netflix Enhancements
Netflix now included with Razer Phone!
Enabled HDR content playback support.
Enhanced Dolby 5.1 audio playback support.
Camera improvements
Fixed an issue where some images would appear yellow.
Tuning and image quality improvement.
Crushed bugs and performance improvements.
Security fixes
January 2018 Android security patches.
Fix for Meltdown and Spectre vulnerability.
The Razer Phone is still running Android 7.1.1, but Razer is committed to delivering 8.0 this quarter.
Razer Phone review by Windows Central
To update the Razer Phone merely head to Settings > About phone > System update to get started. The process should take about 20 minutes. Owners will also want to get the corresponding Camera app update from the Google Play Store to go with the new firmware.
See Razer Phone at Amazon (opens in new tab)
Android Central Newsletter
Get instant access to breaking news, the hottest reviews, great deals and helpful tips
I am very interested in this phone, a price drop and continued camera updates is all I need to pull the trigger

I think a lot of people will jump on it when that happens.

only waiting to see what reimagined means to Samsung in regards to the camera, if it aint mind blowing then def getting this phone

Almost had it but they screwed up my order and then all the accessories that I had previously ordered were gone. May take another look at this at a later time, more concerned about security updates. If they are only patching it now from October, that is not a good record. I picked up the Essential PH-1 last week and it had the December patch and it later updated to the January release. Very impressed thus far with the PH-1. If the Razer gets a better track record on updates and a price drop, I may try again at a later date.

I don't understand the comment? Doesn't this article say the Razer is on the January Security update?

My point is why was it stuck on the October update until now?

Better than the September security update that shipped with my V30. Also, HDR looks terrible for Netflix on my phone, but looks out of this world on YouTube videos with HDR.

If Razer actually makes Project Linda a real product I'd drop my Note8 in a hot second and pickup the Razer phone. Some sort of docking capability with a desktop environment is pretty much a minimum requirement for my mobile now-a-days. The camera is a close second and battery almost as close in 3rd.

Project Linda is another compelling reason to keep an eye on this phone.

"Excellent movie watching experience."
On a tiny screen? Nope.

I watch all my movies and TV shows on my phone. It's not bad at all

Are you not alive? 😂 Get with it man. Watching movies on your phone is the way to go. 👍

Watching a phone screen 12" from your face is probably the equivalent of watching a fairly large TV from 8 to 10 feet away. With headphones, it's really a pretty good experience. My living room has an awkward set up that only fits a 42" TV, and the couch has to be positioned more than 12 feet away. Needless to say, the 4K resolution is absolutely lost at that distance.

It's not an HDR-compliant screen - where is the HDR app for Sony Xperia XZs?

It doesn't have a hdr 10 screen?

This phone is an HDR compliant screen, it's just they didn't tell anyone that it was. I got a chance to test out the HDR content from Netflix on this phone and it does very well compared to that of my 4K TV at home which has Dolby Vision. it has very accurate colors and White balance but still suffers from some flaws like skin tone because of the HDR10 spec. You're forgetting that this is Razers first and only phone on the market, Razer is going to push this phone as far as it can. Sony makes very good hardware, but tends to neglect the software side of things, I used to have a Sony Xperia phone at one point, initial impressions were very good, but It never got better than the experience I got out of the box,

I thought several of the phones from last year such as the S8, Note 8, and V30 were supposed to support HDR in Netflix? Something along those lines anyways.

It would be interesting to se an updated camera review after the latest update.

Pixel 2 XL supports HDR in Youtube but not Netflix. Anyone know why?

The LG G6 also supports Netflix HDR through its "Dolby Vision" support. I haven't found any other apps that support any HDR on the G6 though, which is unfortunate, since Prime Video has quite a bit of HDR content as well.
Android Central Newsletter
Get instant access to breaking news, the hottest reviews, great deals and helpful tips
Thank you for signing up to Android Central. You will receive a verification email shortly.
There was a problem. Please refresh the page and try again.