République stealth-action game lands on Amazon Appstore, Google Play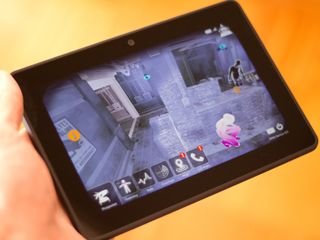 It looks like Camouflaj's stealth-action game République is now available on the Amazon App Store and on Google's Play Store. The game is listed at $4.99 on both stores, but Amazon is running a promotion on the title bringing down the price to just $1.99. République is set against the Internet age where users will explore the perils of government surveillance.
On the Amazon App Store, République is only compatible with Amazon's Kindle Fire devices, including the Kindle Fire HDX 7, Kindle Fire HDX 8.9, and the Fire Phone.
There is a brand new Episode 3 in the game, which is unlocked via an in-app purchase and the version of République for the Google Play store is debuting tomorrow.
What do you think of République? Is it a game you're looking to try out?
Source: Amazon App Store
I was going to check it out, until I saw "There is a brand new Episode 3 in the game, which is unlocked via an in-app purchase...." I'm paying for your app. Sell me a complete product

Sometimes I don't quite understand this logic. We pay for console games... And many games release extra content such as missions and items view side purchasing. The idea is no different.

If they drop it in a humble bundle, I'll grab it then. They do a good job or removing IAPs for their games. I got Kingdom Rush Frontiers from the Play store but most of the characters were stuck behind a pay-wall, Humble Bundle version? All characters can be unlocked through normal play-through. The way it should be done!

I was going to pick it up with some sweet, sweet Amazon coins, but it's listed as incompatible with my Note 2, Note 3, Nexus 7 (2013 wifi), and TF700t. Wondering what it's compatible with.

Ahh if only you had read the article, the answer would be so simple

I've had this on my HDX 8.9 for a while...more than a month. I bought it on Amazon. Is this really just coming to the Play Store? That would be strangely backwards!
Android Central Newsletter
Get the best of Android Central in in your inbox, every day!
Thank you for signing up to Android Central. You will receive a verification email shortly.
There was a problem. Please refresh the page and try again.