Qualcomm wants to make 'XR' a thing with its future-forward developer kit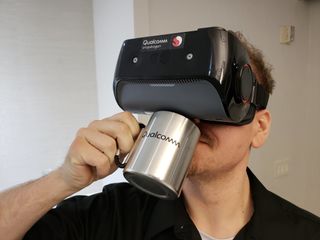 As the lines between virtual reality and augmented reality blur, thanks to things like phones capable of doing both and apps starting to live in both spaces, it has been suggested in multiple places the name of these concepts be blurred together into Cross Reality or "XR" to address the spectrum. It's an idea Qualcomm seems to be a big fan of as it announces the creation of a new Snapdragon 845-based developer kit to help build the future of these devices.
I spent a few minutes with this new reference design, and it paints a fairly clear picture of what Qualcomm thinks the next year or two of these experiences will look like.
Sharper displays, faster processing
Image 1 of 3
This year's developer kit is a standalone VR headset powered by the Snapdragon 845 processor, which Qualcomm designed to be generally more capable and less power-hungry than previous models. In VR environments, this extended capability means Qualcomm can focus on improving on the graphics headed to displays as well as the way the outside world is tracked through the headset.
In this new VRDK, Qualcomm is using a form of Foveated Rendering as well as Simultaneous Localization And Mapping (SLAM) tech to make the experience more immersive. The SLAM tech enables the headset to map a 20ft square room with no problem and allow the user to walk around as though the headset was externally tracked, while the new rendering method will make the center of the lens have the sharpest graphics while the rest of the lens area blurs a little.
Qualcomm has paired the Snapdragon 845 with 4GB of RAM and 64GB of onboard storage, as well as Tobii eye tracking sensors and a USB-C port for charging. The headset itself is Six Degrees of Freedom (6DoF) so the tracking is similar to a Daydream Standalone headset or a Vive Focus. Like those headsets, the controller that comes with the developer kit is only Three Degrees of Freedom (3DoF) so it's limited to rotation right in front of you instead of naturally moving like a Vive or PlayStation VR controller. Qualcomm says it is willing to work with partners to add 6DoF controller support, but that feature is not the immediate focus of this release. The Ximmerse controller that comes with the kit looks and feels very similar to the Samsung Gear VR or Oculus Go controller, with its trigger on the bottom and trackpad-style button up top.
The big focus for this headset is enhancement of current experiences instead of bolting on a ton of new features. Qualcomm is working towards sub-millimeter accuracy with its inside-out tracking thanks to the SLAM enhancements to the outer cameras and making sure there's room for developers to really push the envelope on things like eye tracking. The Tobii partnership with Qualcomm allows for native eye tracking in the headset, making it possible for you to glance at an option to select it or have your eyes move naturally in a social VR environment.
Unity through Viveport
There's a software component to this Qualcomm VRDK, but it comes from the creators of the Vive Focus experience. Qualcomm has partnered with HTC to allow its partners to use the Vive Wave SDK on headsets made by third-parties, and with that comes big opportunities for both companies. In China right now, Qualcomm is working with many different organizations through its HMD Accelerator Program to help create many different standalone VR headsets. Instead of offering a wholly unique software experience in each headset, Qualcomm and HTC are encouraging the use of Viveport in these headsets as the store. This gives developers a single store to build games for, and gives manufacturers the ability to say the headset comes with many games at launch.
In a market where Google and Oculus have had very little success, Viveport has flourished and will continue to do so with this partnership. It means there are going to be a lot of potentially very good VR headsets that won't come to the US anytime soon, but there's a lot of room for growth in this part of the world where VR headsets have continued to grow rapidly in popularity.
Gazing into the future
With the HTC Vive Focus, Oculus Go, and Lenovo Mirage Solo on the way this year, Qualcomm was already a dominant force in standalone VR headsets. This new developer kit and plan to dominate in China confirms the push forward into the next year with little competition.
As standalone headsets continue to grow in popularity around the world, Qualcomm has cemented itself as the default name to look for the right hardware to build from. And, for consumers, that means there's a very good chance all of your standalone headset options in the foreseeable future are going to be powered by Qualcomm.
Get the Android Central Newsletter
Instant access to breaking news, the hottest reviews, great deals and helpful tips.