Qualcomm to integrate multi-gigabyte WiGig technology in Snapdragon 810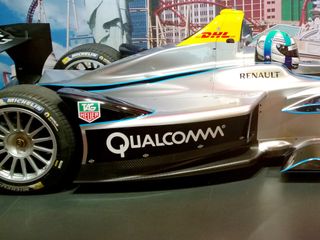 Qualcomm's latest acquisition has the potential to change the way we consume data on mobile devices. The chipset vendor announced yesterday that it has acquired Wilocity, a company specializing in advanced Wi-Fi technologies like the IEEE 802.11ad standard, which is referred to as WiGig.
WiGig works on the 60GHz band, which brings multi-gigabit speeds to mobile devices. In comparison, the Wi-Fi 802.11ac standard that is currently being implemented supports theoretical bandwidth of 1 Gbit/sec. Along with much greater bandwidth, WiGig brings better power efficiency and significant capacity improvements.
Qualcomm is set to begin integrating this standard into its upcoming hardware, and has mentioned that that the Snapdragon 810 would be the first SoC to feature tri-band connectivity, which includes the traditional 2.4GHz and 5GHz bands along with the 60GHz WiGig frequency band. Qualcomm says that by integration the 60GHz band, users will have the ability to undertake high capacity tasks like 4K video streaming, peer-to-peer content sharing, networking, wireless docking, and backing up entire media libraries in seconds.
With the WiGig standard, Qualcomm is pushing for near-instantaneous connection to the cloud via Wi-Fi and mentions that such a technology would serve to offload cellular traffic data in the near future. The move to integrate the 60 Ghz band ahead of other vendors like MediaTek, Samsung, Intel, Broadcom and others is sure to give Qualcomm a noticeable headstart, as other vendors are still looking to inculcate the 5 GHz band into their SoCs.
To know more about the technology, check out WiGig's official page that details the standard at Wi-Fi.org. As to when we'll see this technology in consumer devices, Qualcomm has previously said the first Snapdragon 810 products are expected to ship mid-2015.
Source: Qualcomm
Harish Jonnalagadda is a Senior Editor overseeing Asia at Android Central. He leads the site's coverage of Chinese phone brands, contributing to reviews, features, and buying guides. He also writes about storage servers, audio products, and the semiconductor industry. Contact him on Twitter at @chunkynerd.
I can't even fathom the range of this frequency. Two feet maybe?

Probably longer range than that in a room(if you limit humidity), but very very lacking in wall penetration.

I was just wondering that. I'll bet if you put anything in between the router and the phone, even dusty air, the signal is going to be crap.

Shit! My whole studio apartment is full of dusty air! :'-(

According to my marginally scientific internet research, loss over distance is a function of the square of the frequency. So 60 GHz would travel something like .2% of the distance a 2.4 Ghz signal would given the same power? Sounds like you'd either need to be in someone's personal space, or use such a powerful amplifier that you'd fry your brain. Need an electrical engineer to set me straight.

5mm... This is definitely in a dangerous territory. Posted via Android Central App

Probably closer to 25 feet or so. I think this is going to be fantastic, but I look at it more as a replacement for Bluetooth streaming, or USB cables and synchronizing or transferring of data from one device to another. Posted via Android Central App

It will be interesting to see how long it takes Wigig to become the industry standard. I have wireless AC in my house, but the range is so short that for anything other than a mobile it's a better bet to plug into the router. I'm all for faster data speeds. I just wonder what kind of price that speed will cost us. Posted via Android Central App

Really are you on a 5 ghz band on my ac router it kicks ass Posted from my Nexus 7 2013 running Android L or Samsung galaxy S5

Aaaand, we're back to read/write speeds on flash memory as the bottleneck.

as if ISPs will ever allow multi gigabit transfers. it's 2014, and my "high speed internet" connection has a 30/4 Mbps speed. my LTE goes faster than that. if only it were unlimited... Posted via One M8

This is a new Wi-Fi standard. I sincerely hope your ISP has nothing to do with your own Wi-Fi router and connected devices.

They certainly have a lot to say about how fast the data gets from my router to the rest of the net.

I get 100mb down and 5 up with charter for less than 50$ Posted via Android Central App

I wonder if these processors will clock at 3 ghz Posted from my Nexus 7 2013 running Android L or Samsung galaxy S5

Processor speed doesn't matter as long as everything runs smoothly. Posted via Android Central App

Never said it did just curious Posted from my Nexus 7 2013 running Android L or Samsung galaxy S5

My wife's high-end Dell Ultrabook has WiGig but it's touted as a way to "dock" a laptop without wires. In other words, short range. It's not a true Wi-Fi replacement.

It's more for close range.

With distances of just 1m-10m 802.11ad is meant to augment 802.11ac rather than ever replace. By using the 60Ghz band it'll allow ultrafast close range transfers then (hopefully) seamlessly changeover to 801.11ac with its theoretical 1gbps speeds. And 802.11ad may not require router connections
Android Central Newsletter
Get the best of Android Central in in your inbox, every day!
Thank you for signing up to Android Central. You will receive a verification email shortly.
There was a problem. Please refresh the page and try again.