Qualcomm confirms it will pay $975 million to settle antitrust dispute with China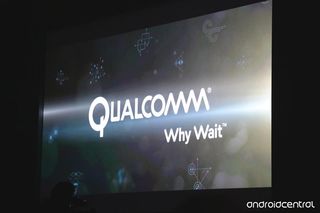 Qualcomm has now confirmed a previous report from this morning that it has entered into a settlement with the government of China's National Development and Reform Commission to settle an antitrust dispute. The amount of the settlement will be 6.088 billion Chinese Yuan Renminbi, or about $975 million.
China claimed that after a 14-month investigation, it found that Qualcomm engaged in anti-competitive practices. In addition to the fine, Qualcomm states it will change "certain of its business practices in China". It added, "Although Qualcomm is disappointed with the results of the investigation, it is pleased that the NDRC has reviewed and approved the Company's rectification plan."
Here are the details of Qualcomm's settlement plan with China:
Qualcomm will offer licenses to its current 3G and 4G essential Chinese patents separately from licenses to its other patents and it will provide patent lists during the negotiation process. If Qualcomm seeks a cross license from a Chinese licensee as part of such offer, it will negotiate with the licensee in good faith and provide fair consideration for such rights.
For licenses of Qualcomm's 3G and 4G essential Chinese patents for branded devices sold for use in China, Qualcomm will charge royalties of 5% for 3G devices (including multimode 3G/4G devices) and 3.5% for 4G devices (including 3-mode LTE-TDD devices) that do not implement CDMA or WCDMA, in each case using a royalty base of 65% of the net selling price of the device.
Qualcomm will give its existing licensees an opportunity to elect to take the new terms for sales of branded devices for use in China as of January 1, 2015.
Qualcomm will not condition the sale of baseband chips on the chip customer signing a license agreement with terms that the NDRC found to be unreasonable or on the chip customer not challenging unreasonable terms in its license agreement. However, this does not require Qualcomm to sell chips to any entity that is not a Qualcomm licensee, and does not apply to a chip customer that refuses to report its sales of licensed devices as required by its patent license agreement.
Qualcomm adds that it will revise its revenue predictions for its fiscal year that ends on Sept. 27, 2015, stating that it now expects to see revenues between $26.3 billion to $28.0 billion compared to its previous guidence of between $26.0 billion to $28.0 billion.
Source: Qualcomm
Android Central Newsletter
Get instant access to breaking news, the hottest reviews, great deals and helpful tips
Omg that's some serious money! Posted via the Android Central App

I wish I had that much :( Posted via the Android Central App

Wow. Looks like our technology is funding China. Lol Posted via the Android Central App

That's exactly what's going on. Its a "professional" business way to say "that's not fair!" I'll sue you! Posted via my Nexus 6

Wow, Qualcomm is having a rough couple of weeks. First the whole thing with Samsung now this.

Somebody will spin this into being Samsungs fault for not going with the 810! /s

Sony isn't having any problems with it. Maybe its all the bloatware and Touchwiz... Posted via my Nexus 6

You have to figure, that sucking up to the new provisions in place, shows how much of a market there is in China. We all read and hear it, but to pay that money, then turn around and basically give up quite a bit of tech/licensing(assuming I comprehended what I read correctly) in the hopes of still making a profit/royalties in the future. Slice of humble pie anyone?

Easy to comprehend, China market is four times the seize of the US market. On top of that smartphones penetration is only at 35 last time I checked to US 80%+.

The price you pay to enter the world's largest market Posted via the Android Central App

Gotta pay the ferryman Posted by my soon to be retired Note 3

In communist China, mobile chips run you! All your chips are belong to us? Sorry, had to do it....

This is good for Qualcomm. The Chinese have refused to pay royalties on their intellectual property, for years. They will make back that billion dollars in no time... and a poop load more. Posted via the Android Central App

Ya OK...... Posted via my Nexus 6

Qualcomm got what it deserved, they don't play games in China, and not so easy to pay off your local politicians like in the good old USA. What Qualcomm was doing was forcing OEM's to pay licensing fees for tech they did not need, that is the reason most Chinese OEM's have no 4G LTE chips in their phones, the way of the American mafia of doing business apparently did not fly too well in China, I am sure this case has been going on for quite some bit, and the final decision was made. Everyone here makes China look like the bad guy, but what they just did was open the market for more choices for the consumer worldwide, the more you think about it, as the good old USA is moving towards socialism, the Chinese are moving towards Democracy and free enterprise, if you think I am full of BS , I suggest you do some reading on what has been happening world wide the last 20 years or so. USA and it's corporations are more communist oriented than the Chinese will ever be, and when the good old USA starts crying about the Chinese spying on us, I suggest they start looking at themselves first, having been caught spying on everyone but their own mother. There is no strong arming in China for Qualcomm, like there is in the USA. This decision is a blessing in disguise, looks like Qualcomm and is monopolistic ways are no more, and it took the red dragon to set them straight. Posted via Android Central App

Hell yeah go Communism! I mean that literally. Communist party USA Posted via the Android Central App

Oh the irony...the communist Chinese ruled by one party rule is getting money from Qualcomm for basically having a monopoly over in china. Well now that I think about it USA is about the same Democrat's and republicans are just different cheeks on the same ass.. Posted via the Android Central App
Android Central Newsletter
Get instant access to breaking news, the hottest reviews, great deals and helpful tips
Thank you for signing up to Android Central. You will receive a verification email shortly.
There was a problem. Please refresh the page and try again.