Qualcomm brings the future to developers with Snapdragon 810 reference phone, tablet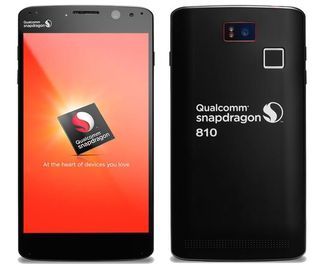 Qualcomm has just released its Mobile Development Platform smartphone and tablet designs, both of which contain the company's next generation chipsets to highlight the power of the 64-bit octa-core Snapdragon 810 processor, it's Adreno 430 GPU, and the Hexagon V56 digital signal processor. This means that qualified developers will be able to get Qualcomm's next-generation chipsets to build apps and test their products today, though it won't be cheap. The reference smartphone design will cost $799 and the powerful tablet will set developers back $999, far in excess of Google's $649 for a Nexus 6 and $399 for a Nexus 9 with today's components.
The Qualcomm reference phone packs in a 6.2-inch QHD display, which is slightly larger than the 6-inch Nexus 6 but packs the same number of pixels, along with 4 GB of RAM for robust multitasking. The device comes with 32 GB of storage, a 3,020 mAh battery with Qualcomm's Quick Charge 2.0 technology, 4-megapixel front-facing selfie camera, and a 13-megapixel rear camera with OIS.
On the tablet front, we have a 10.1-inch display with a 3840 X 2160-pixel resolution, 4 GB RAM, 64 GB storage, and a capacious 7,560 mAh battery to power the tablet.
Consumers won't be able to have access to these devices, so even if you have the cash to cough up, you'll have to wait until your favorite Android device-maker releases a flagship with Qualcomm's latest Snapdragon 810 processor. Developers working for approved companies and developing for Qualcomm Snapdragon should be able to experience the power of these chips for their development work today though.
Source: Intrinsync 1, 2
Get the Android Central Newsletter
Instant access to breaking news, the hottest reviews, great deals and helpful tips.
Don't need the phone right now, as my G3 and Turbo satisfy me, but would love the tablet! Posted via the Android Central App

I have one of these for work use. It crushes the G3. LGs skin lags and this phone's screen makes me think Android is going to have a great 2015. Posted via the Android Central App

You have what for work use? This reference phone or the Turbo? Might be a silly question, but its late and I'm tired and full of beer. Posted via the Android Central App

Windows mobile 5 Posted via Nexus 7 2013 or verizon Galaxy S5 or maybe one day through my moto 360

Android Version? Posted via an AT&T HTC One Mini

Most likely with those specs (64 bit) it's going to run Lollipop. Don't see the point in future hardware running old Android version.

This is why I'm holding on to my Nexus 5 and passing on the Nexus 6. There isn't enough in the Nexus 6 to warrant an upgrade. I'll wait for the next Nexus with this Qualcomm Snapdragon 810.

I'm not so sure. I went from a g2 to a note 4 and it was a significant difference. Posted via the Android Central App

bouncing around laggy OEM skins is a vastly different experience compared to Android the way Duarte intended it to be.

Ya, because the note 4 is just so laggy huh, lmao....ironically, it's even faster than the nexus 6 at this point, due in part to the nexus 6's device encryption being enabled by default, without the option to disable without a work around. Until they update the OS, it's gonna be an issue. Check it out for yourself on youtube.

I have a Nexus 5, my girlfriend has a Note 4.. The Note 4 still seems to lag behind the N5 on some tasks. I think the upgrade from the N5 to N6 is the least significant upgrade yet. The phone is still seriously fast, just too small of a battery.

2.3.2 Posted via the Android Central App

Lol nice Posted from my Motorola Moto G

iOS 8.1 Sent from my Nexus 5, behind six proxies

Ehh I'll wait till it's on production hardware. Drool-worthy specs though (if you're into that kind of thing). Posted via the Android Central App

Man, soon $1000 smart phones will be common... The prices keep on a'creepin. Posted via the Android Central App

Nope. They have stayed pretty flat, even gone down in most cases. This is a reference device, they don't make 50 million if them. Maybe a few 10's of thousands. Posted via the Android Central App

Very few will be made relative to phones that are hitting the market so the price to manufacture will be greater.

That's the normal price here in NZ. Well do the conversion and there ya go Posted via the Android Central App

I was so anxious to turn on my Nexus 6 for this device Posted via the Android Central App

It would be awesome to see Qualcomm turn this into a consumer device. Kinda like how nexus is supposed to be an Android Reference device. Chuck Norris can call 'su' without having root permissions.

If is is over 1.50$ and doesn't have a SD card and removable battery no thanks. Reference devices are supposed to be cheap Posted by my soon to be retired Note 3

"Lol nope" -Qualcomm, probably Posted from my Motorola Moto G

"Lol nope" -Qualcomm, probably Posted from my Motorola Moto G

Well, they aren't there to offer excellent cameras, removable batteries, and external storage. They offer the most powerful mobile SoC on the planet, which is also the most expensive component on a mobile device

Who ever would down vote this is a Commie.

I say.. 64-Bit for what?
PC's are your baseband here.. Outside of Geeks ( of course.. ) has the public at large, been clamoring over 64-Bit technology? Is the general consensus " I have to upgrade my Windows 7 32-Bit to the 64-Bit version that came in the box! I'm missing out on so much! " Really? It's no big deal in the PC world.. and it will be no big deal in the cellular world as well.. for YEARS to come. Don't fool yourself.. there are NO practical reasons for 64-Bit registers as we fast approach 2015. Trust me on this one... :-)

BUT WILLLLLLLLLLLL Specs still count right!?!?!?

"Proper Matches"
Count even more Nex..
64-Bit is the Fine A$$ Blonde.. that is HOT! until you spend 5 minutes with her.. and realize she's an airhead.. and not worth your time.
Did iPhone's take a "Quantum Jump" in performance when they switched to 64-Bit ? And Apple controls the Soft and Hardware. So.. what makes you think this is nothing more than a marketing move at this stage of development? Do you really believe Android will take that Quantum Leap with 64-Bit that Apple could not ?
Serious Question.

Faster, and more power efficient. Need I say more?

64 bits is not meaningfully faster or power efficient than 32 bits on a full desktop system, let alone the type of tasks people are using their smartphone for. Now I'm not saying it's pointless moving to 64 bits, but let's be realistic in that it won't make one iota of difference to an end user. Literally, the only way this will effect an end user is if a future version of Android drops 32 bit support and the device can't get an update. But that's it.

Not meaningfully faster or more power efficient than 32 bit SoC's? Well, there are significant increases in performance of cpu and graphics intensive tasks. Of course it takes 64 bit optimized applications and OS to take full advantage of the architecture, as well as 4 gbs of ram. To a larger extent, its following the market trend and preparing for the future of mobile commputing. But just wait until you see the benchmarks on this monster. It's gonna blow every thing on the market out of the water. I wonder how even the A8x is going to fare against this beast.

See what I mean folks?
Only Geeks ( Or Wanna-Be Geeks because they've found AC ) are quoting 64-Bit specs.
Nothing the general population of Cellular users will use for the next 3 years will require an abandonment of 32-Bit Architecture in favor of 64-Bit registers.. period.
So you can hang on to your Note 4's, M8,'s and S5's.. ( Honestly, you can let the G3's go.. That was a Bastard Creation with a next-gen screen and the prior-gen's SoC ) they will be just fine for the life of your contracts.. for those of you still locked into one of those.. :-)

No way jose, all hardware running on 32 bit SoC's now have a shelf life of about 6 months, and they'll have slipped into complete worthlessness. I even need to sell my note 4 here in a month or so just to keep up with the mobile 64 bit world we now live in . Lol ( Sarcasm) Haha, ya it's suprising that the G3 hasn't been criticized more for having only the 801 with the 2k display. The res takes a significant toll in both real world performance and benchmarks......then again, that stuff is for geeks anyway, lol

Except for when manufacturers stop producing 32 bit drivers. That never happens though.

I need you to stop bursting my bubble! Posted via Android Central App

This thing is a beast. Posted via Android Central App

By the way the phone has no cellular modem which means you cant make calls with it your stuck using it on WiFi

Is the boatloader unrooted? That's a deal breaker for me Posted from my Droid Turbo, Kelly and Ozone

Came here to say this as well. This is purely a development device, no modem in the phone at all. The tablet, however, doesn't need one and had I not just picked up a refurb Tab Pro 12.2 a few months ago, I'd be itching for that.

Bootloaders can't be unrooted? Unless you mean unlocked Posted via the Moto X Pure Edition

Who knows what development comes off this and what Heights it takes android to. I would not dismiss 64 bit mobile Tech. It's about the future not the now 2015 - 16 - 17 things are always evolving and changing. Posted via some candy

Man, I got you, might be the only one, but hey.

This is the beginning of And M "Mind Blown" Posted via some candy

But will it get lollipop Posted from the bando

I hate the Qualcomm tramp stamp. It's a deal breaker. It's probably loaded with Qualcomm bloat Posted from my Droid Turbo, Kelly and Ozone

Best comment. Sent from my Nexus 5, behind six proxies

It's would be fine with me if it was just bigger.

OMG MOAR CORES I NEED IT NOW Posted via Nexus 7 2013 or verizon Galaxy S5 or maybe one day through my moto 360

Nexus 5 (2015)...come on Google...you know you want to... Posted via the Android Central App

Thanks for posting.Awesome .

Would be nice for a give-away, hint, hint.