Qualcomm's Wear 3100 chip for Wear OS is all about extending battery life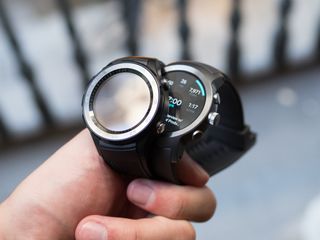 At a press event in San Francisco today, Qualcomm announced its next-generation wearable platform as the Snapdragon Wear 3100. This is the processor that'll be found in all new Wear OS smartwatches going forward, and based on everything we just learned, it sounds like we're in for a real treat.
With the Wear 3100 platform, Qualcomm's doubling down on battery life. It uses quad-core A7 processors, has ultra-low power co-processors, and is just around 21mm2. Wear 3100 is able to reduce power usage with low-power functions, including music playback, GPS tracking, voice commands, etc.
Along with these day-to-day benefits, Qualcomm's also created three new usage profiles to take things a step further:
Enhanced Ambient Mode — The second-hand moves much more smoothly, there's support for 16 colors, increased brightness, and live watch complications.
Dedicated Sports Experiences — Designed to be used during long, intensive workout sessions. Custom watch face that shows fitness stats and supports up to 15 hours of battery life with GPS and heart-rate sensors actively working.
Traditional Watch Mode — A simplified experience that boats an analog watch face and some smart features. Up to 1 week of use with 20% battery left or 30 days with a full charge.
Depending on what you're doing with your watch, Qualcomm estimates that the Wear 3100 offers 4 - 12 hours of additional battery life compared to the Wear 2100.
As for when we'll start seeing the 3100, Fossil, Louis Vuitton, and Montblanc have all confirmed that they're already working on hardware that's powered by the new platform. We aren't entirely sure when these watches will hit the market or how much they'll cost, but they should be heading to stores soon.
Commenting on the announcement, Google's Director of Product Management for Wear OS, Dennis Troper, said:
What do you think about Qualcomm's announcement? Is this a big enough change to bring Wear OS back into the limelight? Sound off with your thoughts in the comments below!
No, Google won't be releasing a Pixel Watch this year
Joe Maring was a Senior Editor for Android Central between 2017 and 2021. You can reach him on Twitter at @JoeMaring1.
"15 hours of battery life with GPS and heart-rate sensors actively working" It's huge if they can really deliver on this. A few hours with GPS tracking on is all I can squeeze out of my Wear OS watches. Also like the sound of a dedicated ANALOG battery saving watch face, as I can't stand the 80s digital face look of the Ticwatch Pro.

I personally think analog looks daft on a digital screen.

Sounds great, we shall see if things turn out as promised. Why is it based on Cortex A7?

How does Garmin VivoActive Music 3 have 4 - 5 days with GPS and heart rate? I can run about an hour each of those days with GPS and battery lasts?

Vivoactive 3 owner here and I reckon it's down to the screen. Garmin's still use low resolution e-ink type screens that drain little battery compared to high resolution lcd or OLed displays. I think I'd struggle to go back to a WearOS watch now as much as I've loved them now that I know how much better Garmin's are for battery, GPS accuracy and overall fitness tracking.

Yes! I need to be able to track my long distance runs! 4 hour marathon, my Moto 360 would be dead before then. Now... I just need a watch with the new 3100 chip!

Hopefully Google surprises us with a Pixel Watch.

My Polar M600 (Wear OS) easily does this. 7 hrs + hr and GPS. Bulky though.
Android Central Newsletter
Get the best of Android Central in in your inbox, every day!
Thank you for signing up to Android Central. You will receive a verification email shortly.
There was a problem. Please refresh the page and try again.